Commentary
Fewell downplaying Bills, hopeful for D
The Giants D-coordinator is focused on his unit's improvement, not his former team
Updated:
October 15, 2011, 10:30 AM ET
By
Ohm Youngmisuk
| ESPNNewYork.com
EAST RUTHERFORD, N.J. -- Like most people, Justin Tuck assumes there is extra incentive for Perry Fewell to find a way to shut down the Buffalo Bills.
Fewell spent four seasons as the Bills defensive coordinator and was Buffalo's interim head coach at the end of 2009.
Fewell, who went 3-4 in place of Dick Jauron, wanted to be a head coach but the Bills hired Chan Gailey instead. On Sunday, Fewell will try to slow down Gailey's offense as the New York Giants look to rebound from a dismal loss last week against the Seahawks.
Super Bowl XLVI: Giants 21, Patriots 17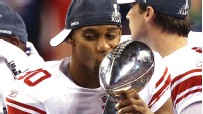 Once again, the Giants battled back in the closing minutes to beat the Patriots in a Super Bowl. Super Zone » Blog »
"He's been pretty much even-keeled all week," Tuck said of Fewell. "I am sure it does [mean something extra to Fewell] but he hasn't shown us whether it does or not."
More than beating the Bills (4-1), Fewell would just like to see his defense play much better than it has this season.
After five games, the Giants (3-2) have had all sorts of problems stopping the run and dealing with the no-huddle.
"It's just a game that we have to win," Fewell said if playing the Bills has added significance to him. "I just happen to know those guys on the other side though."
The Giants hope Fewell's familiarity with some of the Bills players will give them an edge. It was Fewell who handed quarterback Ryan Fitzpatrick the starting job in 2009. This year, Fitzpatrick is seventh in the NFL in passer rating and has thrown 10 touchdowns while completing 65.7 percent of his passes.
"I can definitely give them my insight on how their players play, what I think their strengths and weaknesses are," Fewell said. "I've tried to do that and share that with them. Does that help our team? I hope it does from a preparation standpoint, but we have to play the game."
And that has been the problem for the Giants this season. The expectation was that the Giants would be better in Fewell's second season at the helm. Last year, the Giants were ranked first in total defense after five games. This year, the Giants are ranked just 20th in total defense.
Five Things To Watch
1. Protect The Football: Nobody forces turnovers like the Buffalo Bills. They rank first in the NFL with 16 takeaways. Buffalo has 12 interceptions, 10 coming in the last three weeks. They have intercepted Tom Brady and Michael Vick four times each and have scored a defensive touchdown in their last three games. The Giants must protect the football and avoid tipped-balls for interceptions.

2. Be The Manning: Eli Manning is coming off a career-best 420 yards and three touchdowns last week. He nearly pulled off his third straight come-from-behind victory last week. While the Buffalo defense is a ball-hawking turnover-hungry unit, it also is allowing 24 points and 421.8 yards per game. Manning should have success moving the ball against the 30th ranked defense in the NFL.

3. Action Jackson: The Giants defense has to play better and find a way to contain a Buffalo rushing attack that ranks fourth in the NFL. Fred Jackson is third in the NFL in rushing and also can hurt defenses in the passing game. The Giants have to find a way to stop the run, something they have not done in the last three games, and slow down hurry-up offense.

4. Where's The Beef? The Giants offensive line has to find a way to open holes for Ahmad Bradshaw. The running game ranks 28th in the NFL. Bradshaw has yet to have a 100-yard rushing game. Despite Pro Bowl guard Chris Snee dealing with a concussion, this could be the week the Giants find some success on the ground as Buffalo is allowing 138.4 rushing yards per game.
5. Just Win Baby: The Giants simply have to win this game. They are coming off a dismal loss to Seattle and need to go into the bye week with a victory. Following the bye, the Giants play Miami and then the schedule gets increasingly difficult with a nasty stretch against New England, San Francisco, Philadelphia, New Orleans, Green Bay and Dallas.
-- Ohm Youngmisuk
They have been soft against the run, allowing an average of 159.3 rushing yards in their last three games. They've struggled against Philadelphia's LeSean McCoy, Arizona's Beanie Wells and Seattle's Marshawn Lynch.
Now their task is to stop Buffalo's Fred Jackson, who is third in the league in rushing with 480 yards and five touchdowns.
Several players say fixing the defense has to do with improving certain details like better gap control and trusting teammates will handle their responsibilities instead of trying to overcompensate and make a play all the time.
After losing cornerback Terrell Thomas and middle linebacker Jonathan Goff to season-ending injuries in the preseason, the Giants have had difficulty adjusting to life without two key starters. Add on defensive tackle Barry Cofield's departure in free agency and that's three starters who are gone from last year. Also, Tuck and Osi Umenyiora have been injured this season and have yet to start in a game together.
"I will put it like this -- we have two Pro Bowlers that haven't played together yet this year," Tuck said. "We have a Pro Bowl caliber linebacker and cornerback that haven't played this year and as much as you try to downgrade those things, more than anything it hurts your depth."
"When you have injuries like that, certain things in your defense, you can't do anymore," Tuck added.
Some defenders have had to do things they normally don't such as safety Antrel Rolle covering some slot receivers. Outside linebacker Michael Boley has had to take on the responsibility of relaying Fewell's calls into the huddle. And the Giants have been using speedy rookie outside linebacker Jacquian Williams, who was viewed as a project to develop entering the season, quite a bit.
"That's the biggest problem that I think we have right now, learning how to play together," Fewell said. "My focus is more on us than it is the Buffalo Bills because we have to learn how to complement each other and we don't know how to complement each other at this point in time."
Last week, Fewell watched his defense surrender a three-point lead twice in the fourth quarter in a 36-25 home loss to the Seattle Seahawks. Backup quarterback Charlie Whitehurst marched the Seahawks 80 yards in just over two minutes to score the go-ahead touchdown with 2:37 remaining.
This is why Fewell has bigger concerns right now than proving something to the Buffalo Bills. Fewell says that he may have his players wear wristbands with plays on them to help the defense communicate better when dealing with the hurry-up offense.
"It's in baby steps," Fewell said of making progress with players adjusting to new roles. "What you see is we have some youth back there in our linebacker corps. Then with some of the guys moving in and out, we're not consistent. But we will become more consistent."
Last year, the Giants defense hit its stride at Week 5 only to struggle at the end. Tuck, who has missed the last two games due to neck and groin injuries, hopes the slow start will result in a strong finish this year.
"I am not necessarily worried about it right now," the defensive captain said. "Last year we were No. 1 in the NFL right now and we didn't finish [at the end of the year]. We had a setback last week."
"Hopefully these slaps in the face early in the year can get some of those kinks out of the way and we won't have to get exposed later on in the year," Tuck added. "We will have gotten all this stuff out of the way and be a better defense at the end of the year when it truly counts."
ESPNNewYork.com
Ohm Youngmisuk has covered the Giants, Jets and the NFL since 2006. Prior to that, he covered the Nets, Knicks and the NBA for nearly a decade. He joined ESPNNewYork.com after working at the New York Daily News for almost 12 years and is a graduate of Michigan State University.
Follow him on Twitter »
Ohm's chat archive »
EDITORS' PICKS
Giants WR Odell Beckham Jr. wins NFL Offensive Rookie of the Year award.
Nike Men's Home Game Jersey New York Giants Phil Simms #11 Shop »