Commentary
Giants' 2011 midseason report card
With Big Blue 6-2 at the halfway point, we hand out our grades to Eli Manning & Co.
Updated:
November 9, 2011, 12:40 PM ET
By
Ohm Youngmisuk
| ESPNNewYork.com
Click here for Giants' midseason awards »
It seems like ages, but it was only just a couple months ago when the New York Giants were coming off what felt like the worst preseason of any team in the NFL.
They lost Kevin Boss and Steve Smith while opting not to make any major moves in free agency. Terrell Thomas, Jonathan Goff and Clint Sintim were among a host of players who had suffered season-ending injuries. Osi Umenyiora wanted a new contract and there was uncertainty surrounding the Giants when they dropped the season-opener to Washington and Rex Grossman.
But the Giants have won six of seven since, and storm into the second half of their schedule feeling as if they are inching closer toward being an elite team in the NFC after a stirring 24-20 win over the Patriots.
Eli Manning is playing his best football and the Giants have been clutch, pulling out one heart-pounding win after another. The defense appears to be rounding into shape and the special teams has improved since last year.
The Giants still have to do a better job of running the ball and stopping the run, but Coughlin has his team at 6-2 coming off a momentous road victory. Young players like Jason Pierre-Paul, Victor Cruz and Jake Ballard have emerged into big-time contributors. Coughlin has preached finishing to the team all year long and he'll find out what kind of finishers he has with a treacherous second-half of the schedule that could send the Giants into yet another tail spin.
Since 2004, the Giants have started every season under Coughlin 5-2 or better only to go a collective 29-34 in games from November on. The Giants hope their losses to Washington and Seattle won't come back to haunt them.
"We will have an opportunity to answer that," Justin Tuck said of whether the Giants are an elite team. "I think we are close. It doesn't matter what you do in November. Nobody will remember what we did in November and December. It is all about getting back to the Super Bowl. If you are not holding up that trophy at the end of the year, you are not elite, that's my opinion."
Giants' position-by-position report card





Quarterback

Eli Manning's mission entering the season was to finish better, make the postseason, drastically reduce his interceptions, find two new pass-catchers, and do all this behind a revamped offensive line with no offseason due to the lockout.

So far, Manning has been a top-five quarterback playing perhaps his best football. After losing Kevin Boss and Steve Smith early in camp, he's overseen the emergence of Jake Ballard and Victor Cruz. He's completed 62.9 percent of his passes for 2,377 yards, 15 touchdowns and just six interceptions. He's making better decisions and his play in the fourth quarter has been terrific -- the Giants' last six games have been decided in the fourth with Manning winning five of them. If not for a three-interception game against Seattle and a sluggish start at Washington, Manning's grade would be an A+.






Running backs

The Giants' ground game has been disappointing so far and has taken a backseat to the passing game. Ahmad Bradshaw and Brandon Jacobs have combined for eight rushing touchdowns but just one 100-yard rushing game this season. With not enough holes to run through, the yards and carries have been hard to come by.

Bradshaw has 440 yards and five touchdowns and 24 receptions for 210 yards and one touchdown through the air while offering excellent pass protection as usual. But now he has a fractured right foot and will have to play on it the rest of the season if he can.

Jacobs has 198 rushing yards and four total touchdowns and will have to run as hard as he did in place of Bradshaw at New England. D.J. Ware and rookie Da'Rel Scott wait for their opportunities. Rookie fullback Henry Hynoski has missed the last three games with a neck/burner injury.






Wide receivers

When given single coverage, Hakeem Nicks can dominate and be a top-five wideout in the NFL. The Giants just need to keep their biggest threat healthy as Nicks has a hamstring issue to deal with right now.

When the Giants lost Steve Smith, all hell broke loose but Victor Cruz has earned Manning's trust and is developing into more than just a third receiver. Cruz's route running has improved, he gets open and he's a playmaker. Both Cruz and Nicks are on pace for 1,000-yard seasons.

Mario Manningham has been solid after suffering a concussion and Ramses Barden showed glimpses of tantalizing size and hands in his debut in New England. The Giants receivers have also drastically cut down on the tipped balls for interceptions so far.






Tight ends

Jake Ballard has managed to make people forget about Kevin Boss. The tight end looks like Boss catching balls down the seam and seems to be getting better with each game. He has 19 receptions for 308 yards and all three of his touchdowns in the last five games. The big target (6-6) with good hands should only get better.

Travis Beckum was supposed to replace Boss in the passing game but has been an afterthought with just one catch for two yards in six games after missing time early due to injuries. Bear Pascoe continues to serve as a blocking tight end/fullback while catching an occasional pass. While Ballard has been a revelation, the tight ends' run blocking can improve.






Offensive line

The offensive line underwent change this preseason when the Giants released Shaun O'Hara and Rich Seubert and added new center David Baas while moving David Diehl to left guard and starting Will Beatty at left tackle. Early on, the line was a work in progress. The front five hasn't been able to get the running game going this season and it has surrendered 15 sacks so far after giving up 16 all of last season. But the pass protection is improving, allowing only one sack in the last three games.

The offensive line has been hit with injuries as Baas has missed two games due to a neck burner and a knee injury while right guard Chris Snee missed a game with a concussion. But the versatile Kevin Boothe has come in to play center and guard while Stacy Andrews, when healthy, can be an extra blocker.






Defensive line

The Giants' pass rush has been terrific again, leading the NFL in sacks with 28. Jason Pierre-Paul has been a monster with 9.5 sacks. Osi Umenyiora has six sacks in five games and once Justin Tuck gets completely healthy, the pass rush will be even scarier with Mathias Kiwanuka and Dave Tollefson pressuring quarterbacks as well.

Stopping the run, though, has been an issue as the Giants have allowed 145 yards rushing or more in five of their last six games. Gap control was an issue but the defense has begun to show signs of improving against the run. Linval Joseph and Rocky Bernard have to combine to fill the void left by Barry Cofield.






Linebackers

Michael Boley has stepped up his game physically and mentally. With Jon Goff out for the year, Boley took on the responsibility of relaying the calls to the huddle. There are times when he has been all over the field. He is the second-leading tackler, delivered some hard hits, has batted down a few passes and has a 65-yard fumble recovery touchdown return against St. Louis. Kiwanuka looks like he is getting more comfortable in his role, which is a hybrid of linebacker and defensive end.

The problem has been finding one more linebacker to play alongside Boley and Kiwanuka, and doing a better job of tackling and stopping the run. Rookies Jacquian Williams and Greg Jones have tried to fill that role, with Williams seeing more playing time due to his speed. Jones only sees limited action in running situations.






Defensive backs

The secondary got off to a rough start as Rex Grossman and Sam Bradford hurt them early with the no-huddle. It took some time to adjust to losing cornerback Terrell Thomas but the Giants settled down and played better. Corey Webster has done a solid job on No. 1 receivers. Aaron Ross rebounded from a tough start with three picks, tying him for the team lead with Webster.

Antrel Rolle leads the team in tackles and has had to cover slot receivers this season. Kenny Phillips is third on the team in tackles and Deon Grant has had some up and down moments as the third safety. Missed tackles have been an issue this season. Prince Amukamara should give the secondary more flexibility once the first-round pick eases his way in as an extra DB.






Special teams

Steve Weatherford's punting, especially his directional kicks, have been terrific. The punt coverage also has been very good, allowing only 37 yards on nine punts returned in the last three games. The kickoff coverage has improved as well. The special teams has not given up a return touchdown this season.

The return game could use a spark. Devin Thomas has averaged 23.7 yards a kickoff return but Aaron Ross is only averaging 7.7 yards per punt return.

Lawrence Tynes is 7-for-9 on field goal attempts, with two attempts blocked. His longest field goal is only from 30 yards out but he does have a game-winning kick against Buffalo.






Coaching

Despite several season-ending injuries, free-agency defections and a hectic training camp due to the lockout and free agency, Tom Coughlin has his team atop the NFC East. The Giants have had six straight games go down to the fourth quarter and won five of them. The losses to Washington and Seattle hurt but the Giants are getting better.

Offensive coordinator Kevin Gilbride lost two of his key weapons in the passing game (Boss and Smith) and has had changes to his offensive line yet still has the offense ranked 11th in total yards in the NFL. The Giants are seventh in passing yards. Even with the running game struggling, Gilbride has put Manning in the right position, especially in the fourth quarter.

Defensive coordinator Perry Fewell has had a rougher start as the defense struggled to stop the run and defend the no-huddle. But the Giants have done just enough late in games to give Manning a chance to pull out these late wins. And the defense is showing signs of improvement and consistency. Also, Tom Quinn's special teams is no longer an Achilles' heel.






Front office

GM Jerry Reese was torched by fans and critics in August after Boss and Smith left in free agency. Reese didn't spend like the rival Eagles, instead opting to stick with unproven young players on the roster. He also stood his ground in a contract stare down with Umenyiora.

So far, Reese's way has worked. He uncovered undrafted gems like Ballard and Cruz. Linebacker is still a work in progress but he has two sixth-round rookies who have played in Williams and Jones. He improved the special teams with an infusion of rookies like Tyler Sash, Spencer Paysinger, Jones, Mark Herzlich and his signing of Weatherford to punt. The re-signing of Boothe, a versatile backup offensive lineman, has been huge. His biggest free-agent acquisition, Baas, has been in and out with injuries.

As for his draft, Reese's first two picks, Amukamara and Marvin Austin, have yet to take the field due to injuries. Amukamara is nearing his season debut while Austin is out for the year. Third and fourth-round picks Jerrel Jernigan and James Brewer are backups for now. But sixth-round picks Williams, Jones and Sash are special teams contributors.
Giants' midseason awards
Offensive MVP: Manning. If he keeps this clutch play going, Giants will wind up in the playoffs.
Defensive MVP: Pierre-Paul. So much for being a raw project.
Special teams MVP: Weatherford. Ask New England how good his punting has been.
Most improved: Cruz. The salsa sensation is no longer just a preseason legend.
Least improved: Adam Koets. The backup center showed glimpses of being a valuable backup last year before tearing his ACL. He hasn't been able to get back on the practice field due to injuries and was released on Tuesday.
Super Bowl XLVI: Giants 21, Patriots 17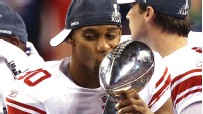 Once again, the Giants battled back in the closing minutes to beat the Patriots in a Super Bowl. Super Zone » Blog »
Biggest surprise: Ballard. Went from forgotten man on the practice squad last year to making people forget about Boss.
Biggest disappointment: Beckum. The former third-round pick was supposed to replace Boss but barely gets any targets.
Best rookie: Williams. Speedy but raw linebacker is supposed to be a project but has gotten significant snaps.
Best offseason acquisition: Weatherford. Coughlin doesn't have to sweat out punts anymore.
Worst offseason acquisition: Jimmy Kennedy. The defensive tackle was suspended for four games after testing positive for performance-enhancing substances.
Best-kept secret: Da'Rel Scott. Buried on the depth chart, the rookie has blazing speed.
Biggest concern: The Giants face San Francisco, Philadelphia, New Orleans, Green Bay, Dallas (twice) and the Jets. If they make the playoffs, the Giants will definitely have earned it.
Key to the second half: The Giants must survive a brutal schedule by keeping the turnovers down, finding a way to establish the run, stopping the run and continuing to finish games.
Best coaching move: Spending much of camp preparing Cruz for a bigger role and having him play the slot while they rested Domenik Hixon. It's now paying off.
Worst coaching move: Keeping Terrell Thomas and the starters on the field at the end of the first half of their preseason game against Chicago. The Giants' most productive cornerback tore his ACL with 22 seconds left in the second quarter.
Game to watch: Giants at Jets. Something tells us more than bragging rights will be on the line Christmas Eve.
Giants will win the division if: The Giants must stay healthy, keep up the fantastic fourth-quarter play and survive a treacherous schedule and the inevitable emotional highs and lows that will come. But most of all, they have to win their remaining division games and at least split their two games against Dallas.
Only way they miss the playoffs is: If the Giants suffer a significant injury or another second-half meltdown, they could end up with a third straight postseason-less finish.
Player ready to emerge: Amukamara. The first-round pick still has to ease his way back and may not see significant snaps for a while with Webster, Ross and the veteran safeties playing ahead of him. But the rookie can give the defense more flexibility if he can hold his own on passing downs as an extra DB.
Player least likely to return in 2012: Jacobs. The running back says he likely has to go elsewhere to show what he can do and the team has to decide whether to give him a $500,000 roster bonus in March.
Ohm Youngmisuk covers the Giants for ESPNNewYork.com. Follow him on Twitter.
ESPNNewYork.com
Ohm Youngmisuk has covered the Giants, Jets and the NFL since 2006. Prior to that, he covered the Nets, Knicks and the NBA for nearly a decade. He joined ESPNNewYork.com after working at the New York Daily News for almost 12 years and is a graduate of Michigan State University.
Follow him on Twitter »
Ohm's chat archive »
EDITORS' PICKS
The Knicks couldn't do anything right in an ugly loss to the Kings.