Commentary
Sanchez must be a cut above in D.C.
Jets QB facing plenty of drama in first Washington trip since hair-raising experience
Updated:
December 4, 2011, 1:28 AM ET
By
Rich Cimini
| ESPNNewYork.com
FLORHAM PARK, N.J. -- Mark Sanchez's last football-related trip to Washington, D.C., was a hair-raising experience. And somewhat embarrassing.
The Washington Redskins wanted to draft Sanchez in 2009, so they flew him into town and brought him to a posh Italian restaurant for a get-acquainted dinner. In the middle of his veal chop, Sanchez, surrounded by owner Daniel Snyder and team brass, was approached by a strange woman. She ran her fingers through his hair and said something like, "You're so handsome."
"It was pretty funny," Sanchez recalled this week. "I didn't know if they had scripted that because you hear stories about how teams put you in positions to see if you're uncomfortable and can handle it. They try to test your mettle."
Five things to watch

1. Protect the edges. The Jets' offensive line is feeling pretty good about itself after shutting down the toothless Buffalo Bills, but it's about to step up in class. The Redskins have formidable bookend rushers in Brian Orakpo and rookie Ryan Kerrigan, who have combined for 12 sacks and 43 QB hits/pressures. RT Wayne Hunter, who got beaten up by Broncos rookie Von Miller two weeks ago, needs to bring his A-game.

2. Comeback corners. Darrelle Revis and Antonio Cromartie should be primed for rebound performances after getting picked on last week. It was a rare off day for Revis, who surrendered his first TD of the year. Don't be surprised if they respond with an interception or two against QB Rex Grossman, who has the bad habit of trying to fit the ball into tight windows. Maybe that's why he has the highest interception rate in the league.

3. Ready for Freddie. Redskins TE Fred Davis, having a career year, already has 13 receptions of 20-plus yards. He has enough speed to be a vertical threat. The Jets will mix their coverages, but S Eric Smith and DB Donald Strickland figure to get most of the assignments. Stop Davis, and they'll make it a lot harder for Grossman.
4. Non-starters. So you think the Jets have problems in the first quarter? Well, the Redskins are worse, having scored only 23 points. The Jets (33 points), trying to remedy the problem, have increased the tempo this week in practice. Where have we heard that before? This has "scoreless first quarter" written all over it.

5. Blitz beaters. Mark Sanchez did a nice job last week on his final two passes, beating the Bills' blitz. He'll see a lot of extra pressure from the Redskins, who send five or more pass rushers 43 percent of the time, according to ESPN Stats. He'll have to throw "hot," and the backs have to be on point with blitz pickup.
-- Rich Cimini
The Redskins loved Sanchez, and they tried to trade up for him, but they didn't love him enough to part with their 2010 first-round pick. The New York Jets got a sweetheart deal from then-Cleveland Browns coach Eric Mangini, enabling them to leapfrog the Redskins by a mile (eight spots) to grab their quarterback.
Now here we are, nearly three years later, the Jets heading to Washington to start what they believe will be another December playoff push. Let's assess each team's quarterback situation:
Since 2009, the Redskins have started Jason Campbell, Donovan McNabb, Rex Grossman, John Beck and, once again, Grossman, whose penchant for throwing interceptions makes fans want to pull out their hair, not caress his.
For the Jets, it has been all about Sanchez, who enters this game after perhaps the most trying week of his career -- after a dramatic win, no less.
Sanchez was booed last week at home in the pregame introductions, his work ethic was questioned on the radio by ESPN analyst Tim Hasselbeck, he was tweaked by Redskins cornerback DeAngelo Hall and he continued to get hammered by fans and media for his uneven play.
Yeah, he was pretty bad for 3 1/2 quarters against the Buffalo Bills, but he rallied for the eighth fourth-quarter comeback in his career.
When Tim Tebow does something like that, a nation swoons. When it's Sanchez, he gets picked apart like a Thanksgiving turkey.
"I don't envy him," backup Mark Brunell said, alluding to the relentless scrutiny.
Maybe that explains why Sanchez appeared subdued this week. Even his parents wondered about him. He insisted he's fine, just wearing his game face.
"He's locked in," said LaDainian Tomlinson, who returns after missing two games with a knee injury. "I've been around Mark long enough now to know him and understand him, and I feel like he plays his best football when he has his mind set. I expect him to play very good football."
Sanchez has yet to play a complete, lights-out game, disappointing those who expected him to take a quantum leap in his third season. But it's unfair to make him the scapegoat for the offensive struggles; we're not talking Grossman-bad here. Take a look at the big picture.
This is how an opposing scout described Sanchez's situation: His running game is mediocre, his pass protection is shaky and his receivers can't get consistent separation. They can get open on play-action passes, but play-action doesn't work without a running game. It's a Catch-22.
As a result, Sanchez is languishing within the structure of Brian Schottenheimer's offense. He doesn't perk up until crunch time, when the tempo is quicker and he's able to improvise and make plays on the run.
In the fourth quarter, Sanchez turns into something different. He has four touchdown passes on throws of at least 15 yards (third most in the league), according to ESPN Stats & Information. In the first three quarters, he has no scoring passes from that distance.
"It's a conservative offense; it looks like they're afraid to do anything," said former Redskins GM Vinny Cerrato, who wound up drafting star pass rusher Brian Orakpo after trade talks for Sanchez fell through. "He doesn't look comfortable. He looks so unsure of himself. You don't see the confidence."
Jets Offseason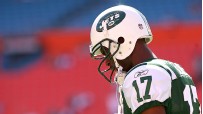 The Jets began 2012 with a thud. So what's next? Jets Center » Blog »
• 50 Greatest Jets

Cerrato was a Sanchez fan in '09. In fact, he rated Sanchez over Matthew Stafford (the eventual No. 1 overall pick) on the Redskins' draft board. The Skins saw him the way the Jets did: A charismatic leader with limited college experience who'd blossom by his third year.
To help Sanchez rediscover his mojo, Cerrato said he'd make him watch tapes of his playoff victories from last season. He plays better in big games, and that's why the Jets are hopeful he can emerge for the stretch run. He likes the fourth quarter, and it's just about the fourth quarter of the season.
"I'm just feeling more and more comfortable," Sanchez said. "It's not quite showing yet, but I know it will."
This isn't an easy challenge for Sanchez. Aside from the external pressure, he had to learn an unfamiliar opponent. It's his first game against the Redskins (4-7), who run a 3-4 system with similarities to the Pittsburgh Steelers' zone-blitzing scheme.
That meant extra prep time. Instead of focusing on tendencies, the way he'd approach a divisional opponent, he had to study up on the Redskins' personnel. This week, it was "who" and "what." By Sunday, he will have studied a half-dozen Washington games on tape -- and that might not be enough.
"When in doubt," he said, "we have to react on the fly."
For a young quarterback, Sanchez has fared well against unfamiliar opponents. He's 6-3 over the past two seasons when facing a team for the first time in his career. There's a common denominator in five of the six victories: fourth-quarter comebacks and an overtime win.
Prediction for Sunday: drama.
At this rate, that thick head of hair will start to show flecks of gray.
ESPN New York Jets reporter
Longtime Jets beat writer for New York Daily News
Syracuse University graduate
EDITORS' PICKS
The next face of New York baseball? It's not too late to rock the vote.