Commentary
Do you believe in miracles? Not really
Playoffs? Flawed Jets must win in Miami, then hope for losses by three other teams
Updated:
December 31, 2011, 2:45 PM ET
By
Rich Cimini
| ESPNNewYork.com
FLORHAM PARK, N.J. -- Once upon a time, the New York Jets played the Miami Dolphins and a miracle happened. They need another one Sunday and -- guess what? -- Jumbo Elliott isn't parachuting into South Florida to save the day.
The big-talking Jets, who came into the season predicting greatness, have been reduced to wishing and hoping on the final Sunday. Desperation doesn't become them, but they deserve this predicament after failing to capitalize on a made-to-order schedule in the homestretch.
Their goal in August was to create mayhem in the AFC, but the only "Mayhem" that occurred was the arrival of Aaron Maybin.
Five things to watch
1. The scoreboard. The Jets will keep an eye on Titans-Texans, which also begins at 1. If they beat Miami and get a Titans loss, the Jets will fly home focused on three 4:15 games. They need a Bengals loss to the Ravens and a Broncos loss to the Chiefs or a Raiders loss to the Chargers. Easy, right?
2. Farewells.Take a good look, because if this turns out to be the end of the season, it'll be the last time you see Plaxico Burress and LaDainian Tomlinson in a Jets uniform. Both will be free agents. Others who might not return in 2012 include Wayne Hunter, Sione Pouha (free agent), Bart Scott, Brodney Pool (free agent) and Eric Smith.
3. Brian's (Swan) Song. In all likelihood, offensive coordinator Brian Schottenheimer is a goner. He'd like nothing more than to finish the season with a bang, but this is the type of defense that causes problems for the Jets -- two solid edge rushers (Cameron Wake and Jason Taylor), two good corners (Vontae Davis and Sean Smith) and a stout run defense. The two-game funk could become a three-game funk.

4. Marked Man. Rex Ryan has stated that Mark Sanchez is his QB of the future (what else can he say at this point?), but Ryan and the decision- makers will feel a whole lot better if he can end the season on a positive note. In the last two games, Sanchez has had four interceptions and has led the offense to only 33 points in 30 possessions.

5. Marshall Plan. When are these wide receivers going to learn? This week, Brandon Marshall called out CB Darrelle Revis, saying he receives preferential treatment from officials -- i.e., the Jordan Rules. This should be a fun matchup because the Dolphins aren't afraid to attack Revis. In the first meeting, Marshall was targeted 13 times.
-- Rich Cimini
The probability of the Jets making the playoffs is 10.4 percent, according to the website Football Outsiders -- roughly the equivalent of Mark Sanchez's chances these days of connecting on a deep ball.
"We put ourselves in this terrible situation ... but we've been defying the odds for a while," guard Matt Slauson said. "Pretty much the entire country gave us probably a 1 percent chance of beating New England last year [in the playoffs], so I don't worry about odds."
If the Jets manage to beat the Dolphins, and they catch a break with a Tennessee Titans loss in another early game, they will learn their playoff fate on the flight home to New Jersey, awaiting the outcome of three late games.
Everything about the Jets and their season would be literally up in the air.
"We'll do whatever it takes -- light candles, whatever," Rex Ryan said. "We'll do it all."
It probably sickens Ryan to think about what might have been.
After getting Tebowed in Denver, the Jets rallied with a three-game winning streak to improve to 8-5, taking control of their own destiny. Ryan was back to the tough talk, telling everyone how dangerous they'd be in the playoffs. But in a span of six days, they got their egos pounded and their hearts ripped out by the Philadelphia Eagles and New York Giants.
It makes you wonder if they have anything left for the Dolphins, who, by the way, bear no resemblance to the team that started 0-7.
Since their "Suck for Luck" days, the Dolphins are 5-3. They got their coach fired, but they're playing good defense and showing life on offense. The Jets are 4-4 over the same span, which made Ryan look silly when, with a hint of audacity, he questioned why his team is considered the underdog.
They're the underdog because the Jets have been outplayed by the Dolphins over the last two months -- against virtually the same schedule.
If that's not an indictment, what is?
In case you haven't realized it, folks, the Jets aren't that good. They're 1-6 against teams with winning records and five of their seven losses were by double digits.
"We're really close to being an amazing offense," said Slauson, repeating the weekly lament of teams that simply aren't good enough.
All things considered, the Jets probably would be better off by missing the playoffs. Not only would it help their draft position, it would force them to take a hard look at their personnel, the way they evaluate talent and their attitude.
They built this team with a sense of arrogance, thinking it needed only a tweak here and there to take the next step to the Super Bowl. Bill Parcells used to have a saying that applies here: You never stay the same; you're either getting better or getting worse.
Clearly, the Jets overrated their talent, thinking two straight trips to the AFC Championship Game was all the evidence they needed. But everybody got a year older, exacerbating the lack of speed at certain positions. They also got burned by depth issues on the offensive line and linebacker.
Perhaps the biggest miscalculation was thinking Sanchez would grow so much in his third year that it would camouflage other blemishes. He got off to such a slow start that it forced them to rethink their offensive philosophy, returning to Ground & Pound.
Jets Offseason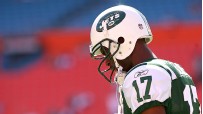 The Jets began 2012 with a thud. So what's next? Jets Center » Blog »
• 50 Greatest Jets

The number of big plays often illustrates the explosiveness (or lack thereof) of a team. Well, here you go, a look at plays of at least 40 yards:
Allowed by the defense: 11.
Produced by the offense: two.
"We haven't really dialed up a lot [of long passes]," wide receiver Plaxico Burress said. "We definitely have the guys on the edge that can make plays."
That's a subtle dig at offensive coordinator Brian Schottenheimer, whose six-year run with the Jets probably will end when the season ends. But it isn't entirely his fault; this is a flawed team, lacking firepower. But hey, they still have a shot at the playoffs, thanks mostly to the watered-down AFC.
Even though there's only a 10 percent chance of making the tournament, the Jets have everything to play for on the final Sunday of the season. But honestly, does anybody believe they're going to deliver a lights-out performance in Miami?
On second thought, they might be lights-out.
As in, turn off the lights, the party's over.
ESPN New York Jets reporter
Longtime Jets beat writer for New York Daily News
Syracuse University graduate
EDITORS' PICKS
The Yankees opened their Grapefruit League schedule with a 5-5 tie.
Nike Toddler Home Game Jersey Miami Dolphins Ryan Tannehill #17 Shop »