Commentary
Jets' 2011 postseason report card
Gang Green fell apart this season, as infighting and lack of productivity doomed them
Updated:
January 5, 2012, 4:50 PM ET
By
Rich Cimini
| ESPNNewYork.com
For most of the season, the Philadelphia Eagles were considered the poster team for underachieving. But in the end, the New York Jets gave them a run for the title.
The Jets ended on a three-game losing streak, finishing 8-8 and missing the playoffs for the first time under Rex Ryan. They played an easy schedule, and still couldn't get it done, going 0-4 against teams that finished with winning records. They also lost six games by double digits, underscoring the gap between the Jets and the top teams. Aside from the record, the most troubling part of the season was how they lost -- lacking cohesion and chemistry. The lasting image of the 2011 season will be that of the Jets arguing in the huddle with two minutes left in their sorry season.
Jets' position-by-position report card





Quarterback

No matter what they say publicly, the Jets have to be concerned by Mark Sanchez, who committed a career-high 26 turnovers. Sure, he threw 26 touchdown passes, but he regressed in the areas of decision-making, ball security and game management. That he survived the season is a credit to his toughness, but the beating affected his mechanics and poise. It's hard to believe, but 10 of his 18 interceptions came on throws under 11 yards. He completed only 57 percent on play-action, which is supposed to be his strength. Clearly, he has a lot of work ahead.






Running backs

Shonn Greene showed some life at the end of the season and finished with 1,054 yards, one of 15 backs to break the 1,000-yard mark. Problem is, it took him too long to get started. Greene didn't show any breakaway ability and his yards-after-contact average was only 2.0 per rush, 30th in the league. At times, LaDainian Tomlinson was the Jets' best back, but he couldn't sustain it because of his age. Tomlinson was solid as the third-down back, averaging 10.7 yards per catch. FB John Conner was underwhelming.






Wide receivers

Santonio Holmes and Plaxico Burress combined for only 96 catches, never developing a strong rapport with Sanchez. Burress (eight TDs) was a weapon in the red zone, but he caught only 34 passes between the 20s. At times, it looked like he was running in quicksand, struggling to separate. Defenses shaded their coverage to Holmes (eight TDs), who never showed his trademark explosiveness. Rookie Jeremy Kerley showed potential as a slot receiver, with outstanding short-area quickness.






Tight ends

Dustin Keller led the team in receptions (65) and yards (815) -- both career highs -- becoming the first tight end since Mickey Shuler in 1985 to lead the team in catches. Keller keeps getting better, although he needs to get better at beating physical coverage at the line of scrimmage. Matthew Mulligan was a good blocker at times, but he never got the recognition because he was always getting flagged -- nine penalties.






Offensive line

Oh, how the mighty fell. Statistically, the line slipped in all areas, from run blocking to pass protection. Consider: The Jets rushed for only 1,692 yards, more than 1,000 yards less than their 2009 total. Wow. Double wow. Still, they're sending two to the Pro Bowl, C Nick Mangold and LT D'Brickashaw Ferguson. RG Brandon Moore was superb in pass protection. The problem was RT Wayne Hunter, who committed a team-high 11 penalties for 80 yards and allowed nine sacks, unofficially.






Defensive line

The Jets used to be an elite run-stopping defense, but they dropped to 13th. Mike DeVito missed four games with knee injuries, and that hurt. Their best lineman was NT Sione Pouha, who did a nice job of clogging the middle. If the Jets had more players like Pouha, they wouldn't have chemistry problems. Muhammad Wilkerson was solid, if not spectacular, as a rookie. He will improve as a pass-rusher with experience. Rookie NT Kenrick Ellis was a disappointment; the scholarship ends in 2012.






Linebackers

David Harris should've gone to the Pro Bowl. It's not often you see a middle linebacker with five sacks and four interceptions. The rest of the unit was ... blah. Bart Scott was a liability in pass coverage and lost playing time in the sub packages. He's probably a goner. Calvin Pace finally made it through a full season, but his production (4.5 sacks) was underwhelming. They didn't have an every-down replacement for Bryan Thomas, and that hurt. Aaron Maybin (team-high six sacks) provided a jolt in a situational role.






Secondary

The Jets finished fifth in pass defense, so you can't ignore that. Mostly, it was because of the cornerback play, especially Darrelle Revis, who was terrific. Antonio Cromartie had some hiccups (six TD passes allowed), but he reduced his penalties and was generally solid. So was nickelback Kyle Wilson, although he and Cromartie might have Victor Cruz nightmares. The safety play (only three interceptions) was unacceptable. Eric Smith has all the intangibles, but he played hurt and simply didn't have the athleticism to cover elite tight ends.






Special teams

The return and coverage units were terrific, especially KR Joe McKnight (31.6 average), but you can't overlook the turnovers. The Jets lost six fumbles on special teams -- an average of one per 21 touches. That's simply unacceptable. It's unfortunate because the kicking units did some really nice things, but they also provided too many short fields for the opposition.






Coaching

Rex Ryan admitted he didn't have the pulse of the team. If that's not a self-indictment, what is? Simply put, the Jets underachieved. Ryan tried to become a three-receiver passing offense, straying from his Ground-and-Pound roots, and that backfired. He admitted the mistake, but all that did was convey doubt to his players. He decided to name captains, but instead of letting the players vote, he did it himself -- bad move. He gave his star players (i.e. Holmes) too much latitude. He let the locker-room turmoil fester. The team was wildly inconsistent (two three-game winning streaks and two three-game losing streaks), and that goes to coaching. Brian Schottenheimer's greatest failing was Sanchez's regression. The offense never found a rhythm or an identity, although it had to be hard with all the egos. Defensive coordinator Mike Pettine, in his first season as the playcaller, veered too far away from the blitzing mentality. The Jets finished a respectable fifth in total defense, but they played like a top-five defense only against journeyman quarterbacks.






Front office

This was a flawed team. GM Mike Tannenbaum sacrificed character for talent, getting rid of too many good locker-room guys. That came back to haunt the Jets. They rebuilt the receiving corps at the 11th hour, adding older and slower parts -- Burress and Derrick Mason, an unmitigated disaster. They put too much on Sanchez, expecting him to galvanize an offense with too many warts. He didn't progress as they had hoped, and it came down like a house of cards. For some reason, they didn't spend to the salary-cap limit (that's on owner Woody Johnson) and that hurt the team's depth, especially at offensive line and linebacker. They also didn't get enough out of the last two drafts (see Vladimir Ducasse and Kenrick Ellis). The best move was re-signing Maybin, but if they thought he'd lead the team in sacks, they never would've cut him in the first place.
Jets' postseason awards
Jets Offseason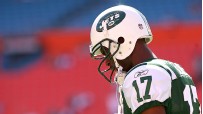 The Jets began 2012 with a thud. So what's next? Jets Center » Blog »
• 50 Greatest Jets

Offensive MVP: C Nick Mangold. The offense fell apart when he was injured.
Defensive MVP: CB Darrelle Revis. Still the best in the business.
Special-teams MVP: KR Joe McKnight. Made people forget about Brad Smith.
Most improved: CB Kyle Wilson. No one throwing around the "B" word anymore.
Least improved: QB Mark Sanchez. This was supposed to be a breakout year.
Biggest surprise: LB Aaron Maybin. From scrap heap to leading sacker.
Biggest disappointment: WR Santonio Holmes. Bad numbers, bad attitude
Best rookie: WR Jeremy Kerley. A terrific fifth-round draft pick.
Best offseason acquisition: N/A
Worst offseason acquisition: WR Derrick Mason.
Best-kept secret: LB Josh Mauga. Showed promise filling in for Bart Scott.
Best coaching move: Brian Schottenheimer benching Holmes in the final game.
Worst coaching move: Ditching the Ground-and-Pound attack at the start of the season.
Biggest concern: Rebuilding team chemistry.
Key to the offseason: Fixing Sanchez and taking a fresh approach on offense.
Player ready emerge in '12: Kerley. Deserves more playing time at receiver.
Least likely to return in '12: WR Plaxico Burress. Did some nice things, but it's time to move on.
Rich Cimini covers the Jets for ESPNNewYork.com. Follow him on Twitter.
ESPN New York Jets reporter
Longtime Jets beat writer for New York Daily News
Syracuse University graduate
EDITORS' PICKS
Dellin Betances gives fans a budding star to embrace.