Giants begin installing game plan
Updated:
January 27, 2012, 11:08 AM ET
By
Ohm Youngmisuk
| ESPNNewYork.com
EAST RUTHERFORD, N.J. -- The last time Eli Manning played the New England Patriots in Super Bowl XLII, he remembers seeing wrinkles and schemes he had not seen from the Patriots before that moment.
So as Manning prepares for the Patriots in the Super Bowl rematch, the New York Giants quarterback is expecting the unexpected from Bill Belichick's defense.
"Any time you play the Patriots, you always assume they might have something new for you," Manning said. "The last time we played them, they showed a lot of different looks, some different schemes on defense, things that they have not shown before. When we played them in the Super Bowl four years ago, they had some new things for that game."
Super Bowl XLVI


Get all the news and commentary on the Patriots-Giants matchup on ESPN.com's Super Bowl Central.
• Clayton: 10 Super Bowl questions
• How To Stop: Brady

| Manning


• Playoff Centers: Patriots | Giants
• Blog network:
Patriots | AFC East | Giants | NFC East
Manning and the Giants have begun installing their game plan and the quarterback has to be prepared to face a 4-3 or 3-4 defensive alignment from the Patriots. By the time they leave for Indianapolis on Monday, the Giants say 90 percent of the game plan will be in.
As for what Belichick will have up his sleeve, Manning said the Patriots like to come with a different defensive "theme" each week.
"You go back and watch the last couple of games, each game is a little different scheme they are going to play," Manning said. "We have played a lot of 3-4 teams and a lot of 4-3 teams. They can do both of them in a game. It seems like they kind of have a theme of what they are going to base out of that week.
"(Against) Baltimore, they were more 3-4 and games prior, (including the) last time we played them, they were more 4-3. So we will be prepared for both and whatever they want to show, we will have a good plan."
The Giants' theme is sure to feature big plays and some key weapons Manning did not have when they won, 24-20, in New England on Nov. 6. Running back Ahmad Bradshaw and wide receiver Hakeem Nicks were out with injuries and so was starting center David Baas.
"We're preparing for them like we've never played them before," wide receiver Mario Manningham said. "I feel like our advantage is Hakeem (and) Ahmad didn't play."
While Nicks, Bradshaw and Baas were among seven Giants who did not practice on Thursday, they are all expected to play in the Super Bowl, barring any setbacks.
Nicks has a shoulder injury he suffered in the 20-17 overtime win over San Francisco but says he will play against the Patriots. With Nicks, Victor Cruz and Manningham, Manning will have an even better trio of big-play receivers to throw at Belichick than he did in Super Bowl XLII.
The Giants have thrived off big plays all season, scoring eight touchdowns of 66 yards or longer in the regular and postseason.
O'Connor: RB Showed Coughlin the Way

With one conversation, retired running back Charles Way helped change the course of Tom Coughlin's Giants career, writes Ian O'Connor. Story
The Patriots finished 31st in the NFL in total defense this season. While New England is playing better than their regular-season ranking indicates, the Giants should have an easier time moving the ball against the Patriots than against San Francisco's defense -- the best defense the Giants faced all season.
"I'm still a little sore from that game," said Cruz, who had 10 catches for 142 yards against San Francisco. "It was an all-out war. So I feel like, definitely, if we can make a lot of the plays we did against them, we can definitely do it against anybody."
Prior to playing the Green Bay Packers, who finished 32nd in total defense this season, several Giants offensive players talked about how they saw grand opportunities to hit for big plays and how they saw Green Bay players were getting beat on film.
While the Giants receivers didn't make any declarations that will expose the Patriots defense the way they did prior to the Green Bay game, they remain confident in their ability to strike for a big play or two.
"A few things," Cruz said of what he saw on tape from the first meeting in which he led the Giants with six catches for 91 yards. "Mainly from the first time we played them, we had some pretty big plays against them and it's going to take a few more practices just to make sure we understand the coverages and what we're facing.
"But we definitely see some opportunities to hit the big play on them and a few more days of practice and more film we'll see how it goes."
Manningham had a touchdown in that win at New England and sees some things that the Giants can take advantage of.
"Outside, inside too," he said. "But outside, toward the sideline, out-breaking routes, some in-breaking routes. There's going to be plays out there for us to be made."
During the Giants' win in New England, Manning threw for 250 yards and two touchdowns to go with one interception. He hit tight end Jake Ballard for gains of 30 and 28.
But this time Manning will have his full arsenal of weapons to counter whatever defensive theme and scheme Belichick conjures up.
"We love making big plays," Manningham said. "Sometimes we joke around and see who is going to make the first big play. That's how our receiving corps is.
"Not saying that (the 2007 Giants receivers) weren't hungry but I feel like our hunger is because we're so young and we haven't been here before," Manningham added. "None of us ever played a playoff game (before this season) ... I feel like everybody knows who we are now."
Ohm Youngmisuk covers the Giants for ESPNNewYork.com.
ESPNNewYork.com
Ohm Youngmisuk has covered the Giants, Jets and the NFL since 2006. Prior to that, he covered the Nets, Knicks and the NBA for nearly a decade. He joined ESPNNewYork.com after working at the New York Daily News for almost 12 years and is a graduate of Michigan State University.
Follow him on Twitter »
Ohm's chat archive »
SUPER BOWL XLVI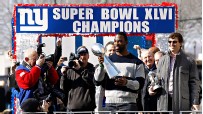 SUPER BOWL XLVI: Giants 21, Patriots 17
SPORTSNATION
PRO FOOTBALL HALL OF FAME
MORE NFL COVERAGE
NFL DRAFT
EDITORS' PICKS
For the first time since Aug. 24, 2013, Mets ace Matt Harvey will take the mound.