Commentary
Safety group keys Giants' defense
They call themselves the AK-47s, and confidence may be their greatest weapon
Updated:
February 5, 2012, 1:28 AM ET
By
Ohm Youngmisuk
| ESPNNewYork.com
INDIANAPOLIS -- The idea was always to get the best talent on the field no matter the position.
Entering his first training camp as New York Giants defensive coordinator during the summer of 2010, Perry Fewell didn't have just a plethora of sack-starved defensive ends at his disposal, but he also had three quality safeties in Antrel Rolle, Kenny Phillips and Deon Grant.
Rolle had signed a five-year deal worth $37 million that spring. Phillips was taking baby steps in his recovery from serious knee surgery the year before, so the Giants added Grant, a savvy veteran safety who had started 144 consecutive games.
But Grant was more than just insurance for Phillips. Fewell and safeties coach Dave Merritt had discussed using a three-safety scheme when they signed Grant.
Like the Giants' philosophy when it comes to defensive ends, apparently you can never have enough versatile safeties.
Five things to watch

1. Elite statement. He started off the season by saying he believed he was an elite quarterback in Tom Brady's class. Eli Manning has proved all season that he is indeed an elite quarterback but he can finish the best season of his career by beating Brady for a second time in the Super Bowl. Manning threw for 250 yards, one touchdown and an interception during the Giants' 24-20 win in New England in November. That included a game-winning 80-yard drive that concluded with a touchdown with 15 seconds remaining. This time, Manning will have Ahmad Bradshaw and Hakeem Nicks, two Giants who did not play in the previous meeting. The Giants' offensive line must give Manning time to attack New England's secondary if the Giants are going to win.

2. Brady bunch. In order to win the Super Bowl, the Giants' defense will have to find a way to keep Rob Gronkowski, Wes Welker, Aaron Hernandez and Deion Branch from going off for big numbers. The pass rush will have to get to Tom Brady and keep him off rhythm like it did during the Giants' 24-20 win in November and in Super Bowl XLII. Brady could go up-tempo, and try to throw quick passes to offset the pass rush and tire out the defense. The Giants will have to be fast and physical up front and with the receivers, and at their sharpest against what is expected to be a highly motivated Brady.

3. Tyree the sequel. The Giants have had so many big plays made by various players this season. Victor Cruz has five touchdowns of more than 68 yards. Hakeem Nicks had the Hail Mary touchdown catch against Green Bay. Special teamer Devin Thomas had two fumble recoveries on punts in San Francisco, one off a strip by rookie Jacquian Williams in overtime that set up the game-winning field goal. Who will be the unsung Super Bowl hero who can follow in David Tyree's footsteps? Jake Ballard had a big game against the Pats in November. Travis Beckum had a long touchdown catch this season against Green Bay. Someone might have a chance to be the next Giants Super Bowl hero.

4. So fresh and so clean. The Giants can't afford to make any mistakes that will cost them the Super Bowl. That means no costly turnovers, no drive-stalling penalties and certainly no communication breakdowns or mental lapses on defense. The Giants have been able to mostly eliminate that during their five-game winning streak to get to the Super Bowl. The Giants like to say they often are the ones who beat themselves. They'll have to play a clean game and limit Brady's opportunities. They also need to execute on special teams, which could make a difference in this game.

5. Back up the talk. The Giants have spent all week talking about how they expect to win this game. It has led many to wonder whether they are overconfident. But the bravado and confidence are part of the team's DNA. The Giants backed up the talk when they were 7-7 and said they were a playoff team, and they have won five straight since. They backed it up when they said they would beat Green Bay and expected to win in San Francisco. The Giants won't have the added mental edge of seeking revenge from a previous regular-season loss this time in the Super Bowl. They aren't the overwhelming underdog, either. But all they have to do is back up their talk one more time this season.
-- Ohm Youngmisuk
Fewell and Merritt might not have envisioned using their three-headed safety attack as much as they have in the past two seasons, but it has become a staple of the Giants' defense. The trio of safeties likely will be a big part of the Super Bowl XLVI defensive game plan against New England's fearsome tight end duo of Rob Gronkowski and Aaron Hernandez, and even Wes Welker in the slot.
On a team full of bravado, the safeties are by most accounts the most confident and loudest Giants. They have formed one of the tightest bonds on the team while injecting the defensive unit with nonstop swagger that trickles down throughout the team.
"We call ourselves the AK-47 group," Rolle said. "You got Antrel, you got the number 26. You got Kenny, you got 21, which both equals 47. But everyone knows an AK-47 doesn't work without a clip, and Deon Grant has been that clip."
THE ORIGIN
The Giants' three-safety look originated in 2007, according to Merritt.
The team drafted safety Michael Johnson in the seventh round, and already had Gibril Wilson and James Butler.
Merritt believes in coaching his safeties to be as versatile as possible, play both free and strong safety, and learn how to play on both the right and left sides.
So in passing down situations, then-defensive coordinator Steve Spagnuolo opted to bring in Johnson as the "Will" linebacker to go with Butler and Wilson.
"Spags wanted our best cover people on the field," Merritt said. "All of the sudden, we started implementing it especially when [linebacker] Kawika Mitchell got hurt. We threw Michael Johnson in the game."
But the look evolved from a situational look to an every-down package under Fewell. During the 2010 season, Fewell employed the three-safety alignment quite often with just two linebackers. It gave the Giants flexibility to cover and stop the run.
"It presents a problem because you don't really know who is going to rotate down, you don't know who is going to be in coverage on your tight end," backup quarterback David Carr said.
"It makes it kind of difficult to see. A lot of times, you talk about the shell of the defense; that is where you start your reads as far as a quarterback. When you got three of those guys out there that can kind of roam around and move anywhere, it makes it tough to get a pre-snap read.
"It makes you hesitate a little bit," Carr added.
The look helped shut down Houston's Arian Foster to 25 yards rushing in Week 5 of the 2010 season as Rolle played close to the line of scrimmage to contain Foster. Depending on the game plan, the three safeties can play a variety of roles.
"All of us has great cover skills, we can play the run extremely well," Rolle said. "You can put us at linebacker; you can put whoever you want at nickel. All of us can blitz. It is almost like you have a linebacker and corner all in one."
During their 37-20 upset over the Packers to advance to the NFC Championship Game, the Giants were physical with tight end Jermichael Finley, who finished with just four catches for 37 yards. The Giants also held Green Bay's Aaron Rodgers to 264 yards passing with two touchdowns and one interception.
And during their 24-20 win in New England in November, Grant had a big game with an interception and two passes defended while covering Gronkowski at times.
"Sometimes when you have a base package, you don't have the flexibility to be as multiple as you'd like to be," Fewell said. "So with three safeties on the field, you can be very multiple in your coverages, your pressures, a lot of disguises, so that's really what spurred the thinking."
At first, the safeties wondered how it all would work out. Prior to the 2010 season, Phillips had recovered enough to be able to play significant snaps even if he wasn't truly all the way back to his high level of play prior to the knee injury.
Grant took pride in his starting streak and wasn't necessarily ready to take a reserve role with limited snaps. And Rolle was ready to live up to his big contract.
"At first, I tried to figure it out because I didn't know what role that we would all play," Phillips said. "Someone would have to kind of take, I don't want to say a backseat, but a lesser of a role. Somehow [Fewell] made it work."
Rolle admits to having reservations prior to seeing what the trio could do together during the 34-10 win over Houston in early October 2010.
"I can't tell you I was excited," Rolle said. "I really didn't know what to expect."
THE GODFATHER
All three safeties had to adapt to their roles and playing together. But during the course of the 2010 season, they formed a brotherly bond that proved to be unshakeable even when the Giants opened the 2011 camp without Grant.
The Giants drafted Nebraska cornerback Prince Amukamara in the first round and Iowa safety Tyler Sash in the sixth round. So Grant was at home for the first two-plus weeks of camp. But when the secondary suffered a rash of injuries, the Giants re-signed Grant in the middle of training camp.
Rolle talked with Grant daily and desperately wanted the man he considers an older brother to be back on the team. The Giants also signed Grant shortly after Steve Smith and Kevin Boss bolted in free agency. At the time, the Grant move didn't make up for the loss of Smith and Boss but it proved to be one of general manager Jerry Reese's best of the season.
Giants' Top 10 Super Bowl Moments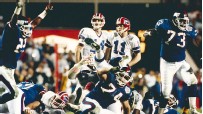 From "Wide Right" to "Catch 42," ESPN New York ranks Big Blue's 10 best Super Bowl moments. Photo Gallery



Giants' 10 Worst S.B. Moments

Grant, 32, provides a calm, soothing influence. Referred to by some teammates as "The Godfather," Grant is as popular as any Giant in the locker room and often loudly greets teammates with a hearty "good morning" before blasting his boom box in his locker stall.
He also has a way with words and an uncanny ability to get through to fiery players such as Rolle while giving much-needed advice to rookies such as Sash. When Rolle was frustrated with his role on the defense and the unit's struggles after the team fell to 7-7, Grant had a heart-to-heart with him to help get the emotional safety's mind right.
Rolle credits Grant with helping turn his season around, which in turn was one of many factors that helped the Giants turn their season around.
"He doesn't want to be labeled with this name, but I tell [Grant], 'You are Frank Lucas,'" Merritt said, referring to the Harlem crime boss who was the subject of the movie "American Gangster." "You are running the show from behind the scenes. Their personalities are so different but yet the same. Kenny is more of an introverted type of kid, not going to stir any trouble. Antrel is like a fire ant, ready to fight at any time with his words or with his fists.
"Deon is more like the cool head and always bringing it from a different perspective," Merritt continued. "'Educated Young Black Man' is what he used wear on his shirt walking around [the University of] Tennessee's campus."
Grant admits he easily could have fallen into a life of crime or something worse while growing up in the projects in Augusta, Ga. Raised by a single mother, Joyce Wright, with his two younger sisters, Grant had to grow up quickly and be the man of the house.
"I can recall she had 40 dollars to last us two to three months and there was four of us in the house," Grant said. "She didn't have enough money and we weren't on welfare so we had to make it happen as far as bringing food in."
Grant said there was ample opportunity for him to get into serious trouble.
"I definitely dabbled and did some of the things, but I didn't fall victim to making it a career of mine and being a bad boy," Grant said. "I had close friends that were hard heads, some that are dead now, some that are in prison for life."
These days, Grant is the leader of a gang that goes by the name "The AK-47s."
On a roster full of players who have been saying all week that they are going to beat the Patriots, the most confident players in the Giants' locker room are the safeties.
And they are confident they can cover Gronkowski, Hernandez and even Welker in the slot.
"I've never been around a group of guys that they get beat on a play or something goes wrong, they are almost more confident next play that they are going to make the play," Carr said. "It resonates."
ESPNNewYork.com
Ohm Youngmisuk has covered the Giants, Jets and the NFL since 2006. Prior to that, he covered the Nets, Knicks and the NBA for nearly a decade. He joined ESPNNewYork.com after working at the New York Daily News for almost 12 years and is a graduate of Michigan State University.
Follow him on Twitter »
Ohm's chat archive »
EDITORS' PICKS
Jarrett Jacked soared, but the Nets lost to the Raptors in OT on Friday.