Jets QB Drew Stanton wants out
Updated:
March 23, 2012, 12:01 AM ET
By
Rich Cimini
| ESPNNewYork.com
Tim Tebow's arrival in New York already has upset one New York Jets quarterback -- Drew Stanton.
More on Tebow to Jets
ESPN.com:


Eli Manning is the sports king of New York, but Tim Tebow has a good shot at becoming royalty as well, James Walker writes. Blog
• Tebow the eventual starter?


• O'Connor: Fans should pause
• Granderson: Stop your whining
---
ESPNNewYork.com:


Get ready Jets fans, because the Tim Tebow circus is set to take over New York on Monday, Rich Cimini writes. Story

There's little doubt Tebow is a great guy, but the circus he brings could send the Jets crashing, Johnette Howard writes. Story

By trading for a QB that can't throw, the Jets cement their status as a high-profile sideshow, Stephen A. Smith writes. Story
---
espnW:


Tebow to the Jets? It's the equivalent of the Bible Belt meeting the Jersey Shore, Jane McManus writes. Story
The veteran backup, who signed a one-year, $1.25 million contract last Friday to be the No. 2 quarterback, has asked to be traded or released, a league source confirmed to ESPN Insider Adam Schefter.
The Jets are currently trying to trade Stanton, a source said.
Stanton is said to be unhappy because he was promised the No. 2 job and turned down more lucrative opportunities with the Tampa Bay Buccaneers and Kansas City Chiefs to play for the Jets. He received a $500,000 signing bonus, but he could have a hard time finding a new team because the backup jobs are filling up.
General manager Mike Tannenbaum confirmed earlier this week that Stanton was to be Mark Sanchez's primary backup, but the Jets changed the plan when they acquired Tebow late Wednesday night in a trade with the Denver Broncos.
"Tim is our backup quarterback. Mark is our starter," Tannenbaum said Thursday morning on ESPN Radio's "Mike and Mike in the Morning."
Tebow was traded to the Jets on Wednesday night over an offer from the Jacksonville Jaguars after the Jets agreed to pay $2.53 million of a $5 million salary advance due Tebow, league sources told Schefter, after the question of who would pay that advance nearly unraveled the trade and gave Jacksonville one last shot at bringing the ex-Florida Gators hero back home.
Jacksonville offered the Broncos $3 million toward Tebow's salary advance and a fourth-round draft pick, league sources told Schefter. That pick, based on the draft "value chart" that teams use to determine how to use their picks, is more valuable than the picks the Jets offered, sources said.
The Jets traded their fourth- and sixth-round picks to Denver in exchange for Tebow and the Broncos' seventh-round selection.
The Jets will pay the Broncos $1.5 million in 2012 and $1.03 million in 2013, a league source told ESPN sports business analyst Andrew Brandt. The payments will be made in 1/17th weekly installments.
According to the Elias Sports Bureau, the trade of Tebow to the Jets is the first time in NFL history that a quarterback in his first or second year started and won a game in the playoffs and then changed teams that offseason. Tebow led the Broncos to a victory over the Pittsburgh Steelers in the wild-card round of the 2011 postseason.
Tannenbaum said Thursday that he has talked to Stanton and his agent.
"When we signed Drew, clearly we thought he'd be our backup quarterback," Tannenbaum said. "This [Tebow] scenario wasn't contemplated. ... We're going to look at keeping four quarterbacks. We're going to assess our options there. As of now, we don't have that situation resolved."
Tannenbaum said the Jets not only acquired Tebow to be Sanchez's backup but to be the player to run the team's version of the Wildcat, an offense that both coach Rex Ryan and offensive coordinator Tony Sparano are big supporters of running. The Jets' Wildcat offense sputtered in 2011 after Brad Smith left as a free agent to sign with the Buffalo Bills.
"When Rex came in with his defensive acumen and background he always felt that running the Wildcat was hard to prepare for from a defensive standpoint," Tannenbaum said. "In our first two years we had a fair amount of success with it with Brad Smith and felt like we had lost something not having Brad here a year ago.
"Couple that with the fact that Tony ran it so effectively with Ricky Williams and Ronnie Brown in Miami and the fact that Coach Sparano coached Tim at the Senior Bowl, it kind of fit knowing that he could come in, be Mark's backup and still add to our offense."
The Jets' general manager said the Jets' use of the Wildcat will be game-plan specific, but "if our offense is sputtering and we have three three-and-outs and we roll this out there and it's successful, who knows.
SportsNation: Stanton or Tebow?

Would you rather have Drew Stanton or Tim Tebow as your team's backup quarterback?
• Cast your votes!
"It will just depend on the game and the situation. Tim is really effective with the ball in his hands both running it and throwing it. He can throw the ball deep. Typically when you run the Wildcat, the line of scrimmage gets a little crowded and to be able to throw the ball over people's heads, we think we can have explosive plays out of that package as well."
Stanton, a third-stringer last season with the Detroit Lions, picked the Jets because of the opportunity to move up to No. 2.
Besides Sanchez, Tebow and Stanton, the Jets have second-year quarterback Greg McElroy, drafted last season out of Alabama. He spent last season on injured reserve with a thumb injury, but the team likes his upside and wants to develop him.
It will be difficult to trade Stanton because of the shrinking market and unusual circumstances, so the Jets may ultimately have to eat the $500,000 bonus.
NFL.com first reported the trade request Wednesday night.
Tebow on Wednesday night said he had a "great conversation" earlier in the day with Sanchez, adding that they've been friends for several years.
"My goal is to push him to get better and to push myself to get better every day," said Tebow, who won't be introduced publicly until Friday at the earliest, "but I think we'll have a great working relationship. We'll have a great relationship off the field, and we've had that the last few years. He's such a classy guy and handles himself so well, and I'll be very honored to call him my teammate."
ESPN NFL Insider Adam Schefter and ESPN sports business analyst Andrew Brandt contributed to this report.
ESPN New York Jets reporter
Longtime Jets beat writer for New York Daily News
Syracuse University graduate
The NFL on ESPN.com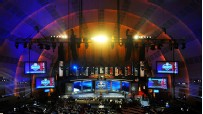 NFL DRAFT ON ESPN
NFL DRAFT PROFILES
HOT BUTTON: KIPER-MCSHAY DEBATES
NFL DRAFT TEAM NEEDS
MORE NFL COVERAGE
MORE NFL DRAFT
EDITORS' PICKS
The Knicks' surge came to a screeching halt against the Pacers.