WR: Antonio Cromartie talk 'a slight'
Updated:
August 1, 2012, 10:24 PM ET
By
Jane McManus
| ESPNNewYork.com
CORTLAND, N.Y. -- With the first cracks in team unity appearing in the New York Jets' locker room as wide receiver Chaz Schilens called Antonio Cromartie's comments about the team's receiving corps a slight, coach Rex Ryan responded with a clear statement about who was in charge.
"

I'm aware of what was said. OK? I'm on top of it, I'm telling you that right now. I'm on top of it, and it will not be a problem. And that's all that I'm going to say about the whole thing.

"

-- Rex Ryan
"I'm going to say this right now, listen to me when I tell you this," Ryan said, "I'm aware of what was said. OK? I'm on top of it, I'm telling you that right now. I'm on top of it, and it will not be a problem. And that's all that I'm going to say about the whole thing."
A source confirmed to ESPN NewYork's Rich Cimini that Ryan addressed the matter in the mid-afternoon team meeting Wednesday, as reported by The Star-Ledger of Newark. The coach told the players to be careful with comments to the media. Cromartie, who declared that he would rank himself as the team's No. 2 wide receiver on the depth chart, clearly chafed his teammates who make a living playing the position. Schilens said after practice that he hasn't addressed the "slight" with Cromartie in person, but he isn't going to let it go.
"We'll address it on the football field," said Schilens, the 6-foot-4 former Oakland Raiders receiver who signed with the Jets this offseason. "… I think it's a slight, I'm not going to lie. I just wouldn't say it, it's not something I would say but I'm not him I guess."
Cromartie, the Jets' No. 2 cornerback, was asked Tuesday on "ESPN First Take" where he would place himself on the depth chart after coach Rex Ryan said Cromartie could be asked to play at wide receiver this season. He responded seriously that he was behind Santonio Holmes, which puts him in front of Schilens, Stephen Hill, Jeremy Kerley, Patrick Turner and a number of others.
On Wednesday, Cromartie shot quickly by reporters who wanted to speak with him, telling the team's PR staff that he would speak Thursday. In his wake, rookie Stephen Hill said he wasn't offended by Cromartie's declaration.
More on ESPN.com

It's a week into training camp, but the sniping between Antonio Cromartie and Chaz Schilens already shows signs of dysfunction on the Jets, writes Rich Cimini. Story
• More Cimini: 'Gang Greenhorn'
---

If Antonio Cromartie really is the Jets' second best receiver and has a big role on offense, New York's passing game is in trouble, James Walker writes. Blog
• More Walker: Bickering already?

"I always feel like I'm the best receiver on the team," Hill, the team's second-round draft pick from Georgia Tech, said. "Of course Santonio is the veteran but as a wide receiver you always want to be the best and that's how I feel."
But as a rookie, Hill wasn't interested in calling out Cromartie.
"I'm just trying to be Stephen Hill and stay in my place," Hill said.
Schilens got into a little more detail about why he thought the comment was offensive.
"I think he thinks receiver is a little different than what it actually is," Schilens said. "He's unbelievably talented and he plays cornerback."
Schilens said Cromartie -- who has run one go route at the Jets' training camp this summer -- made the mistake of thinking playing wide receiver is easy, which is a common misconception.
"Everyone knows Cro is unbelievably athletically gifted, very fast, but I've played with a lot of receivers and playing receiver is more than about playing fast," Schilens said.
Schilens said he wasn't looking to try to get some reps at cornerback, but maybe he can help Cromartie understand that playing wide receiver isn't as simple as he may think.
"I kind of thought it was a joke but then I guess he said it," Schilens said. "It's my job to fix that situation."
SportsNation: Cromartie At Wide Receiver?

Do you believe Antonio Cromartie when he says he's the second-best wide receiver on the Jets? Comment and vote!
Those will likely be the last public comments from players about the topic. Ryan, who admitted at the end of a fractious 2011 season that he lost the Jets' locker room, said that he was handling it.
"You guys know what was said and back and forth," Ryan said. "Not playing it out through the media. We will handle this, I will handle this, I'm aware of it, we'll handle it."
Jets offensive coordinator Tony Sparano didn't want to get into the specifics of Cromartie's comments, but did like having him as an option at wide receiver.
"I don't get into the depth chart things or anything like that," Sparano said. "I've said this before, I'm just pleased that Cro feels like he can help. I got to go against the guy and I know his ball skills. I know he can run and those things. He's a pretty confident player and he's got some swagger. Players with swagger, we'll put them out there in the huddle if necessary."
Information from ESPN New York's Rich Cimini was used in this report.
ESPNNewYork.com
Jane McManus has covered New York sports since 1998 and began covering football just before Brett Favre's stint with the Jets. Her work has appeared in Newsday, USA Today, The Journal News and The New York Times.
Follow Jane on Twitter.
The NFL on ESPN.com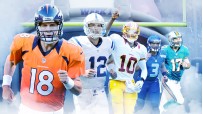 CLAYTON/FOX/SCHEFTER
MONDAY NIGHT FOOTBALL
WEEK 1 PICKS
BOUNTY BANS OVERTURNED
FINAL WORD
2013 NFL DRAFT
MORE NFL COVERAGE
EDITORS' PICKS
The Knicks couldn't do anything right in an ugly loss to the Kings.