Shaun Rogers to miss season
Updated:
August 14, 2012, 11:41 PM ET
By
Ohm Youngmisuk
| ESPNNewYork.com
ALBANY, N.Y. -- New York Giants defensive tackle Shaun Rogers will miss the season with a blood clot.
Head coach Tom Coughlin confirmed the season-ending injury on Tuesday.
"It's very sad because do you know the real story? He lost 50 pounds!" Coughlin said. "He went from high 380s to 334 (pounds) to check in at. He was really excited about being a part of this team. He actually asked to play some more snaps the other night. It is just a shame."
"

"It's very sad because do you know the real story? He lost 50 pounds! ... He was really excited about being a part of this team. He actually asked to play some more snaps the other night. It is just a shame.

"

-- Tom Coughlin on Shaun Rogers
"Obviously, it is your health first," Coughlin added. "And the only way I guess they can control these things are with these blood-thinning drugs and once you do that, you are done. You can't take a chance."
The Giants' depth at defensive tackle has taken a big hit this week. Besides losing Rogers, the Giants await word on promising defensive tackle Marvin Austin, who went to Manhattan's Hospital for Special Surgery to have his back examined.
Coughlin said the team had no update on Austin as of when he met with reporters late in the afternoon.
"I'm praying that the phone call comes in and it is a good one and that it can be controlled," Coughlin said.
The Giants are actively looking for another defensive tackle since three of their top five defensive tackles (Chris Canty, Rogers and Austin) are out at the moment. Also, backup defensive tackle Martin Parker will need surgery for a herniated disk in his back and backup defensive end Justin Trattou will be out for several more weeks with a heel injury that already has kept him out for most of camp.
Canty, who starts with Linval Joseph at defensive tackle, is on the physically unable to perform list as he recovers from offseason knee surgery and his status for the season opener remains in question.
"I'm definitely getting better, just the level of activity, what we're able to do, my general feelings about it, not dealing with pain or anything like that," Canty said. "We knew this was gonna be a long process, obviously, I didn't think it would be this long but I think we're being smart about it, we're taking the right approach."
Giants Blog

Looking for more information on Big Blue? ESPNNewYork.com has you covered. Blog »
The Giants signed Rogers as insurance in case Canty would not be ready. Joseph, who was roommates with Rogers in camp, said the veteran likely suffered the blood clot by getting leg whipped in practice last week before Saturday's preseason loss to the Jaguars.
Rogers played in that game and Joseph said the plane ride back from Jacksonville might have worsened Rogers' condition.
"To have a blood clot or having a risk happen of a blood clot, that is serious," Joseph said. "They can cut your leg off; a lot of things can happen with that. Thank God, it is not a (more serious) blood clot, and hopefully everything will work out with it."
Joseph, Rocky Bernard, Dwayne Hendricks and Markus Kuhn are the healthy defensive tackles on the roster at the moment, pending Austin's back examination.
"I thought we were as deep (at defensive tackle) as we were at any position on the team," Coughlin said. "And it is not that way now."
The Giants were hoping the 6-foot-4 Rogers could make an impact in a certain amount of snaps this season as a space eater who might add a different dimension and open things for their pass rush. Rogers, 33, was entering his 12th season in the NFL.
"I just think he is going to be one of those guys to push the pocket," defensive end Justin Tuck said earlier in camp. "A lot of our rushes have always been predicated on the success of our defensive ends, and a lot of our D-tackle play kind of gets overshadowed."
"I think he is going to be a guy that can definitely push the pocket where the quarterback can't step up," Tuck added. "And not only in the passing game, but that big body that won't be moved on double-teams is going to help us solidify our run-stopping defense."
ESPNNewYork.com
Ohm Youngmisuk has covered the Giants, Jets and the NFL since 2006. Prior to that, he covered the Nets, Knicks and the NBA for nearly a decade. He joined ESPNNewYork.com after working at the New York Daily News for almost 12 years and is a graduate of Michigan State University.
Follow him on Twitter »
Ohm's chat archive »
The NFL on ESPN.com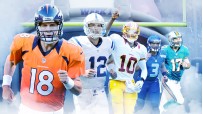 CLAYTON/FOX/SCHEFTER
MONDAY NIGHT FOOTBALL
WEEK 1 PICKS
BOUNTY BANS OVERTURNED
FINAL WORD
2013 NFL DRAFT
MORE NFL COVERAGE
EDITORS' PICKS
St. John's put up a fight, but Duke got Mike Krzyzewski his 1,000th career win.