Rex Ryan: We will get better
Updated:
November 23, 2012, 2:43 PM ET
By
Jane McManus
| ESPNNewYork.com
A day after a 49-19 loss to the New England Patriots that included a botched play so darkly comedic it will be on Top 10 lists for decades to come, New York Jets coach Rex Ryan seemed unable to square the reality of a fading season with his increasingly implausible belief that the Jets are a relevant team just waiting to make a run.
"

I never thought we'd be in this position, but we are. I have to get better right now and we have to get better, and I'm confident we will. We have five games left in the regular season, and I think that we will get better. I know we'll get better.

"

-- Jets coach Rex Ryan
With his job looking increasingly at risk, Ryan was still in pep-talk mode as he addressed reporters on a Friday morning conference call.
"I'm responsible for everything," Ryan said. "I'm responsible for the 4-7 record and I'm responsible for how we play. But I will say this: I'll also be responsible for how we finish, and I'm confident that we'll finish."
There is not a lot of runway left for the Jets, but Ryan isn't ready to concede a playoff spot yet -- nor the edge in an AFC East rivalry. Despite losing the last four games to the Patriots, Ryan maintained that the Jets were still competitive with their rivals.
"To say that (the Patriots are) that much better than us? No, I don't believe that," Ryan said. "They're a good football team, there's no question, they're an excellent football team. But to say we'll never catch them? That's ridiculous. There's absolutely no percent of a chance that I believe that in my heart, and I'll never concede that."
No matter the mounting evidence, Ryan continues to back his team and said that Mark Sanchez will remain the Jets' starting quarterback. His options are more limited since backup Tim Tebow has two fractured ribs, but Ryan maintains that Sanchez gives the Jets their best chance to win.
Smoother Ride Ahead for Jets?

Despite a blowout loss to the Patriots and news that Tim Tebow has two fractured ribs, there is reason to be optimistic if you're a Jets fan. That's because your 4-7 team has the easiest remaining schedule in the NFL. Here's a look:
Opp. record
Opp. win pct.
Jets
17-33
.340
Broncos
21-39
.350
Raiders
21-39
.350
Bills
24-36-1
.402
-- ESPN Stats & Information
"I saw us making strides up until this game and even in this game," Ryan said. "I think our offense is improving, I really believe that. And I think we're running the ball more efficiently than we have, and I think our protections are better. Obviously it's not going to look like that when we get blown out 49-to-whatever, but that's what gives me confidence. I think we are getting better on that side of the ball. And then on defense I'm confident that we'll get back to playing much better."
It is a mantra that Ryan has repeated following loss after loss this season. On Thanksgiving night, the Jets were able to hold the Patriots scoreless in the first quarter before New England scored five touchdowns in the second, including two off scooped fumbles. Three of those TDs came within a minute.
"It's still hard to fathom the one stretch," Ryan said. "I've never seen anything like it in all my years of coaching football or following football."
Ryan also was unable to explain how Tebow had two broken ribs for a week and a half before they were diagnosed by team doctors. Or how, with that knowledge in hand, he opted not to have third-string quarterback Greg McElroy dressed and available for the game in case of injury to Sanchez -- which nearly happened when Sanchez hit the grass after being tackled by teammate Brandon Moore's backside.
Given the mental gymnastics needed to maintain that the Jets are still competitive despite recent performance, it may not be surprising that Ryan also maintained that Tebow could play while asserting that he would not play him.
Jets blog

Looking for more on
the green and white? ESPNNewYork.com has you covered. Blog »
"I wasn't going to play him unless it was an absolute emergency and that was when I would play him," Ryan said. "It was never told to me that he could not play. In fact it was just the opposite, that he could play. It was me that wanted to say, 'No, we're not going to play him unless we absolutely have to.' And Tim came to me, he's like, 'I can play, I want to play.' It was something that I went in and said absolutely, 'Listen, I don't want you to play him.' I told that to (special teams coordinator Mike) Westhoff, I told that to (offensive coordinator) Tony (Sparano). It was just a thing where he was cleared to play but I was not going to do it. I did not feel comfortable doing it."
Ryan will have 10 days to rest players before the Jets host the Arizona Cardinals on Dec. 2. Ryan said he briefly spoke to team owner Woody Johnson on Thursday night, but didn't elaborate on what was said. Johnson was in no mood to talk to reporters as he left the facility after the loss.
Ryan, however, maintained his surreal optimism.
"I never thought we'd be in this position, but we are," Ryan said. "I have to get better right now and we have to get better, and I'm confident we will. We have five games left in the regular season, and I think that we will get better. I know we'll get better."
ESPNNewYork.com
Jane McManus has covered New York sports since 1998 and began covering football just before Brett Favre's stint with the Jets. Her work has appeared in Newsday, USA Today, The Journal News and The New York Times.
Follow Jane on Twitter.
NFL WEEK 12 COVERAGE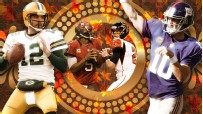 Follow the NFL on ESPN on Facebook
Fantasy Football on ESPN.com
NFL Nation blog | Leaders NFL Stadium Guides | QBR ratings
Playoff Machine | MONDAY NIGHT HQ
WEEK 12 PICKS
MNF: Panthers at Eagles, 8:30 ET
POWER RANKINGS
FINAL WORD
CLAYTON / FOX / SCHEFTER
COMMENTARY/ANALYSIS
INSIDER
SPORTSNATION
2013 NFL DRAFT
EDITORS' PICKS
Jaroslav Halak and the first-place Islanders shut down the Blueshirts.
ESPN FAN SHOP