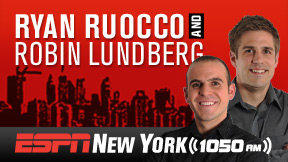 Hosts: Ryan Ruocco and Robin Lundberg
Weekdays from 12:00 PM - 2:00 PM
@RyanRuocco

Twitter
@RobinLundberg

Twitter

It's the show that'll make you laugh, cry (from laughter) and then laugh again while comprehensively covering all the stories that matter. It's your favorite show!
Latest Podcast
Jim McIsaac/Getty Images
Can the Knicks beat the Heat?
Download and listen to the latest podcasts

SOUND BYTES
Mike Breen: 4/26
Voice of the NBA Mike Breen doesn't think the Knicks have any advantage over the Bulls or Heat and will have a tough time.
Adam Graves: 4/26
Former Rangers forward Adam Graves lends perspective into preparing as a player for a Game 7.
Ken Singleton: 4/25
YES Network's Ken Singleton was extremely impressed with Yu Darvish's performance against the Yankees.
Tim Legler: 4/25
Tim Legler thinks a Knicks and Heat matchup would go at least six games.
Barry Melrose: 4/24
Barry Melrose thinks Lundqvist's comments about the NHL officials were unnecessary.
Rich Cimini: 4/24

Rich Cimini says he expects Revis will be looking for a new contract and could hold out to get that contract.
Courtney Upshaw: 4/23
Potential draft pick Courtney Upshaw says he would love to play for Rex Ryan.
R.A. Dickey: 4/20
Mets starter R.A. Dickey says the knuckleball is a great weapon.