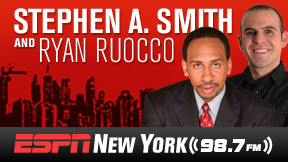 Hosts: Stephen A. Smith and Ryan Ruocco
Weekdays from 1:00 PM - 3:00 PM
@RyanRuocco

Twitter
@StephenASmith

Twitter

Latest Podcast
Mike Stobe/Getty Images
• Are the walls closing in on the Yankees?
• Johnny Manziel will not start Week 1.
•
Calvin Pryor:
Jets defense can still be special.
Download and listen to the latest podcasts

RUOCCO DOES OTHER STUFF TOO
SOUND BYTES
Ray Lucas
Ray stops by the show to let you know why the NFL's officiating in the preseason is becoming a huge problem for the league.
Joe Klecko
Joe stops by the show to let you know why Friday night's preseason game between the Jets and the Giants is important given the struggles of both teams.
Rich Cimini
Rich joins the guys and shares his take on what the plan could be after a tough showing for the Jets' secondary in Saturday night's preseason game in Cincinnati.
MUST READ
Our teams can't make it in New York -- which means they won't make it anywhere.