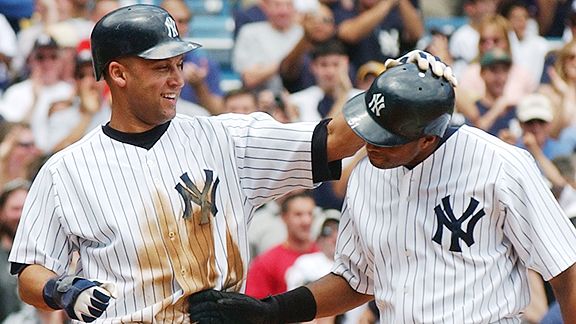 PLAYERS OF THE GAME
T. Williams
D. Jeter
Jeter captains Yanks to brink of victory
Editor's note: Early in April we asked ESPNNewYork.com users to select the all-time Yankees team. Between now and Friday we'll be simulating a series between the Yankees team and the all-time Red Sox team that was selected by ESPNBoston.com.
Derek Jeter proved, once again, that he's a leader among leaders.
On a team that features no fewer than seven Yankees captains, it was the current captain who put the all-time Yankees one win away from bouncing Boston and winning ESPN's simulated series.
Jeter went 4-for-5 to help the Bombers to a 3-2 series lead, but his final hit was the backbreaker for Beantown.
With the game tied 5-5 headed into the bottom of the ninth, leadoff batter Bernie Williams, pinch-hitting for Tony Lazzeri, doubled down the third-base line off reliever Lefty Grove (0-1) -- setting the stage for Captain Clutch. With Dick Radatz summoned from the bullpen, Jeter singled Williams home for the game winner, lighting up a Yankee Stadium crowd that's clearly smelling blood as the series heads back to Fenway Park.
Both starting pitchers were pounded. As in Game 1, Red Sox ace Cy Young was overmatched, knocked around to the tune of five runs and eight hits in 6 1/3 innings -- including a two-run Joe DiMaggio dinger in the second. Yankees legend Whitey Ford fared no better, also allowing five runs in 6 1/3 innings before Ted Williams drove him from the game in the seventh with a three-run blast that put the BoSox up 5-4. The Yankees tied it in the bottom of the inning on a Babe Ruth RBI single, and Goose Gossage (1-0) kept it knotted in the ninth, getting Manny Ramirez to fly out with the bases loaded.
With a chance to clinch, the Bombers send Ron Guidry to the mound to face Pedro Martinez in Game 6. Both pitchers were dominant in a Game 2 matchup that ended on a two-run walk-off home run by Ramirez.
-- Matt Marrone, ESPNNewYork.com
NYY: BeWilliams batted for Lazzeri in the 9th 2B-Pedroia, Mantle, Lazzeri, BeWilliams. HR-TWilliams(2), JDiMaggio(1). SB-Foxx(1). K-Garciaparra, Foxx 2, Ortiz 3, Fisk, Boggs, Jeter, Ruth, Gehrig 4, AlRodriguez, Jackson. BB-TWilliams 2, Mantle. WP-Lyle. BALK-CyYoung. GWRBI: Jeter. Temperature: 48, Sky: clear, Wind: out to right at 4 MPH. Yankee Stadium
Play by play
Top of the 1st inning, Red Sox batting
-- Pedroia grounded out to short
-- Garciaparra grounded out to the mound
-- TWilliams grounded out to short
Bottom of the 1st inning, Yankees batting
-- Jeter lined a single to shallow left
-- Mantle walked, Jeter to second
-- Ruth popped out to third
-- Gehrig struck out
-- AlRodriguez struck out
Top of the 2nd inning, Red Sox batting
-- Ramirez lined out to second
-- Foxx lined a single to left
-- Foxx stole second
-- Ortiz grounded out to first, Foxx to third
-- Speaker lined a single to shallow right, Foxx scored
-- Fisk struck out
Bottom of the 2nd inning, Yankees batting
-- Jackson reached on an infield single to first
-- JDiMaggio homered to deep left, Jackson scored
-- YBerra flied out to center
-- Lazzeri flied out to center
-- Jeter reached on an infield single to short
-- Mantle flied out to left
Top of the 3rd inning, Red Sox batting
-- Boggs struck out
-- Pedroia lined a single to shallow center
-- Garciaparra grounded to short, forcing Pedroia at second, Garciaparra to first
-- TWilliams walked, Garciaparra to second
-- Ramirez flied out to right
Bottom of the 3rd inning, Yankees batting
-- Ruth struck out
-- Gehrig struck out
-- AlRodriguez grounded out to first
Top of the 4th inning, Red Sox batting
-- Foxx flied out to center
-- Ortiz struck out
-- Speaker lined a single to shallow left
-- Fisk grounded out to second
Bottom of the 4th inning, Yankees batting
-- Jackson flied out to right
-- JDiMaggio grounded out to third
-- YBerra grounded out to the mound
Top of the 5th inning, Red Sox batting
-- Boggs flied out to center
-- Pedroia grounded out to second
-- Garciaparra lined a single up the middle
-- TWilliams lined a single to right, Garciaparra to third
-- Ramirez grounded out to third
Bottom of the 5th inning, Yankees batting
-- Lazzeri lined a single to shallow right
-- CyYoung balked, Lazzeri to second
-- Jeter grounded a single up the middle, Lazzeri scored
-- Mantle lined a double to left center, Jeter scored
-- Ruth popped out to second
-- Gehrig struck out
-- AlRodriguez lined out to center
Top of the 6th inning, Red Sox batting
-- Foxx struck out
-- Ortiz struck out
-- Speaker grounded out to second
Bottom of the 6th inning, Yankees batting
-- Jackson flied out to center
-- JDiMaggio lined out to the mound
-- YBerra flied out to left
Top of the 7th inning, Red Sox batting
-- Fisk lined a single to shallow left
-- Boggs grounded out to third, Fisk to second
-- Pedroia doubled deep to right center, Fisk scored
-- Garciaparra grounded a single up the middle, Pedroia to third
-- TWilliams homered deep to right, Pedroia scored, Garciaparra scored
-- Ruffing now pitching
-- Ramirez flied out to right
-- Foxx struck out
Bottom of the 7th inning, Yankees batting
-- Lazzeri doubled deep to left center
-- Jeter struck out
-- LGrove now pitching
-- Mantle grounded out to short
-- Ruth grounded a single between first and second, Lazzeri scored
-- Gehrig struck out
Top of the 8th inning, Red Sox batting
-- Lyle now pitching
-- Ortiz struck out
-- Speaker lined a single to shallow left
-- Fisk grounded into a double play, AlRodriguez to Lazzeri to Gehrig
Bottom of the 8th inning, Yankees batting
-- AlRodriguez grounded out to short
-- Jackson struck out
-- JDiMaggio lined a single to right center
-- YBerra flied out to center
Top of the 9th inning, Red Sox batting
-- Boggs grounded a single between third and short
-- Pedroia flied out to center
-- Garciaparra struck out
-- Lyle threw a wild pitch, Boggs to second
-- TWilliams was walked intentionally
-- Gossage now pitching
-- Ramirez flied out to left
Bottom of the 9th inning, Yankees batting
-- BeWilliams pinch hitting for Lazzeri
-- BeWilliams grounded a double down the third base line
-- Radatz now pitching
-- Jeter lined a single between third and short, BeWilliams scored