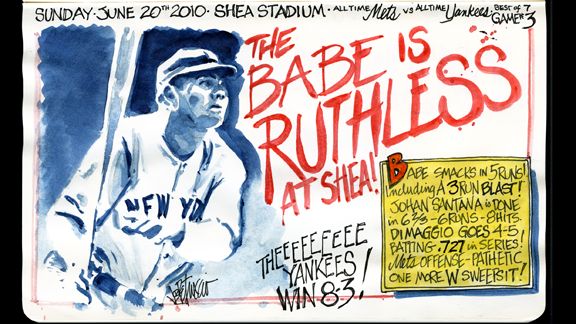 PLAYERS OF THE GAME
A. Pettitte
B. Ruth
Babe breaks slump, slams Mets
Editor's note: In April we asked ESPNNewYork.com users to select the All-Time Yankees team and the All-Time Mets team. Into next week we'll be simulating a series between the Bombers' best and the ultimate Amazin's -- with exclusive cartoons from artist Joe Petruccio.
Just when you thought Mets pitching had solved The Babe.
Babe Ruth entered Game 3 of ESPNNewYork.com's simulated series hitting just .143 with no RBIs. By the end of the day, he had put up a five-spot that left the Amazin's one loss from an Ultimate Subway Series sweep.
The Sultan of Swat made mincemeat out of Johan Santana, driving in five runs -- including a backbreaking three-run homer in the seventh -- as the all-time Yankees befuddled the greatest Mets yet again. With an 8-3 win, the Bombers have now outscored their crosstown rival 23-6 in the series.
While Santana (six runs and eight hits in 6 2/3 innings) was sweating it out, the Yankees pitching was again cool as a cucumber. Andy Pettitte's eight innings of two-run ball meant another off day for the bullpen trifecta of Sparky Lyle, Goose Gossage and Mariano Rivera. Offensively, the Bombers fired on all cylinders, most notably Derek Jeter (three runs scored) and Joe DiMaggio (four hits, raising his series average to .727).
Playing in front of their home crowd, the Mets finally got some production from a player not named Mike Piazza, as Darryl Strawberry and Carlos Beltran hit solo home runs in the second and eighth innings, respectively, and Lenny Dysktra singled in Jeff Kent during a short-lived rally in the ninth. Still, the Mets stand on the brink of virtual oblivion, and will turn to ex-Yankee David Cone to face Lefty Gomez in Game 4.
-- Matt Marrone, ESPNNewYork.com
NYY: Rizzuto inserted at ss in the 8th; Nettles inserted at 3b in the 9th
NYM: Olerud inserted at 1b in the 7th; Kent inserted at 3b in the 9th; Dykstra batted for Alfonzo in the 9th
E-Rodriguez,Al, Santana,J. 2B-Gehrig, Kent. 3B-Berra. HR-Ruth(1), Beltran(1), Strawberry(1). SB-Reyes(1). K-Jeter, Mantle, Lazzeri 3, Berra, Reyes, Piazza, Wilson,M, Santana,J. BB-Jeter 2, Mantle, Rodriguez,Al 2, Strawberry. SF-Ruth. GWRBI: Ruth Temperature: 90, Sky: clear, Wind: left to right at 11 MPH.
Play by play
Top of the 1st inning, Yankees batting
-- Jeter grounded a single up the middle
-- Mantle struck out
-- DiMaggio,J lined a single to right center, Jeter to third
-- Ruth hit a sacrifice fly to left, Jeter scored
-- Rodriguez,Al walked, DiMaggio,J to second
-- Gehrig flied out to center
Bottom of the 1st inning, Mets batting
-- Reyes grounded out to first
-- Beltran popped out to third
-- Piazza lined a single to shallow right
-- Wright flied out to center
Top of the 2nd inning, Yankees batting
-- Lazzeri struck out
-- Berra flied out to center
-- Pettitte grounded out to short
Bottom of the 2nd inning, Mets batting
-- Strawberry homered deep to center
-- Hernandez,K flied out to left
-- Wilson,M grounded out to the catcher
-- Alfonzo flied out to left
Top of the 3rd inning, Yankees batting
-- Jeter walked
-- Mantle flied out to right
-- DiMaggio,J reached on an infield single to second, Jeter to second
-- Ruth grounded a single between third and short, Jeter scored, DiMaggio,J to second
-- Rodriguez,Al walked, DiMaggio,J to third, Ruth to second
-- Gehrig grounded out to the mound, DiMaggio,J scored, Ruth to third, Rodriguez,Al to second
-- Lazzeri struck out
Bottom of the 3rd inning, Mets batting
-- Santana,J struck out
-- Reyes lined a single to shallow center
-- Beltran flied out to left
-- Reyes stole second
-- Piazza struck out
Top of the 4th inning, Yankees batting
-- Berra struck out
-- Pettitte grounded out to short
-- Jeter grounded a single up the middle
-- On pickoff throw to first, Jeter to second on an error by the pitcher Santana,J
-- Mantle flied out to left
Bottom of the 4th inning, Mets batting
-- Wright lined out to second
-- Strawberry walked
-- Hernandez,K popped out to second
-- Wilson,M struck out
Top of the 5th inning, Yankees batting
-- DiMaggio,J grounded a single up the middle
-- Ruth grounded into a double play, Alfonzo to Reyes to Hernandez,K
-- Rodriguez,Al popped out to first
Bottom of the 5th inning, Mets batting
-- Alfonzo lined a single between first and second
-- Santana,J popped out to the catcher
-- Reyes struck out
-- Beltran popped out to second
Top of the 6th inning, Yankees batting
-- Gehrig grounded out to second
-- Lazzeri lined out to second
-- Berra popped out to short
Bottom of the 6th inning, Mets batting
-- Piazza grounded out to short
-- Wright to first on an error by the third baseman Rodriguez,Al
-- Strawberry flied out to center
-- Hernandez,K flied out to center
Top of the 7th inning, Yankees batting
-- Pettitte popped out to center
-- Jeter walked
-- Mantle reached on an infield single to second, Jeter to second
-- DiMaggio,J flied out to left, Jeter to third
-- Ruth homered deep down the right field line, Jeter scored, Mantle scored
-- Olerud now playing first base
-- Koosman now pitching
-- Rodriguez,Al grounded out to second
Bottom of the 7th inning, Mets batting
-- Wilson,M flied out to left
-- Alfonzo grounded out to the mound
-- Olerud flied out to center
Top of the 8th inning, Yankees batting
-- Gehrig grounded a double down the first base line
-- Lazzeri struck out
-- Berra tripled deep to right center, Gehrig scored
-- Pettitte grounded out to second, Berra scored
-- Jeter struck out
Bottom of the 8th inning, Mets batting
-- Rizzuto now playing shortstop
-- Reyes flied out to center
-- Beltran homered deep down the right field line
-- Piazza grounded out to short
-- Wright grounded out to short
Top of the 9th inning, Yankees batting
-- Mantle walked
-- Kent now playing third base
-- McGraw,T now pitching
-- DiMaggio,J reached on an infield single to second, Mantle to second
-- Ruth grounded into a double play, Reyes to Alfonzo to Olerud, Mantle to third
--Rodriguez,Al grounded out to short
Bottom of the 9th inning, Mets batting
-- Nettles now playing third base
-- Clemens now pitching
-- Strawberry flied out to left
-- Kent grounded a double down the first base line
-- Wilson,M grounded out to second, Kent to third
-- Dykstra pinch hitting for Alfonzo
-- Dykstra lined a single to left, Kent scored
-- Olerud grounded out to third