Commentary
Irina Falconi is back where it all began
She learned tennis in Washington Heights; now she's at the U.S. Open in Flushing
Updated:
August 31, 2011, 12:56 PM ET
By
Jane McManus
| ESPNNewYork.com
NEW YORK -- When Irina Falconi was just 3 years old, her parents moved the family from Ecuador to Washington Heights. One of the bright spots of the move to New York was their new place, right across from Inwood Hill Park and its nine tennis courts.
"I came along and decided one day I was going to go out there and act like I knew what I was doing," Falconi said. "I was 4-years-old and never looked back. I trained on those courts every single day for 10 years. It's where it all started."
As for where she is now, Falconi plays on Court 11 against No. 14 Dominika Cibulkova on Wednesday the third match on the court. Falconi, 21, was ranked No. 78 coming into the U.S. Open, and her first-round win on Monday is the highlight of her career so far. With the win, her ranking rises high enough to automatically qualify for for the main draw of the Australian Open.
[+] Enlarge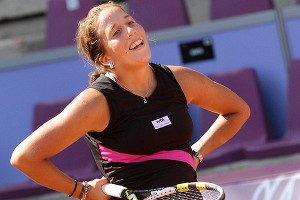 AP Photo/Yves LoggheIrina Falconi was born in Ecuador and lives in Atlanta, but her tennis journey began in New York.
That's one goal, check.
Falconi's coach, Jeff Wilson, said they have started a training regime that has increased her level of endurance. Wilson said Falconi's performance has improved recently, and that begets better access to the kind of competition that makes her a better player.
"The fitness is better," Wilson said. "Her access to tournaments at this level -- due to ranking, not just wild cards -- has given her the opportunity to play at a higher level. She's playing with conviction and it's fun to see."
Falconi and her family ultimately left New York so she could train in Jupiter, Fla., when she was 14. After high school, she went to Georgia Tech for two years, where she met Wilson as a volunteer coach. Falconi still technically lives in Atlanta. She will represent the U.S. in the Pan American Games but considers herself a New Yorker.
"I haven't had good pizza since I was back in New York," she said.
Falconi gets 75 to 100 ticket requests, and has seen former classmates and teachers from her old middle school, Mott Hall, at her matches. A few days ago, she did an interview with a publication from Ecuador, which has made her think about her status as a Spanish-speaking athlete. She likes having the connection, even if she can barely remember much of her childhood before those courts at Inwood Hill.
"I consider myself a New Yorker," Falconi said, "from the beginning to the end because that's where it all started for me. ... To play in your hometown, you can't explain it."
ESPNNewYork.com
Jane McManus has covered New York sports since 1998 and began covering football just before Brett Favre's stint with the Jets. Her work has appeared in Newsday, USA Today, The Journal News and The New York Times.
Follow Jane on Twitter.
U.S. Open
2010 champions
Women's singles:
Kim Clijsters
Men's singles:
Rafael Nadal
Women's doubles:
Vania King and Yaroslava Shvedova
Men's doubles:
Bob and Mike Bryan
Mixed doubles:
Bob Bryan and Lizel Huber
Courtcast: Scores & chat
Slam Central »
Follow us on Twitter »
Watch: ESPN3.com
Day 15
Day 14
Day 13
Day 12
Day 11
Day 10
Day 9
Day 8
More
EDITORS' PICKS
A-Rod bats second in his return to action today at The Boss.