Maria Sharapova upset in 2nd round
Updated:
June 27, 2013, 9:18 AM ET
ESPN.com news services
LONDON -- Maria Sharapova has been knocked out of Wimbledon by a 131st-ranked qualifier on a day when injuries forced the withdrawal or retirement of seven other players.
The third-seeded Sharapova, the Wimbledon champion in 2004 champion, lost 6-3, 6-4 to Michelle Larcher de Brito of Portugal in the second round at the All England Club.
More Wimbledon Coverage

It was already one of the most grisly days in Grand Slam history -- and then Roger Federer lost, writes Greg Garber. Story
---

No. 3 Maria Sharapova fell to the 131st-ranked player and No. 2 Victoria Azarenka withdrew citing injury as top seeds continued to disappear at Wimbledon, writes Melissa Isaacson. Story
---

Seven former top-ranked players were out of Wimbledon and a player ranked in the 100s will earn a quarterfinal berth. A strange day, writes Howard Bryant. Story
• Garber: Last of Lleyton Hewitt?
• Bryant: Day of devastation
• Tandon: Day 4 preview
• Stats & Info: Historical significance
Sharapova slipped and fell several times on the grass on Court 2 and received medical treatment from the trainer in the second set.
It wasn't serious enough to force Sharapova to quit, as so many others did.
Among the casualties: second-seeded Victoria Azarenka (walkover, right knee), men's No. 6 Jo-Wilfried Tsonga (retirement, left knee), John Isner (retirement, left knee) and Steve Darcis (walkover, right shoulder). Darcis was the man who stunned two-time champion Rafael Nadal in the first round Monday.
Also out: 10th-seeded Marin Cilic (walkover, left knee); 2006 quarterfinalist Radek Stepanek (retirement, left hamstring); and Yaroslava Shvedova (walkover, right arm).
The International Tennis Federation said the seven players forced out is believed to be the most in one day at any Grand Slam event in the 45 years of the Open era.
"Today has been bizarre," said 17th-seeded Sloane Stephens of the U.S., who stuck around by winning her match 8-6 in the third set. "I don't know what's going on."
How, then, to decipher it all? Let fly with far-flung conspiracy theories.
One hypothesis making the rounds: The grass is different because there is a new head groundsman at the All England Club, Neil Stubley (keep in mind, though, that he's been helping prepare the courts here for more than 15 years, albeit with a less distinguished title).
Another popular idea was that the recent weather -- it's been in the 60s and humid, but without a drop of rain so far -- is affecting traction.
"I don't know if it's the court or the weather. I can't figure it out," said two-time Australian Open champion Azarenka, who said she bruised a bone in her right leg when she slipped on the turf in her victory Monday and couldn't face Flavia Pennetta on Wednesday. "It would be great if the club or somebody who takes care of the court just would examine or try to find an issue so that wouldn't happen."
The All England Club took the unusual step of issuing a statement in response to Wednesday's events -- and complaints.
"There has been some suggestion that the court surface is to blame. We have no reason to think this is the case. Indeed, many players have complimented us on the very good condition of the courts," the statement read. "The court preparation has been to exactly the same meticulous standard as in previous years and it is well known that grass surfaces tend to be more lush at the start of an event. The factual evidence, which is independently checked, is that the courts are almost identical to last year, as dry and firm as they should be, and we expect them to continue to play to their usual high quality."
Azarenka withdrew before her match with a knee injury. Sharapova and Azarenka had been considered the main challengers to five-time champion Serena Williams.
Playing with tape on her right ankle, former world No. 1 Caroline Wozniacki slumped to a 6-2, 6-2 defeat to Petra Cetkovska in the second round Wednesday.
The ninth-seeded Wozniacki, who never has fared very well on the London grass, is going through a mediocre season. She also lost in the second round at the French Open.
The Dane said she slipped during the match and her foot was bothering her.
"I didn't feel 100 percent out there after I slipped," she said. "I overstretched the foot a bit."
The 196th-ranked Cetkovska, who reached the fourth round at Wimbledon two years ago, erased the six break points she faced and hit 30 winners.
A qualifier from the Czech Republic, Cetkovska's 2012 was cut short after the London Olympics because of a right ankle injury. She returned this year and has nosedived in the WTA rankings.
SportsNation: Upsets at Wimbledon

Rafael Nadal, Roger Federer and Maria Sharapova are all out of Wimbledon. Which exit was more surprising?
• Cast your votes!
Canadian teenager Eugenie Bouchard picked up the biggest victory of her career, beating 12th-seeded Ana Ivanovic, the 2008 French Open champion, 6-3, 6-3 to reach the third round.
The 66th-ranked Bouchard, who is 19, won the girls' title at the All England Club a year ago.
Playing in only her second Grand Slam tournament, Bouchard wound up on Centre Court on Wednesday, because her match against Ivanovic was moved there after second-seeded Victoria Azarenka withdrew with a knee injury, leaving a gap in the schedule.
Already leading 5-3 in the first set, Bouchard took 12 of 13 points to close that set and go up a break in the second.
In eight previous Wimbledon appearances, Ivanovic only once had failed to reach the third round.
The 20-year-old Larcher de Brito played the match of her life against Sharapova on Court 2 to reach the third round of a Grand Slam for only the second time.
Larcher de Brito held her nerve in the final 10-minute, 18-point game to serve out the match. She saved two break points and finally converted on her fifth match point when Sharapova hit a forehand into the net.
"I can't believe it," Larcher de Brito said. "I just tried to stay calm. I just played so well. I just hung in there. In the last couple of points or games I just gave it my all and went for it."
Sharapova tumbled several times on the grass. Trailing 3-2 in the second set, her right leg gave way behind the baseline and she did the splits.
Sharapova took a medical timeout and complained to the umpire about the grass conditions. She said later she believed she strained a hip muscle.
"I don't think I've ever fallen three times in a match before in my career, so that was a little strange," Sharapova said. "But that's certainly not an excuse.
"I think today I've seen a lot of players fall and take a few hits and a few injuries. So I think that's just part of the game, part of what we have to deal with."
Azarenka, the two-time Australian Open champion, pulled out after hurting her right knee in her opening-round win against Maria Joao Koehler. She withdrew minutes before her second-round match against Flavia Pennetta.
Azarenka reached the semifinals at Wimbledon the past two years and had been seeded to face Williams in the final.
It's only the second time in the Open era that a women's player seeded in the top 2 has conceded a match by walkover at any Grand Slam. The last time it happened was in 1974 at the French Open when second-seeded Nancy Richey pulled out before a match.
In her match against Koehler, Azarenka did the splits near the baseline, then crumpled to the grass, clutching her right knee and sobbing. She recovered after a medical timeout to win.
Azarenka said on Wednesday that medical tests showed she had a bone bruise rather than a tear but was unable to recover in time.
Information from The Associated Press was used in this report.
Wimbledon 2013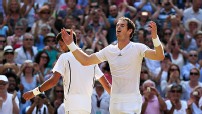 Andy Murray ended a 77-year British nightmare with his long-awaited Wimbledon championship. Greg Garber »
VIDEO
EDITORS' PICKS
St. John's and coach Steve Lavin have mutually agreed to part ways.