Commentary
Uni Watch Power Rankings: MLB
Originally Published:
August 19, 2013
By
Paul Lukas
| ESPN.com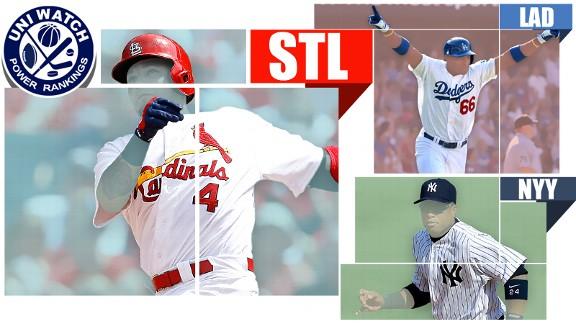 Uni Watch Power Rankings: MLB
ESPN's Paul Lukas ranks the uniforms for every team in the MLB as part of the second annual Uni Watch Power Rankings.
Uni Watch Power Rankings: MLB
Welcome to Day 1 of the 2013 Uni Watch Power Rankings, as we rank all 122 uniform sets in the NFL, MLB, NBA and NHL. (For an introduction and ground rules, click here.) We're beginning on the baseball diamond, as we examine MLB -- currently the best looking of the four major pro sports leagues. Although some MLB uniform sets are weaker than others, very few MLB unis right now are truly bad. Even the team at the bottom of this chart isn't awful looking -- it's just devoid of aesthetic character.
How good is MLB uni design these days? So good that the sport's best-looking team looks even better this year, thanks to an excellent new alternate jersey and a few other improvements. Which team are we referring to? Take a look and see for yourself (remember, you can click on each team's name to see photos of its current uniform set), and then be sure to come back Tuesday for our NBA rankings.
---
Uni Watch Power Rankings 2013:
MLB | NBA | NFL | NHL | Overall: 1-122 | Introduction and ground rules
Create your own rankings: MLB | NBA | NFL | NHL | Overall
ESPN experts respond to the rankings:
MLB: Jim Caple | NBA: Justin Verrier | NFL: Ashley Fox | NHL: Craig Custance
Chat with Paul Lukas: Friday, 2 p.m. ET
UNI WATCH POWER RANKINGS: MLB

(Click team names to view uniform sets)
| Rank | Team | Logo | Trending | Comments |
| --- | --- | --- | --- | --- |
| 1 | St. Louis Cardinals | | — | MLB's best-looking team looks even better this season thanks to the addition of that great retro-style alternate jersey. There's still something a bit unimaginative about the road grays just duplicating the home whites, but it's such a good design that it's hard to blame them. |
| 2 | Chicago Cubs | | — | The Cubbies reportedly have some logo and uni changes in the works, so their place in the rankings could end up changing soon, but for now they still have one of the top looks in the game (even though they're the only team in pro sports with an annoying "circle-R" trademark symbol on their uniform). |
| 3 | Oakland Athletics | | — | Crazy but true: When A's owner Charles Finley dressed the team in green and gold back in 1963, it was only the second time an MLB team had ever worn green. (The only previous case: the 1937 Brooklyn Dodgers.) Half a century later, green is still a rarity on the diamond, but it sure looks great on the A's, whose core look, once viewed as outrageous, has evolved into a modern classic. Bonus points to equipment manager Steve Vucinich, who always sweats the details on the team's throwbacks. |
| 4 | Philadelphia Phillies | | +1 | The Phillies' chest script strikes a perfect balance between classy and playful -- ideal for grown men playing a kids' game. Bonus points for the sleeve numbers (unique among current MLB teams), the chain-stitched chest insignia, the little stars dotting the I's and, of course, the Liberty Bell logo on the socks and stirrups. (For those smart enough to go high-cuffed, that is.) |
| 5 | Los Angeles Dodgers | | +1 | Ever notice that the Dodgers' white pants look extra-white, whiter than white? What's their secret -- extra bleach in the laundry? Nope. It's because the Dodgers are one of the three MLB teams whose pants don't have any pinstripes or side piping. (The other two: Oakland and St. Louis.) Their basic look, essentially unchanged for 60 years, looks as fresh as ever. Now if they'd just take the "LA" logo off the sleeve and replace it with a round patch of some sort. |
| 6 | Detroit Tigers | | +3 | Fun fact: The Tigers' pants have more belt loops than any other team's. Been that way for decades. No real reason for it -- it's just one of those team-specific quirks (although it no doubt comes in handy for Prince Fielder's uni). |
| 7 | New York Yankees | | -3 | They deserve major credit for staying the course and avoiding trends, but those pinstripes don't look so great in the pajama pants era (or when CC Sabathia pitches), the "NY" on the home jersey doesn't match the one on the cap and the road jersey treads a fine line between minimalist and plain. An excellent wardrobe, but not quite the flawless masterpiece it's often made out to be. |
| 8 | Toronto Blue Jays | | — | Their roster moves may have backfired this season, but there's no disputing that the Jays are very easy on the eyes these days. Let's hope they stick with this look for many years to come. |
| 9 | Baltimore Orioles | | +2 | Un-fun fact: The Orioles' secondary logo, which appears on their alternate cap, has an upside-down apostrophe! How many people in various MLB offices signed off on that mistake? Grrrr. Despite this flaw, the team's current look is very sharp. |
| 10 | Kansas City Royals | | — | With the Royals' on-field fortunes improving, maybe people will finally realize how good their uniforms have been for all these years. Underrated. |
| 11 | Pittsburgh Pirates | | +1 | Much like the Royals, this is a very good-looking franchise whose uniforms were largely ignored for a generation because of the team's on-field woes. Now that the team is winning, maybe the unis will get some respect. Very nice Sunday throwback this season, too. If only they wouldn't wear that black alternate jersey so often. |
| 12 | L.A. Angels of Anaheim | | +1 | The home and road sets are starting to feel a bit like modern classics. But the Halos lose points for their alternate jersey, which features red type on a red background -- a serious no-no. |
| 13 | San Francisco Giants | | +4 | It still seems silly to have two different sets of road grays, but it's hard to quibble when they both look so solid. Could definitely live without the orange alternate, though. |
| 14 | New York Mets | | -7 | The basic home and road looks are among the sport's best, but too many alternate jerseys plus a completely unnecessary alternate cap equals a classic case of uni overkill. |
| 15 | Chicago White Sox | | — | Such an odd franchise. Back in the 1970s and '80s, they were changing their look every five minutes, but they've now stuck with their current set for more than two decades. It's a solid look, and the Sunday throwbacks are a nice reminder of the wacky old days. |
| 16 | Boston Red Sox | | — | If we were just talking about the home uni, the Sox would rank near the top of this chart. Their old-school home whites are a perfect match for the old-fashioned charms of Fenway Park. After that, though, it's all downhill: The lettering on the road uni feels flat, the blue alternate is unnecessary and the garish red alternate ranks up there with the Bill Buckner play as one of the worst chapters in BoSox history. |
| 17 | Atlanta Braves | | -3 | Face it, no team needs three alternates, or two different solid-colored alternates, or two different sets of gray pants -- it waters everything down too much (and probably makes your equipment manager's job a serious pain in the butt). Keep the navy jersey if you must, but get rid of the others. |
| 18 | Tampa Bay Rays | | +3 | Here we have the very definition of "solid but unspectacular," although things get a little more exciting when they break out the striped socks. Bonus points for the fauxback, a fun gimmick that actually works. |
| 19 | Seattle Mariners | | -1 | Sometimes there's a uniform (or a band, or a movie, or a book, or a building, or whatever) that's pretty good, but it's pretty good in a completely unremarkable way that resists superlatives. So you just end up saying, "Yup, it's pretty good." This is that uniform. |
| 20 | Cincinnati Reds | | +2 | They'd rank higher if not for all the black trim, which feels sooooo 1990s. A more conventional number font would help, too. |
| 21 | Texas Rangers | | -1 | The Rangers would rank higher if they'd stop wearing their red caps with their blue-lettered home jerseys. Stick to the blue caps at home, guys. Also: The team's typeface has too many spikes and bumps and color layers, which creates a jumbled mess on the back of the jersey. |
| 22 | Colorado Rockies | | +5 | Let's give them some credit: They've stuck with one basic look for 20 years now, and while it's not a great look, it's aged reasonably well, even if a certain uniform columnist will never come to terms with that purple alternate jersey. Bonus points for hosiery hero Josh Outman, who wears the best stirrups in the bigs. |
| 23 | Houston Astros | | -4 | It's nice to see the star-"H" cap logo again, but here's a weird thing about the new Stros uni set: The lettering on the front of the jersey is the same size as the lettering for the players' names on the back of the jersey. This makes the chest lettering look rinky-dink and the back of the jersey look clunky. Let's hope they address this for next season. |
| 24 | Minnesota Twins | | -1 | The Twins' home script hasn't aged well. It always felt too clunky, and now it also feels too 1980s. The current road script is handsome but feels too clean, too sterile, too suburban, like it was designed by someone at Hallmark instead of someone connected to the sports world. The net result is a uni set that feels not quite ready for prime time -- the uniform equivalent of a four-A player. |
| 25 | Milwaukee Brewers | | — | Five uni combos apparently weren't enough for the Brew Crew, so they added a gold jersey this season (and that's not counting their assorted throwbacks and other one-offs, including MLB's first Polish-language jersey). Unfortunately, all those different jerseys still can't hide how bland and generic the chest script is. |
| 26 | Washington Nationals | | — | Does any team need three different caps? (Hint: Answer rhymes with "No.") |
| 27 | Arizona Diamondbacks | | +1 | Never thought I'd be saying this, but this set is bad enough to make a fella nostalgic for their original purple and teal design. |
| 28 | Cleveland Indians | | +1 | It's no longer a question of whether the Indians will retire their racist Chief Wahoo caricature. It's just a matter of when. |
| 29 | Miami Marlins | | -5 | Here's how ridiculous things have gotten for the Marlins: They actually decided before the start of the season not to wear their gray road jerseys or orange caps, although they didn't bother to tell anyone until late July (and even then only because someone asked). Who ever heard of a team never wearing its road grays? And why bother having -- and selling -- official uniform components if you're never going to wear them? Just another sign of dysfunction for a team that has more than its share. |
| 30 | San Diego Padres | | — | By far MLB's blandest, most watered-down uniform set. A blank slate would have more character, and a Little League uni would have more gravitas. Bring back the brown! |
Paul Lukas thinks this might qualify as a golden age of baseball uniforms if only players would stop wearing their pants down to their shoetops. If you liked this column, you'll probably like his daily Uni Watch web site, plus you can follow him on Twitter and Facebook. Want to learn about his Uni Watch Membership Program, be added to his mailing list so you'll always know when a new column has been posted, or just ask him a question? Contact him here.
Sports journalism's foremost uniform reporter
ESPN.com columnist since 2004
Also blogs at uni-watch.com
2013 UNI WATCH POWER RANKINGS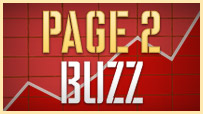 HOT BUTTON
BEST OF THE BUZZ
YOU MIGHT HAVE MISSED …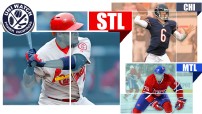 Breaking down all the uniforms in every major sport. Where does your team rank?
EDITORS' PICKS
Masahiro Tanaka, not CC Sabathia, will make the Yankees' Opening Day start.