ESPN New York and Melrose Credit Union want to recognize and reward college-bound student athletes who excel on the playing field, in the classroom and in the community with a $5,000 scholarship to an accredited college!
Do you know a college-bound student athlete that excels on AND off the field?
If so, we want to hear about them! Whether it's donating their time to charitable organizations, maintaining great grades or contributing to the community in a positive way, we want to hear all about it.
Between now and December 31, ESPN New York will honor 4 MVP's (one per month) and 12 runner-ups (3 per month). In January, the top MVP will be awarded a $5000 college scholarship courtesy of Melrose Credit Union!
Click the link below to begin your nomination. You'll have to submit your information first. Please give as much information as possible regarding your nominee.
December's Honoree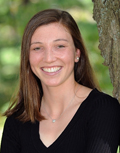 Kathleen Samuelson
Holy Child
Kathleen Samuelson has been a four-year member the varsity softball team at Holy Child and was elected captain of the team for her senior year. Kathleen has been a Fairchester Athletic Association (FAA) All-League performer since her freshmen year and a New England Prep School Athletic Council All-Star in 2011. She has also played on the varsity field hockey and basketball teams. Kathleen has participated in a number of far-ranging activities when she is not playing softball for Holy Child or her travel team. She has been a member of Student Government for two years, and this year she is President of the student body. Kathleen is also a four-year member of her school's Model UN team, and has played the trumpet in her school's instrumental group for four years. Throughout high school, Kathleen has shown dedication to several community service organizations, like the Ward Summer Learning Camp, P.O.T.S. (Part of the Solution), Dinner at Noon, Homework Helpers, and Resurrection PREP (Parish Religious Education Program). Along with excelling on the softball field and making a difference in her school and outside community, Kathleen has consistently been a highly-achieving student. Kathleen holds a 4.17 out of 4.0 grade point average. She is a member of the National Honor Society, and has been on the Cornelian Honor Roll over nine times. In addition, she has received academic awards like the Harvard Prize Book Award and Smith College Book Award. This year, her course load includes four AP classes, meaning she will have taken a total of seven AP courses by the time she graduates. So far, Kathleen has not earned less than a perfect score of 5 on any of her AP exams.
December Honorable Mentions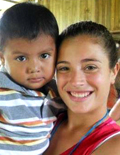 Courtney Peist
Somers High School
Courtney Peist is a senior at Somers High School in Somers, New York, where she will be graduating this June with a 95 average. Courtney plays varsity soccer and varsity lacrosse, and is an avid skiier. In addition to being a student-athlete, Courtney is also a Girl Scout Ambassador, having earned her Gold Award last year, the highest honor given to a Girl Scout. Courtney created a project called "Time to Team Up," which paired teenage volunteers with children at Westchester Medical Center, and she and her troop began a program that delivered homemade cookies and thank you cards to the over 1,000 veterans who live in the Somers community. Courtney has also traveled twice to New Orleans to rebuild homes destroyed by Hurricane Katrina, and to Costa Rica, where she ran a day camp for underprivileged children. Courtney is a member of the National Honor Society and treasurer of the Class of 2012. She is also the recipient of the Thomas Jefferson Award from University of Pennsylvania and the Susan B. Anthony and Fredrick Douglass Award from University of Rochester for her academic excellence and community service.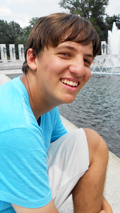 Sam Schwarz
High School of American Studies
Sam Schwarz is a senior at the High School of American Studies at Lehman College, in the Bronx, NY, where he has maintains a 94 average. He takes a rigorous class load of AP and Honors courses coupled with college level classes at Lehman College. Sam has been the number one singles player on his tennis team for all four years and has now become the team's co-captain. He is President of the Key Club and a member of the National Honor Society and Spanish National Honor Society. Outside of the classroom, Sam founded a tutoring program between his school and a duel language elementary school in the South Bronx. Through this work, he helps build the academic skills and confidence to succeed on and off the court.

Jeremy Klapper
High School of American Studies
Jeremy Klapper is a senior at the High School of American Studies at Lehman College, in the Bronx, NY, where he maintains a 96.19 average. Besides taking 3 AP classes, a college class and two honors classes, he has been on the Principal's Honor Roll all four years. Jeremy has been a 3 sport athlete throughout his four year – cross-country, basketball and tennis. Currently, he is the captain of basketball and tennis teams. Outside the classroom, Jeremy participates in BIKE MS NYC, which funds research to find a cure for Multiple Sclerosis. As the captain of a nine person team, Jeremy has been named a BIKE MVP twice after raising more than $1,000 in each of the last two years. Overall, the group has raised over $5,000 for a great cause.
November's Honoree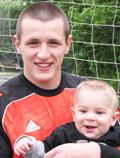 Sean McCann
Park Ridge
Sean is the senior captain of the Park Ridge High soccer team. In the classroom, Sean maintains a 3.75 GPA and is a four year honor roll student. He's the recipient of the Renaissance Academic Award and a member of the Park Ridge Thespian Society. As a two time Patriot Division All League goalkeeper, this season he recorded 172 saves, which ranked 8th in the state of New Jersey. In addition to his .902 save percentage, Sean's saves extend off the field and into the community as well. He created a program called Saves for Gavin, in honor of one year old Gavin Scimeca. Gavin has a kidney ailment called Autosomal Recessive Polycystic Disease and he will need a kidney transplant. It is estimated that the family will need $150,000 in out of pocket medical expenses. Sean sought pledges and donations for each save he made as a goalkeeper during his senior season. Sean had hoped to raise between $5,000 and $10,000, with Sean's tremendous efforts he has raised over $25,000 for young Gavin.
November Honorable Mentions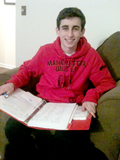 Jesse Sloane
Yorktown
Jesse is a sophomore at Yorktown High School (Yorktown Heights, New York). He is a Varsity track athlete and has played Junior Varsity Soccer for the past two seasons. This past season his team went undefeated. Jesse has a 4.3 G.P.A. in his classes, which include many on the Honors level. Every Sunday, Jesse volunteers at Backyard Sports in Purchase, New York, working as a one-to-one coach with young children with various disabilities, including Autism Spectrum disorders. The three season program teaches these children soccer, basketball, and baseball and encourages physical fitness. Additionally, Jesse has raised over $1000 for Autism Speaks for their charity walks. This cause is near and dear to Jesse, whose younger brother Jack is autistic.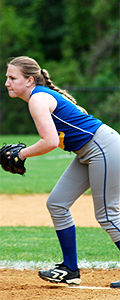 Madison Dinaso
Ardsley
Madison Dinaso is the senior captain of Ardsley High School soccer team. As captain, Madison led her team to the league title. At season's end, she made All League for Section One soccer. Last year, as a junior and team captain in softball, she lead the league in batting average. Her accomplishments included being named team MVP and was named to All Section for the third year. Currently, she is playing basketball for her high school, travel softball (Junction Girls) and is the president of Student Council. Madison maintains a 4.99/6 GPA and is a member of the National Honors Society, Spanish Honor Society, taking three AP classes and participating in the Senior Revue. She is working towards her Gold Award in Girl Scouting. She also works with younger athletes teaching basketball at the Robert Jacobson Sport program.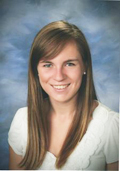 Mary Kate Wallace
Garden City
Mary Kate Wallace is a four year scholar athlete at Garden City High School. As the captain of track and field, Mary Kate was named All-County and All-Conference indoor and outdoor track and field this year. Also, she was a national qualifier winner. In the classroom, Mary Kate maintains a 3.87 GPA an is a member of the National Honor Society and president of German Honor Society. Currently, she is taking 6 AP classes and has been on the principal's list every year. By the end of this year, Mary Kate will have played 12 seasons of sports.
October's Honoree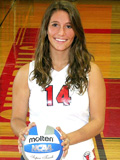 Maggie Engellenner
Smithtown High School East
As a senior, Maggie Engellenner captained three varsity sports at Smithtown High School East. In her senior year of volleyball, Maggie's accomplishments included her 3rd straight Divisional Defensive Player-of-the-Year, All-State, Suffolk County Super, team MVP and the Newsday All-Long Island team. On the softball field, she was a four year starter at third base and captained the team in her junior and senior years. After making varsity basketball in her junior year, Maggie became the captain in her senior year. In the classroom, Maggie maintains a 4.29 GPA with AP Scholar distinction after taking 9 AP classes. Off the field, she was honored as a SCCVA Scholar Athlete. Maggie is the co-president of the Leadership Club, president of the Italian Honor Society and a member of the National Honor Society and English Honor Society. Additionally, she is a four year member of the Smithtown East Chorus and a two year recipient of the NYSSMA Gold with Distinctions honor. In 10th grade, Maggie was a SCMEA All-County Vocalist. In her community, Maggie designed, planned and built a self-funded brick walkway to the sports field. She's a member of the Community Advisory Council, Athletic Council/Coaches Council and the Chamber Choir Community Outreach.
October Honorable Mentions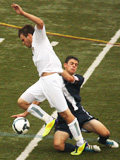 Connor Ventura
North Hunterdon High School
Connor Ventura has been an impact player for both his high school, North Hunterdon High School, and academy soccer teams since his freshman year. After suffering concussion like symptoms at a soccer college showcase his sophomore year, it was determined Connor had Chiari Malformation of the brain. He underwent brain decompression surgery and after rigorous rehabilitation returned to the field five months later. He is captain of his high school team and his leadership goes well beyond. Connor helped launch a campaign that has raised over $10,000 for New York Presbertarian Weill Cornell Medical Center. He received a Leadership award from the hospital at their annual "Lids for Kids" event where he taught soccer to children who have had various brain surgery. He has most recently met with a 3 year old who underwent the same surgery to reassure both little Braden and his parents that he would be ok. The highlight of that meeting was when Connor and Braden compared scares and when Braden was made an honorary captain that day. Despite the long rehab back from Chiari and a number of soccer related injuries, Connor has maintained a 3.3 GPA at a nationally competitive Blue Ribbon School.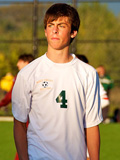 Nicholas Ziangas
Holy Cross High School
Nicholas Ziangas has excelled both on and off the soccer field. He has maintained captainship at Holy Cross High School and club soccer for Auburndale Scorpions (LIJSL). Nicholas was awarded the Taso Pappas Scholarship in his junior year and selected to the N.Y. Stars soccer team representing the U.S. in the prestigious Ciociaria Tournament in Rome, Italy this past May. Academically, Nicholas is a member of the National Honor Society has maintained a 3.85 GPA and Honor Roll status every year. In the classroom, he has taken honors, AP classes, college courses and contributed over 100 hours in his community.
Alexandra Bruno
Garden City High School
Alexandra Bruno has been a two sport captain at Garden City High School. She has been honored at the highest level in lacrosse and field hockey. Some of her 2011 lacrosse accomplishments included: ranked number two in the ESPNHS Top 25 Attackers, ESPNHS All-American honorable mention, US Lacrosse High School All-American team and Newsday All-Long Island Second team. Alexandra is the captain of the 2012 team, which has won the past three Nassau County and Long Island Championships. In field hockey, Alexandra was the 2011 captain and was honored by Newsday as the 2011 Long Island Field Hockey Player to Watch and ultimately won Newsday's Player of the Year award. She was named to the All-State team after leading Long Island in points. This distinction helped her achieve the 2011 NFHCA High School All-Region Team (New York Region). Alexandra is a member of the National Honor Society, National German Honor Society, Miracle Club and Mathematics teams. Alexandra will be attending Princeton University and playing lacrosse.
September's Honoree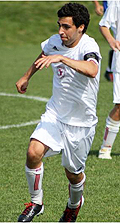 Jacob Glickman
September MVP Jacob Glickman's commitment to his peers extends beyond his captainship of both his high school and club soccer teams. His off-field leadership positions include Student Council President, Editor in Chief of his school's newspaper and Treasurer of the Arts Council. While maintaining a 4.40 GPA and being in the top decile of his high school class, Jacob makes time for consistent and meaningful volunteer work such as serving as a peer academic tutor. Jacob is a three time recipient of the Jerry Waldor special needs Fellowship for Community Service in Essex County.
September Honorable Mentions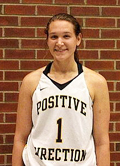 Elisabeth Gully
Elisabeth Gully has excelled both on and off the basketball court. She achieved MVP Freshman year honors and Most Improved player on her varsity team in her junior year. Off the field, Elisabeth is a member of the National Honor Society, the Language Other Than English (LOTE) National Honor Society and Honor Roll. In the classroom, she has taken Honors and AP classes while maintaining a 3.84 GPA. Over the past year, she has accumulated over 100 hours in her community.
Peter J Kennedy
Peter J Kennedy, a three sport athlete, has thrived on and off the field. Not only has Peter played baseball and football for 4 years, but he was also was a 600m city champion in track in his sophomore year. Since 2008, Peter has been on the MDA Executive Committee and involved with the Special Olympics. In the classroom, Peter has maintained a 91 average while taking 5 honor classes. From 2010-11, Peter was an alter server and CCD teacher.
Jacqueline Dubrovich
Jacqueline Dubrovich has prospered inside and out of the fencing arena. She was named to the All State teams in her first two years. As a member of the National Honor Society, Jacqueline has maintained a 4.57 GPA while taking 5 AP classes. In the community, she has been a Peer Helper and attended the National Young Leaders Conference.