$10,000 in Scholarships Available!
Updated:
December 17, 2014, 11:15 AM ET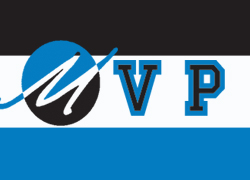 Who's your High School MVP?
Melrose Credit Union is awarding senior athletes with $10,000 in college scholarships!
Tell us who you think is the best, the brightest and most giving high school senior athlete from your community.
Each month one (1) MVP finalist will be showcased on ESPNNewYork.com.
Last year marked a new chapter in the Melrose MVP Scholarship program. For the first time ever, all five (5) Finalists were awarded scholarships with the top MVP being awarded $5,000! This year, we're continuing with this exciting new program.
We Want to Hear About It
High School Senior Student Athletes who are leaders on the field, off the field and in their community. Whether it's donating time to charitable organizations, maintaining great grades or contributing to the community in a positive way, we want to hear all about it!
Nominate your high school senior athlete between now and Dec. 31, 2014.
Four (4) MVP Finalists plus one (1) Wild Card Finalist-selected from a pool of runner ups- will be invited to the Melrose MVP Scholarship Awards Dinner in early 2015.
Check out photos and a video from last year's event here.
Click the link below to begin your nomination. You'll have to submit your information first. Please give as much information as possible regarding your nominee.
For full rules, click here.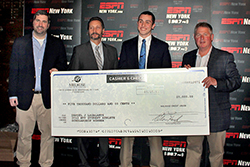 November's Honoree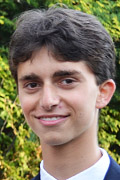 Jordan Salama
Pelham Memorial HS
Jordan Salama is one of Pelham Memorial High School's most accomplished student-athletes and he is a winner in our classrooms, community and athletic fields. In 2013, Jordan helped our school's Varsity Boys Soccer Team win its first NYS Section 1, Class A Championship in nineteen years. Jordan scored seven goals and assisted on eight others in his Varsity career, including a "wonder goal" against Edgemont High School this season: a bicycle-kick goal from the top of the 18-yard box that found the top corner of the net, a goal that would be the eventual game-winner in the match. The consummate team player, Jordan's work ethic and commitment to excellence echo our school's motto "Inspiring a Standard of Excellence for All Students." Jordan's rigorous course program, including multiple Honors and Advanced Placement courses, has challenged him to be one of Pelham's best and brightest students and he boasts a weighted GPA of 99.965. Outside the classroom and soccer field, Jordan is the creator, producer and host of The Pelican Brief with Jordan Salama, a local public access talk show (FIOS channel 42, Cable channel 77) featuring students, teachers, and administrators discussing events and opportunities in the school district. He is also President of Kids Against Palm Oil, an organization Jordan founded in middle school dedicated to educating students and adults around the world about the devastating effects of non-sustainable palm oil farming on the Southeast Asian rainforest ecosystem. Scholar, athlete, activist and artist, Jordan truly inspires a standard of excellence here at our school.


November Honorable Mentions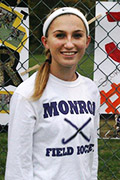 Jenna Parisen
Monroe Township HS
Jenna Parisen is a well-rounded young lady who is involved in her school and community. She has a 3.95 GPA and ranked in the top 15 % of her class. She has been on the Honor Roll every marking period at Monroe Township High School during her High School career along with being the Treasurer for the Class of 2015. She is involved in the state as a State Officer for NJ DECA. In addition she has done mission work for her church in Appalachia in Tennessee and Pennsylvania during her summers. She plans on doing mission work in Uganda in December of 2015. Jenna will be attending Liberty University in the fall.

Jenna has had a decorated athletic career in field hockey at Monroe Twp. High School. She is one of our top field hockey players in school history. She holds the school record for most goals scored (67) in a career along with 37 assists. She captained the most successful field hockey team in school history going undefeated in the regular season, winning the division and county championships and setting the school record for wins at 19. She was just selected by the Home News and Tribune as the Area Field Hockey Player of the Year. She was also selected as the Greater Middlesex Conference Field Hockey Player of the Year and earned 1st Team All-Conference and 2nd Team All State Group 4 selection in 2014. Jenna also earned 1st Team All-Conference and 3rd Team All State Group 4 selection in 2013. As a sophomore she was also 2nd team All-Conference in 2012.


Kevin Buono
Monsignor Farrell HS
Kevin is an outstanding two sport student-athlete at Monsignor Farrell High School. He excelled in both lacrosse and football. He was a CHSAA 1st team All-American in lacrosse for the 2013 and 2014 seasons. He is the all-time leader in goals scored for Monsignor Farrell with 120 goals. He is also a three year Staten Island Advance All-Star in lacrosse. Kevin excels in the classroom with a 95 average maintaining first honors throughout all of his years at Farrell. He keeps busy volunteering at several service organizations within the school, such as teaching religious education to fourth graders and volunteering at the Special Olympics. He also helped organize various fundraisers and food drives while at Farrell.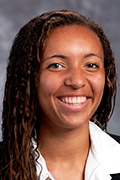 Sade Dinkins
Staten Island Academy
Sade Dinkins was the recipient of Staten Island Academy's 2012 William Winter Scholarship. This scholarship is awarded to a rising Grade 9 student on Staten Island who demonstrates outstanding academic achievement, athletic ability and good citizenship. Sade is a 3-sport senior athlete who played soccer this past fall and the previous three seasons. She was a captain this year and received all league status as a central defender. Currently, Sade is a senior captain on the state champion Lady Tiger's basketball team. She has amassed over 750 points so far in her first 3 years and is well on her way to reaching the milestone of 1000 points. She has been a 4-year starter and at 5'11" plays down low where her toughness shows. Sade will also be a member of the spring lacrosse team that has competed at the State level 6 of the past 8 seasons. Again, she will hold a defender position that anchors the entire field. Sade is the quintessential student-athlete. She will undoubtedly play ball at the next level but has yet to select where she will attend college in the fall.

Sadie's work ethic and determination to be the best is unmatched. She makes everyone around her better. She is an unselfish player, the one who looks to pass first rather than score a bucket for herself. She embraces defense. Sade says it best: "Defense wins championships!" She is the first one ready to practice and the one carrying the equipment off the field afterwards. Sade is a unique role model for younger teammates because she does the work; she doesn't just talk the talk. If you take a moment to review her transcript you will see a serious student as well. Sade has taken the most rigorous course


October's Honoree
Julianna Madigan
Pearl River High School
Julianna Madigan sits among the top of her class as one of the most exceptional two-sport student athletes to walk through the doors of Pearl River High School. Julianna, better known as Jules, is one of the best, well-rounded athletes to wear the royal blue and white Pearl River jersey. Those of us who are quick to learn Jules' name, recognize that her persona extends far beyond the accolades she has earned and the many plaques that hang on her wall, but rather the selfless leader who is a loving daughter and caring sister who serves as a role model for the female athletes in the Lady Pirates soccer and softball programs. She has dedicated hundreds of hours of community service to various organizations, such as, the St. Aedan's Food Drive, Lordes Kids of Rockland Fundraiser and American Red Cross Holiday Mail for Soldiers, to name just a few. Above all, Jules is a scholar athlete who has been accepted into the National Honor Society, along with all five academic honor societies that recognize specific subject matter. Furthermore, she was selected as a National Merit Scholarship semi-finalist for Pearl River High School. Lady Pirates Soccer Coach, Tim Peabody, said "The amazing part is that Jules is all real, all legitimate. No fluff. Any teacher you ask would say she is top notch and any coach would tell you for the talent she has, nobody reaches deeper."
In addition to the time she spends balancing the academic demands and giving back to her community, Jules has also made her mark within the Class of 2015 serving as the President of the Model UN Club, co-founding the Students Assisting Meals on Wheels Club, and being a competitive member of the Academic Team and Science Olympiad. So when Jules is not engrossed in academic rigor, running food drives or competing in Academic Team, she can be found on the soccer or softball field. A two-sport captain who has earned All-League and All-Section honors for both soccer and softball while leading her soccer team to three league championships and a Section One championship over the last four seasons. In the spring season, she led the softball team to a NYS final four appearance and was a 1st team selection on the MSG Varsity Hudson Valley/Westchester Team. According to Lady Pirate Softball Coach, Chris Woolgar, "Her dedication, commitment, and overall drive to be successful on the field, in the classroom and in the community, sets the bar high for her current teammates, as well as all future Lady Pirates to follow".

Peter Terranova
Raritan High School
Peter Terranova has been a three year letter winner in Football for Hazlet township's Raritan High School. As a Rocket, Peter has been a two year defensive starter at strong safety as a member of the Dirty Dozen Defense. As a senior Peter was named an APOLLO 18 member, the leadership council of Raritan Football, identified by his peers as a student leader. Throughout his four years with the program, Peter gave back to the community through multiple community service ventures which include the local group RAINE, as well as with national groups like Habitat for Humanity. Peter Terranova plans on continuing his education, his playing career, and his community service at a 4-year university in the Northeast.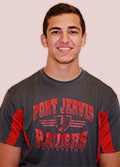 Noah Knesel
Port Jervis High School
I would like to nominate Port Jervis High School senior Noah Knesel for the Melrose MVP scholarship program. Noah Knesel is the consummate student athlete. Academically he is a high honor roll student and has received varsity letters in football, wrestling and baseball.As a member of the football team, he was selected as a team captain. As a versatile player on this year's team, he was very instrumental in helping the team win the Division Championship. When the season started, he earned the starting quarterback position. He injured his shoulder in the second game and had to sit out the next couple of weeks. When he returned, the team was in the middle of a four game winning streak and instead of disrupting the flow of the team he agreed to move to a receiver positon and defensive end. He immediately had a positive impact and the team went on to win the championship. This was truly a show of putting his team first.
As a four year member of the varsity baseball team he has been a very successful pitcher who has tremendous college potential. His ambition is to attend college and play baseball at the next level. As a wrestler, he was a hard worker and respected by his teammates. Noah has also volunteered to ring the "kettle bell" for the Salvation Army during the holiday season and worked with our younger football players as an instructor in the Youth Football Clinic. He is also active in the varsity club as the clubs treasurer. Noah Knesel is a quality young man whose hard work, determination and desire has allowed him to be successful. It is evident that Noah is deserving of the Melrose MVP scholarship program.
September's Honoree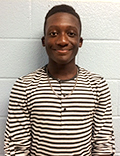 Marquis Pickering
Petrides HS
Marquis Pickering is the proto typical student-athlete that every coach dreams of having in their program. Standing at 5'8" and weighing 160lbs, Marquis is not necessarily your ideal Running Back, but his attitude, strength and maturity allows him to play the game at a very high level. As a three year Varsity starter, Marquis has set several Petrides Football All-time records. Those records include; leading scorer (264 pts), touchdowns (40), all purpose yardage (4,327) and is on pace to become Petrides All-time leading rusher by the seasons end. Marquis has also been a member of both the indoor and outdoor track teams for the past three seasons. Three words stand out when thinking of Marquis: dedication, determination and resiliency.

Marquis is not only involved with football at Petrides. While maintaining his 3.2 G.P.A, Marquis is also an integral part of the school community. He is the Student Body President, a member of P.A.C.S., KeyClub, Yearbook and a 4th Grade Peer Teacher. He is role model to his peers both in the school and the community by setting an example of a model student-athlete.
September Honorable Mentions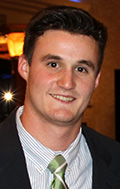 Thomas Wright
Garden City HS
Thomas Wright is the consummate student athlete. He is currently the captain of the Varsity Football Team here at Garden City High School. Tom has earned All-American Honors in Lacrosse and was named Top defender in Nassau County this past season. His coaches all agree that Tom embodies qualities of a top athlete and team leader.
Academically, through perseverance and determination, Tom has achieved his goals on the field as well as in the classroom. He has dedicated many extra hours towards his studies to ensure his success. Tom does not become discouraged when difficulty arises but instead doubles his efforts.
Socially, Tom is well -liked and well-respected among his peers and the faculty. In his spare time, he works with special needs children on the basketball court as well as the lacrosse field.