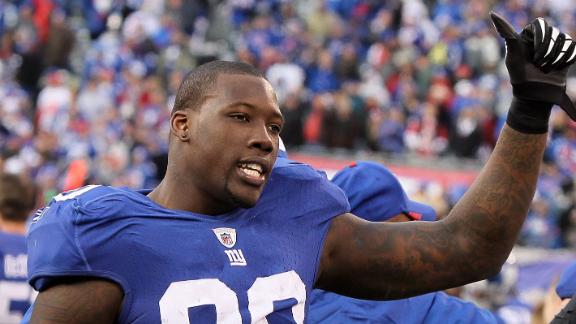 Did JPP haze Prince Amukamara?
UNTIL SOMEONE GETS HURT

By Ian Begley
ESPNNewYork.com
Archive
I've seen strong opinions on both sides of the Giants' now-infamous tub toss video. Some feel it is a harmless aspect of life in the locker room. Others have called it bullying.
I have to side with the latter.
I've been in countless locker rooms as a reporter and more than a few as a high school athlete (where hazing was rampant), and I believe Jason Pierre-Paul crossed a line here.
The idea, in and of itself, isn't so bad: Take a young player and embarrass him in front of his teammates for a few laughs.
But there's an old cliche that, I think, applies to this situation: It's all fun and games until someone gets hurt.
In the Giants' case, it's all fun and games until you lose a cornerback.
Pierre-Paul dropped Prince Amukamara into a tub approximately two feet deep. Fortunately, he managed to avoid landing on his head and avoided serious injury. But the potential to do so certainly was there.
So for those who see the incident as innocent locker room behavior, I'd ask you this: If Amukamara had landed on his head and suffered a head or neck injury, would your opinion change?
Amukamara, don't forget, is now the starting cornerback opposite Corey Webster with Terrell Thomas rehabbing an injured right knee.
If he was lost for the season or for a longer period of time, would the incident still be as easy to dismiss?
I doubt it.
TANK PRANK

By Ohm Youngmisuk
ESPNNewYork.com
Archive
Let's get this out of the way first -- I don't condone hazing, bullying or inappropriately harsh language.
And it's understandable that some were offended and would think that Prince Amukamara was the subject of bullying or hazing after seeing Jason Pierre-Paul toss him into an icy plastic tub.
Especially after seeing the not-so-thrilled look on Amukamara's face upon emerging from the ice. After all, it wasn't as if Prince were tossed into a hot tub time machine.
Bullying is no joke. But I don't believe JPP threw Amukamara with malicious intent. More like tough love.
This may be more about Prince having to pay his dues and perhaps veterans trying to get the cornerback to develop a bit of an edge.
"We have all been through it," said Justin Tuck, who does not condone bullying and did not defend the incident but tried to explain the culture of an NFL locker room.
In the video, JPP looks like he is trying to prove a point to Prince, as if putting him in his place. Clearly, several players in the video look like they are having fun.
"I have very [thick] skin," said Amukamara. "I can take a lot."
I don't think JPP, or any of the other veterans, hates Amukamara. They know how pivotal he will be to the team's success this season with Terrell Thomas on the mend.
My take: no harm. JPP was treating Prince as big brothers sometimes treat little brothers -- albeit a big brother who is 6-foot-5 and weighs 278 pounds.