April, 6, 2013
Apr 6
8:47
PM ET
By
Mike Mazzeo
| ESPNNewYork.com
Ex-Knick
Jeremy Lin
believes his race played a role in why he wasn't given a Division I basketball scholarship or drafted by an NBA team.
"Well, I think the obvious thing in my mind is that I was Asian-American, which, you know, is a whole different issue but ... I think that was a barrier," Lin told Charlie Rose in a "60 Minutes" interview that will air Sunday night.
"I mean ... it's a stereotype."
Read the full news story
here
.
March, 6, 2013
Mar 6
10:52
AM CT
DALLAS – The last time the Mavericks endured a losing season, there was a lot of legitimate, tangible reason for hope.
PODCAST
ESPN.com senior NBA writer Marc Stein joins Fitzsimmons and Durrett to talk about the Mavericks and what it might take to fix their problems.

Listen

Michael Finley
was an established, young franchise cornerstone.
Steve Nash
turned a corner in his career midway through that season, when he was 25 years old. And a 21-year-old finesse 7-footer named
Dirk Nowitzki
had begun blossoming into a star.
Those 1999-2000 Mavs finished the season with a 31-19 run, setting the foundation for the franchise's dozen-year playoff run that will almost certainly end in six weeks.
Let's be optimistic and assume these Mavs, who are seven games under .500 with a little more than a quarter of the season remaining, manage to end this frustrating season strong. Is there anything that can happen down the stretch that could benefit the Mavs in the future, much like their last losing season?
[+] Enlarge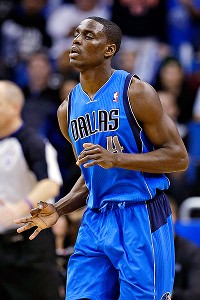 AP Photo/John RaouxDarren Collison has continually ceded crunch-time minutes and doesn't really seem like a long-term fit with the Mavs.
"That's tough to see," Nowitzki said. "Obviously, we've got nine guys or whatever we've got on one-year deals, so the team might be completely different next year. We didn't have that scenario (13) years ago. We obviously knew that Steve and Mike and myself were going to be the core for a lot of years, so we had that going for us, which this year is not the case."
And that might be the most frustrating part of this miserable season. The Mavs aren't experiencing growing pains that could pay off next season. They're just passing time.
There was a ton of talk about potentially developing the backcourt of the future this season with 25-year-old rentals
Darren Collison
and
O.J. Mayo
. Mark Cuban and Rick Carlisle continue to dangle that carrot, but it's extremely hard to envision that being a reality.
If the Mavs see Collison as their point guard of the future, why did he lose his starting job to a point guard they recruited out of his rocking chair earlier this season? And, after
Derek Fisher
's departure, why does Collison keep losing crunch-time minutes to a different graybeard point guard that was called up from the D-League?
The Mavs and Collison just don't seem to be a long-term fit. As far as Mayo goes, that probably depends on the market this summer for the Mavs' leading scorer whose decision-making and defense have repeatedly drawn Carlisle's wrath.
The rest of the Mavs' one-year men are a collection of complementary players, not building blocks, at this point of their careers. They're essentially financial placeholders, and the vast majority (if not all) of them will be on another team's payroll next season.
Any hope for a major Mavs rebound would arrive this summer, not be foreshadowed in the final 23 games.
"We went for a big fish last summer," Nowitzki said. "We didn't get him, so we decided to go that route with a lot of one-year deals, so the situation could be completely different next year. We're going to make this push for the playoffs and see what happens this summer."
The Mavs' foe for this home-and-home series also looks forward to seeing what happens this summer. However, the
Houston Rockets
are somewhat reminiscent of the '99-00 Mavs, albeit with a better record and a good shot at making the playoffs.
The Rockets have managed to put together a tremendous young nucleus while almost totally turning over their roster since last season.
Chandler Parsons
, the second-year second-round pick who scorched the Mavs for 32 points in Sunday's rout, is the only player remaining from Houston's roster last season.
Houston GM Daryl Morey has done a masterful job collecting assets, cashing in many of them to acquire a bona fide, 23-year-old superstar (
James Harden
) and surrounding him with a strong young supporting cast (center
Omer Asik
, 26; point guard
Jeremy Lin
, 24; small forward Parsons, 24; power forwards
Donatas Motiejunas
, 22; power forward
Thomas Robinson
, 21, combo guard
Patrick Beverley
, 24). And the Rockets have the cap space to recruit a co-star this summer.
The Rockets are several steps into their rebuilding plan.
The Mavs' rebuilding plan begins again this summer.
March, 5, 2013
Mar 5
3:27
PM CT
DALLAS – For better or worse, the Mavericks get a rematch with the
Houston Rockets
.
OK, it can't get much worse than Sunday's defensive debacle, when the Rockets torched the Mavs for 44 points in the third quarter en route to a 136-103 blowout.
PODCAST
ESPN.com senior NBA writer Marc Stein joins Fitzsimmons and Durrett to talk about the Mavericks and what it might take to fix their problems.

Listen

"It was like Meadowlark Lemon was out there throwing behind-the-back passes and the music was playing," coach Rick Carlisle said, referring to the famous former Harlem Globetrotter. "That's how it looked. We got to do better than that."
The Mavs are actually excited about the scheduling quirk of having a home-and-home series with the Rockets, who will be American Airlines Center visitors Wednesday night. It's an opportunity for Dallas to at least partially restore its defensive dignity.
The Mavs were embarrassed by their sloppy, uninspired, pathetic performance Sunday night, as they should be. For the last two days, they have had to live with the shame of allowing 57.5 percent shooting from the floor, 41.2 percent 3-point shooting and 40 free throw attempts.
"I don't think you wash the taste out of your mouth from a loss like that," said
Elton Brand
, who strangely didn't play a second during that miserable third quarter. "You let it linger and use that as kind of motivation."
What went wrong for the Dallas defense in Houston? In a word, everything.
More specifically, the Mavs failed miserably to keep
Jeremy Lin
(21 points, nine assists in 25 minutes) and
James Harden
(21 points, seven assists in 30 minutes) out of the paint and
Chandler Parsons
(32 points, 12-13 FG) from getting a lot of great 3-point looks and easy dunks and layups.
"It's an individual challenge,"
Shawn Marion
said. "I think some people are able to do it more than others, of course, but at the same time, you still have to take the challenge of just doing it. …
"It ain't hard if you're putting the effort out there. When you put the effort out there, good things happen for you. You've got to go out there and compete. We didn't and it showed."
Dirk Nowitzki
thinks the Mavs' season-long defensive woes, which hit a low Sunday, are a little more complicated.
"We're missing coverages," Nowitzki said. "Sometimes it takes us too long to think ahead and get in our coverages and call out our coverages. We have to protect the paint better. We haven't really done a great job all season. Usually when our man-to-man was struggling, we could always rely on our zone, but that isn't even good this year. We've got to make our man-to-man work and call out the coverages early and execute the coverages."
Generally speaking, the Mavs must improve every facet of their defensive game to avoid looking like the Washington Generals again.
March, 3, 2013
Mar 3
10:57
AM CT
HOUSTON -- If the
Dallas Mavericks
manage to sweep the home-and-home series with the
Houston Rockets
over the next four days, we can continue entertaining their slim hopes of making the playoffs.
The reality, however, is that Dallas' 12-year postseason streak is on its deathbed.
Really, there shouldn't be any shame to that. It was a remarkable run that featured 11 50-win seasons, two Finals appearances and one title. All great things must come to an end.
Granted, the
San Antonio Spurs
might be an exception to that. They're about to win 50 games for the 14th consecutive season. The last time the Spurs failed to win at least 50, they celebrated the first of their four NBA titles, parading down the RiverWalk after Tim Duncan's lockout-shortened sophomore season.
It's been a hard fall for the Mavs over the past 21 months. They've gone from the NBA penthouse, popping a $90,000 champagne bottle in a Miami Beach club while celebrating the franchise's first title, to the Lone Star State cellar.
And the Mavs have their work cut out for them if they're going to catch the Rockets, much less the Spurs, anytime soon.
The Spurs' ability to sustain excellence is unparalleled in today's NBA. That will be tested when
Tim Duncan
and
Manu Ginobili
call it a career, but it'd be foolish to doubt a franchise with the league's best coach (Gregg Popovich) working with a brilliant front office.
The Rockets, who have won only one playoff series since two-time champion
Hakeem Olajuwon
left town, appear poised to soar again soon.
After three frustrating years of being better than .500 but not good enough to make the playoffs, Houston general manager Daryl Morey made a breakthrough move just before this season started. He acquired the bearded face of the franchise,
James Harden
, in a blockbuster deal with the
Oklahoma City Thunder
.
The 23-year-old Harden, who is averaging 26.3 points and 5.7 assists per game, has proved to be a legitimate superstar after getting out of the shadows of
Kevin Durant
and
Russell Westbrook
. He's surrounded by a good, young supporting cast that is locked into reasonable contracts (26-year-old center
Omer Asik
and 24-year-old point guard
Jeremy Lin
) or rookie deals (small forward
Chandler Parsons
, power forward
Donatas Motiejunas
, power forward
Thomas Robinson
, etc.).
And the Rockets will have the cap space to be major players in free agency again this summer, when they can potentially acquire a co-star for Harden.
Of course, there are no guarantees for Houston, which will have to fight to stay in the playoff picture with the
Los Angeles Lakers
making a charge. There have been many young teams that looked great on paper that fizzled out, but Houston has an excellent plan and has already executed several steps.
The Mavs, on the other hand, have a plan that has been publicly questioned by its superstar, the lone player on the roster who is a sure bet to still be a Dallas resident in two years. As
Dirk Nowitzki
has said several times, this is a big summer for the Mavs.
Much work must be done for the Mavs to approach the high standard they established over the past dozen years.
This isn't a franchise that will be satisfied to fight for eighth place in the West or settle for third place in the state of Texas.
February, 17, 2013
Feb 17
7:01
PM ET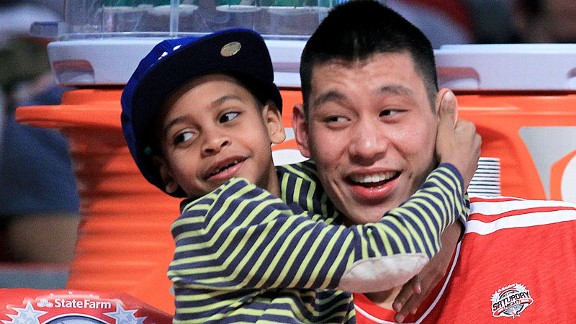 Ronald Martinez/Getty ImagesKiyan Anthony, who turns 6 in March, hugs Jeremy Lin.
Wasn't there supposed to be drama between
Carmelo Anthony
and
Jeremy Lin
last year?
If so, nobody told Melo's son, Kiyan, who sure seemed happy to see Lin at All-Star Saturday night, greeting the Rockets guard with a big hug.
February, 16, 2013
Feb 16
9:03
PM ET
By ESPN Stats & Information
ESPN.com
Archive
NBAE/Getty Images
Kevin Durant (left) and LeBron James have the two highest scoring averages in All-Star Game history.
We preview the NBA All-Star Game with 10 facts you need to know.
•
Kevin Durant
won his first All-Star Game MVP award last year after scoring 36 points. He's scored 30 or more points in two straight All-Star Games, the only player in NBA history to accomplish that feat. His career scoring average (28.3 points) is an All-Star record (minimum 60 career points).
•
LeBron James
, making his ninth All-Star appearance, ranks second in career scoring average (25.9 points) in the game. According to the Elias Sports Bureau, James has scored at least 20 points in each of his past seven All-Star Games, the longest such streak for any player in NBA history.
•
Kobe Bryant
and
Kevin Garnett
were selected to the All-Star Game for the 15th time. Only
Kareem Abdul-Jabbar
has more career selections (19). Bryant's 15 selections have come consecutively, the longest active streak. His 271 career points are the most in NBA history and his four MVPs are tied with Bob Pettit for most all time.
• Bryant and
Dwight Howard
are slated to start for the Western Conference, but the
Los Angeles Lakers
enter the All-Star break in 10th place in the West. According to Elias, the Lakers could be the fourth team since the merger (1976-77 season) to miss the playoffs in a season with two All-Star starters on the roster. The last team to do so was the 2005-06 Rockets (
Tracy McGrady
and
Yao Ming
).
The Lakers will also become the first team in All-Star Game history to start two different centers in back-to-back years (
Andrew Bynum
in 2012).
• The
Miami Heat
lead the way with three All-Star selections -- all three of whom will start -- becoming one of eight teams with multiple selections. According to Elias, they'll be the sixth trio of teammates to start the All-Star Game following a championship season, and the first since Kareem Abdul-Jabbar, Magic Johnson and James Worthy in 1986.
•
Kyrie Irving
is the sixth-youngest player ever selected to an All-Star team (he'll be 20 years, 331 days old on Sunday).
•
David Lee
earned the
Golden State Warriors
' first All-Star selection since 1997 (
Latrell Sprewell
). That leaves the
Milwaukee Bucks
and the
Sacramento Kings
as the teams with the longest active streaks without an All-Star (nine seasons).
•
Stephen Curry
is averaging 21.0 points per game this season, the highest average for a player not selected to an All-Star team.
Monta Ellis
is fourth on that list (18.4), but he's got the highest career points per game without ever being selected to the All-Star Game (minimum 400 games played).
Lin
•
Jeremy Lin
of the
Houston Rockets
was the only player among the top 10 vote-getters who was not selected to the All-Star Game. He finished ninth, between Howard and
Blake Griffin
. Bryant led the way with more than 1.5 million votes, just ahead of James.
• The Eastern Conference leads the series 36-25, but the West has won two straight and three of the past four games. A third straight victory by the West would be tied for its longest win streak (three straight from 2002 to '04).
February, 5, 2013
Feb 5
11:37
AM ET
By
Ian Begley
| ESPNNewYork.com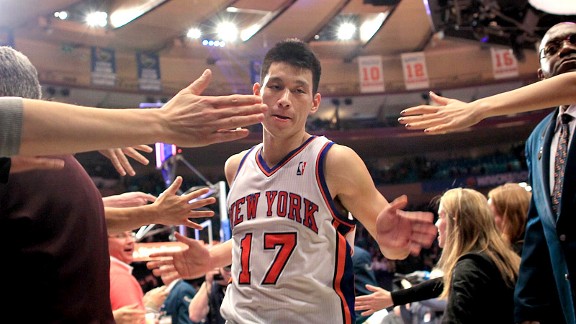 Chris Trotman/Getty ImagesLast year at this time, Linsanity was rocking the Big Apple.
A year ago Monday,
Jeremy Lin
came off the end of the Knicks' bench to lead the team to a win over the then-New Jersey Nets.
We all know what happened next: Lin spurred the Knicks to seven straight wins, almost single-handedly saving what, to that point, was a lost season. He became an international phenomenon in the process.
Of course, a lot has changed in the past year -- for both Lin and the Knicks.
New York beat Detroit on Monday night to improve to 31-15 and move within a half-game of the
Miami Heat
for the top spot in the East. Lin is in Houston, adjusting to life with
James Harden
as the Rockets fight for a playoff spot in the West.
The Knicks declined to match Houston's offer to Lin over the summer, opting to bring in a veteran cast to complement
Carmelo Anthony
. Anthony was asked on Monday about the difference between last year's team during Linsanity and this year's squad.
"Right now, the way we're playing as a team, what we've been doing for the whole season so far, we're doing a great job," said Anthony, who's in the midseason conversation for MVP. "Playing offense, playing defense, but the most important thing is that we trust one another, we believe in one another. We hold each other to high standards. We know what to expect from one another."
He added of Linsanity: "I don't think we will see that again for a long time, how much that took off."
Anthony was reportedly put off last year when people questioned whether he could fit in to the Knicks' Lin-led offense. Anthony and Lin, though, have both denied there was a rift.
With Lin in Houston, the Knicks this season have relied on
Raymond Felton
,
Jason Kidd
and
Pablo Prigioni
to run an offense equal parts pick-and-rolls, post play and isolation sets.
Tyson Chandler
believes New York is better prepared for a deep playoff run this season than it was last year under Lin.
"That was an exciting year and it was an exciting moment, but we didn't have the type of cast that we have now," Chandler said when asked to reflect on Lin's run. "That was just like a period in time. This team has the chance to do something special. [It] has the chance to do something that hasn't been done in a long time. That's the biggest difference."
You can follow Ian Begley on Twitter.
February, 5, 2013
Feb 5
1:22
AM ET
By
Ian Begley
| ESPNNewYork.com
Tyson Chandler
may have etched his name in the Knicks' record books on Monday with his third straight 20-rebound game, but it wasn't all good for the Knicks' center.
Chandler, a 49ers fan, lost a bet with
Carmelo Anthony
, a Baltimore Ravens fan, after Baltimore beat San Francisco in Super Bowl XLVII on Sunday.
The result? Chandler had to wear a Ravens hat during postgame interviews on Monday.
"This is not my team, this is Carmelo's team. But they won, so congratulations to the Ravens and all their fans," Chandler begrudgingly said at the begging of his post-game interview.
"That made my day, you just don't know," Anthony said. "That made my day."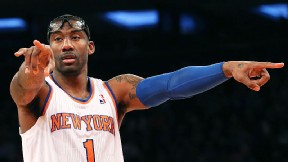 Anthony Gruppuso/USA TODAY SportsAmar'e Stoudemire's strong play continued, scoring 20 points on 8-of-14 shooting against the Pistons.
ANNIVERSARY OF LIN:
A year ago Monday,
Jeremy Lin
emerged off the end of the Knicks' bench to lead them to a win over the Nets, beginning a phenomenon known as Linsanity.
Players were asked about the difference between that run and this year's team, which is 31-15.
"I don't think we'll see that again for a long time, how much that took off," Anthony said. "Right now, the way we're playing as a team, what we've been doing for the whole season so far, we're doing a great job."
AMAR'E SAYS FORGET ABOUT LAST YEAR:
Amar'e Stoudemire
wants to put an asterisk on last season. He came into the year with added muscle on his frame after injuring his back and struggled throughout the year, averaging just 17.5 points and 7.8 rebounds a game, near career-lows in both categories.
Stoudemire feels like a different player this year since coming back from arthroscopic knee surgery on Jan. 1.
"I feel great, I feel (like I did) the first year I was here," Stoudemire said. "I feel healthy, I feel strong."
Stoudemire's strong play continued on Monday.
He had 20 points on 8-for-14 shooting and three rebounds against Detroit. He has scored in double figures in 11 straight games.
January, 8, 2013
Jan 8
11:51
AM PT

By Dave McMenamin
ESPNLosAngeles.com
Archive
HOUSTON -- It seems like nothing short of a miracle delivered straight from the basketball gods could get the Lakers winning again, with Dwight Howard (torn labrum in his right shoulder), Pau Gasol (concussion) and Jordan Hill (torn labrum in his left hip) out of the lineup indefinitely.
Lakers coach Mike D'Antoni experienced some seemingly divine intervention last season with the Knicks when Amare Stoudemire and Carmelo Anthony went out and the then unknown Jeremy Lin saved the Knicks' season with a hot streak that will be forever referred to as "Linsanity."
Could it happen again for D'Antoni and the Lakers with Robert Sacre?
"I said yesterday Darius (Morris), but it's probably more maybe 'Sacresanity' or 'Sacsanity' has to happen," D'Antoni said following Tuesday's shootaround in preparation for the Lakers game against the Rockets. The coach said Monday that "Morrisanity" could be coming around the corner but hedged a bit Tuesday because Sacre is definitely starting while D'Antoni has not decided, at least publicly, whether Morris or Antawn Jamison will be with the first five.
"We'll see," D'Antoni said. "You know what? Couldn't be a better guy that deserves it because he's over there, he's the most energetic, best guy on the bench that you can have. So, it couldn't happen to a better person as it did to Lin, it couldn't happen to a better person. We'll see. He's got an opportunity. We'll see if it strikes twice."
Sacre, selected with the final pick of the second round of the NBA Draft out of Gonzaga, is averaging 0.5 points and 0.8 rebounds in 4.2 minutes per game in 13 spot appearances this season.
The 7-foot, 260-pound center fared better in the preseason when he filled in for Howard while the All-Star was still recovering from offseason back surgery. Sacre has also produced with the L.A. D-Fenders, the Lakers' D-League affiliate. In five games with the D-Fenders, Sacre averaged 12.0 points, 8.6 rebounds and 1.0 blocks per game.
While his statistics with the Lakers have been negligible, he has managed to contribute to the culture of the team nonetheless. Sacre is already a fan favorite for his "Sacrebrations" on the bench in support his teammates. The 22-year old says his celebratory moves are in part inspired by Yosemite Sam of the Looney Tunes.
"You can't help but notice his spirit," D'Antoni said of Sacre's antics. "If good things happen to good people, we got a good opportunity to have that adage go forward."
Sacre was at the D-League Showcase in Reno, Nevada on Monday when the news broke about the Lakers' big men being injured. With the Lakers' chartered flight already en route to Houston, Sacre had to fly commercial from Reno to Los Angeles and then from L.A. to Houston on Monday night to join the team.
D'Antoni said the Lakers had a longer walk-through than usual on Tuesday to benefit Sacre, but it wasn't necessary to get him up to speed.
"He knew it anyway," D'Antoni said. "That's why he's great. Because he's always practiced hard, kept himself in shape and he's ready to go."
Dave McMenamin covers the Lakers for ESPNLosAngeles.com. Follow him on Twitter.
December, 26, 2012
12/26/12
3:35
PM ET

By Kevin Arnovitz
ESPN.com
Archive
A few thank-you notes for gifts bestowed on Christmas Day:
To the
Boston Celtics' defense
: Poor Brooklyn, which looked like a passenger on a long-haul flight trapped in a middle seat between two offensive tackles. The Nets, who couldn't generate anything in the second quarter, came out of the tunnel after intermission and whiffed on possession after possession.
They tried running Deron Williams off screens or isolating Joe Johnson while spreading the floor, but more often than not the Celtics' defense plugged space, confined Gerald Wallace to the sideline, or trapped Brook Lopez against the baseline, or met a driving Williams with three defenders. After that, the Nets were left with nothing more than table scraps for a Christmas feast -- Williams, Wallace or Andray Blatche open in the far corner, with no feasible means of getting them the ball even if those were desirable options.
The most encouraging thing for Boston? Everyone got in on the act, including rookie Jared Sullinger and Jeff Green, who has never previously been regarded as a reliable cover.
To
Pau Gasol and Dwight Howard
: Seeing two bigs run a pick-and-roll in today's NBA is like spotting a dog walking on its hind legs, and watching Gasol and Howard team up was one of the cooler sights of Christmas 2012.
The Lakers ran it at the nail, smack-dab in the middle of the floor. Howard put a body on Tyson Chandler, who was guarding Gasol, then bounced off Chandler for a sharp dive to the hoop. Kurt Thomas, previously Howard's man, picked up Gasol as he dribbled right. Chandler and Thomas are some of the savviest defenders in the game, but the die was cast before they could sniff out that Howard was already at the rim. As a result, we got to witness Gasol pass out of the pick-and-roll, with Howard finishing underneath the Knicks' defense.
The NBA needs more 4-5 pick-and-rolls -- and not just those featuring newfangled 4s (e.g., James-Bosh, Anthony-Chandler, Smith-Horford). You need a power forward with a handle, but he doesn't have to be Chris Paul, either. Here's looking at you, Blake Griffin and DeAndre Jordan.
To
Russell Westbrook and Kevin Durant
: A couple of years ago when he was filling in as the interim head coach in Denver for a recovering George Karl, Adrian Dantley was asked why the Nuggets' pick-and-roll defense was struggling. He responded incredulously, saying there was no such thing as "good" pick-and-roll defense, that even the best protection against an NBA ball screen was nothing more than damage control because two professional basketball players in that action were virtually unstoppable.
That's certainly the case when those two guys are Russell Westbrook and Kevin Durant, who worked in tandem on a number of occasions on Christmas to positive effect. The Heat trapped Westbrook when Durant rolled (calling on a rotating defender to pick up Durant, a tactic that didn't work), while LeBron James fought through a perimeter screen when Durant popped to the perimeter. That strategy didn't pay dividends either, as even James couldn't recover quickly enough to corral Durant once Durant caught the pass, then zipped to the hole.
Durant might never embrace the idea of being the "4" on the greaseboard, but there are ways to tease a small forward into fulfilling the function of a big guy -- and this is one.
To
Mario Chalmers
: For attacking on the break; for identifying when the Thunder's interior defense is shading toward LeBron off the ball and, in effect, issuing an engraved invitation for Chalmers to drive to the hole; for rushing in transition to the corner spot where an advance pass can find him for an open 3-pointer; for learning that it's not enough to charge off a down screen to collect the ball -- you also have to rub your man off the screener to get the space you need to catch and shoot; for instantly recognizing when Westbrook falls asleep and Dwyane Wade is all alone underneath the basket.
To
Jeremy Lin and James Harden
: I still like the idea of staggering their minutes and ensuring at least one half of Beard-sanity is in the Houston backcourt at all times, but if Tuesday's performance against a sturdy Chicago defense is any indication,
this can work.
As long as transition remains priority No. 1 in Houston, Lin and Harden are born running mates. And in the half court, we also saw how placing counterweights on can stretch the floor and leverage even the most disciplined defense, which can't possibly apply pressure against a ball screen, zone up the backside
and
account for a crafty guard off the ball on the move.
To
Andre Miller
: Basketball Reference gives Miller
a 1.4 percent chance of making the Hall of Fame
, and that sounds about right, but long after the taciturn, unsociable point guard retires into obscurity, big men who played with him will marvel at Miller's ability to find shots for them at the rack.
It's impossible to watch Miller without a rewind button on the remote because a mortal being simply can't see what he did until after the ball falls through the net. In the first quarter on Tuesday, how did Miller find Kosta Koufas at the rim with three defenders in the ball's flight path? Fans like to toast Miller's "old man game," but even though he looks the part of the rec center geezer, he's got the vision of a young 'un.
Before the game, George Karl was asked how he handled his bench rotations. Karl smiled and replied that he basically left that to Miller. One glimpse at how Miller puppeteers the Nuggets' second unit, feeds the entire crew and controls pace, and you're ready to follow Karl's lead and let Dre draft your fantasy team.
To
Willie Green
: For
this
.