February, 23, 2014
Feb 23
3:33
PM ET

By J.A. Adande
ESPN.com
Archive
Two years after Linsanity, the month that took him to dizzying heights never before reached by an Asian American player in the NBA,
Jeremy Lin
offered his perspective on
Jason Collins
, the first openly gay player in the four major American professional team sports.
"I think it's definitely a big step," Lin said after the
Houston Rockets
' morning shootaround before their game at the
Phoenix Suns
. "The game is evolving. You see a lot of different people breaking barriers in a lot of different ways. This is just another one of those."
Collins signed a 10-day contract with the
Brooklyn Nets
on Sunday. But Collins won't just be playing for the Nets ... or for himself ... or for his family. Collins now carries the hopes of the gay community with him, an additional responsibility that Lin handled as a representative for Asian Americans.
"It was definitely not easy," Lin said. "For me, if I didn't have faith, in terms of my Christianity, I'm not sure how I would have been able to handle it or understand it or process it. For me, I try to think of it as living or stewarding God's platform. That's kind of how I approached it."
Only a handful of reporters faced Lin as he spoke, a big drop off from the media throngs he attracted when he averaged 21 points per game at the height of Linsanity in February 2012. Lin is averaging 13.1 points per game in his second season with the Houston Rockets and recently moved to a reserve following the return of Pat Beverley from injury. Just as Collins will receive more attention than the typical player on a 10-day contract, Lin has found that he can't recede completely into the background.
"When I'm with my friends and family back home, it's as normal as it will ever be," Lin said. "But I think I'm getting used to a lot of the changes."
January, 16, 2014
Jan 16
1:15
AM ET

By Kevin Arnovitz
ESPN.com
Archive
NEW ORLEANS -- The
Houston Rockets
use an offensive formula they've been cultivating for years under their current regime: 3-pointers and rim shots. Everything in between is for suckers.
The Rockets attempted 35 field goals in the first half of their 103-100 win over the
New Orleans Pelicans
on Wednesday night. Only
four of the 35
occurred between eight feet from the basket and the 3-point line. The trend held throughout the game, as more than 80 percent of the Rockets' shots occurred in their sweet spots.
That is, until the final minute of play, when Old Man Midrange reared his head and the Rockets soared back in time. Two possessions yielded two isolation plays for
James Harden
, the first resulting in a pair of free throws that briefly gave the Rockets a one-point lead, the second an ankle-breaking, step-back jumper that put the Rockets up 102-100.
But heroball this wasn't. The Rockets didn't run a 1-4 flat set with Harden pounding the ball into the hardwood until he felt inclined to put it on the floor. And though these shots didn't originate from the Rockets' preferred zones, each was cleverly crafted with one goal in mind: Take Harden's primary defender,
Eric Gordon
, out of the play and draw a lesser perimeter defender on the switch. The way to accomplish that? A "small-small" pick-and-roll -- one guard picking for the other guard.
"Teams don't know how to guard it," Harden said. "Late in the game, either you're going to switch it and put a smaller guy on me or they're going to try to show and get confused. It worked tonight."
The first possession was more elaborate and took longer to materialize. It was a familiar NBA set: The point guard (
Jeremy Lin
) gets a staggered screen up top -- one screener a shooter (Harden), the other a big man who can roll (
Dwight Howard
). Harden pops while Howard rolls. The Pelicans defended it beautifully.
Brian Roberts
was able to fight over the first screen, allowing Gordon to stay home on Harden. When Roberts got hung up on the second screen,
Jason Smith
bought him some time, then quickly rotated back onto Howard. New Orleans survived the action with everyone in their right place.
That's when Lin got crafty. He probed, reversed course and circled back out of the lane counterwise, with the sole intention of rubbing Roberts off Harden, thereby forcing Gordon to switch off of Harden and onto Lin.
The ploy worked. A pass from Lin went to
Terrence Jones
out on the perimeter, then Jones zipped it quickly to Harden. From there, Harden did his thing: one dribble, collision, whistle, two free throws, Rockets by one.
"I feel like it's really hard to guard," Lin said. "You see, like, OKC [the
Oklahoma City Thunder
]. They run a 1-3 pick-and-roll, which is really hard to guard just because you're not used to being in that position where they have to get out and show and do different coverages. They're usually like sized enough where they're, like, 'We can switch this.' But that gives us the matchup we want."
The game winner was more basic: Jones, Howard and
Chandler Parsons
along the baseline, with Harden at the foul line poised to set the 1-2 pick-and-roll for Lin.
Pelicans coach Monty Williams elaborated on the theme in Lin's comment: It's easy to say, "Don't switch," but the consequences can be dire.
"The problem is the guy who's setting [the screen] can shoot," Williams said. "If you try to hedge it and that guy pops, he's going to get a shot. We wanted to try to keep Eric [Gordon] on him as much as we could. So we got [Brian Roberts] out of the game and put
Austin [Rivers]
in to try to give us some more size in case they do it again."
Harden set the screen on Rivers to Lin's right (go figure) and, sure enough, when Lin turned the corner, there was Gordon waiting for him. Switch accomplished with relative ease.
"We run that play a lot, especially late in the game," Harden said. "We don't really run it in the beginning of the game. They switched it, and Jeremy threw it back to me."
Harden explained that the element of surprise contributes to the 1-2's effectiveness. Defenses tighten up in the closing minutes, which is one reason we see more switches late out on the perimeter. Nobody wants to be left out to dry. Switching poses the risk of a mismatch, but at least
somebody
picks up the ball handler.
Harden held the ball for a moment, thrust a head fake or two, then went right -- to his off hand.
"I was reading what the other four players were doing," Harden said. "They all stayed home. It was
mano-a-mano
."
Harden took one slick dribble, yanked the ball back as he thrust his arm forward at Rivers. Did it make contact? Hard to say. Harden then lurched back, with all the space in the Bayou to rise and shoot.
"[Harden] made a tough shot on Austin," Williams said. "Austin played him well. Austin thought he got pushed, but in that situation, you got to just play tough. You can't even ask for the ref to bail you out in that situation. It's just not going to happen."
With that, the team that's driven the midrange jumper out of fashion won the game on a 21-footer.
January, 8, 2014
Jan 8
10:50
AM PT

By Dave McMenamin
ESPNLosAngeles.com
Archive
HOUSTON -- After
Kendall Marshall
's impressive 20-point, 15-assist night in his first game starting at point guard for the
Los Angeles Lakers
, coach Mike D'Antoni was so charged by the performance that he likened Marshall to the most surprising success story of his coaching career:
Jeremy Lin
.
The "Linsanity" run during New York's 2011-12 season coincided with a seven-game winning streak by the Knicks, led every step of the way by Lin putting up points and dishing out assists as the starting point guard.
The Lakers are just 1-2 since Marshall took over starting point guard duties last week, but the former D-Leaguer (just like Lin) has been superb, averaging 15.7 points, 12.7 assists and 5.0 rebounds on 56.3 percent shooting in those three starts.
"He's done a great job," Lin said when asked about Marshall after the
Houston Rockets
' shootaround Wednesday in preparation for the Lakers. "He's a phenomenal passer and he's just a smart, smart player. He's definitely taken advantage of the opportunity and all the injuries that they have and really done a great job. So, I think people are happy for him, for sure."
D'Antoni compared Marshall's inauspicious first appearance with the Lakers, when the North Carolina product had four turnovers in six minutes against the
Golden State Warriors
, with Lin's game against the
Boston Celtics
just before his memorable run started when Lin had just two points, one assist, one turnover and two fouls in seven minutes.
"The first time he went out in Boston it was awful, and I'm thinking, 'Oh my gosh,'" D'Antoni recalled following the Lakers' 110-99 win over the
Utah Jazz
last week in Marshall's first start. "Then, obviously it happened to him. It does happen to guys."
A lot has happened to Lin since his days being coached by D'Antoni, most notably signing a $25 million contract with Houston, receiving critical acclaim after releasing the documentary "Linsanity" detailing his rise to fame and just this week, inking a new endorsement deal with Adidas AG.
"We'll still text back and forth throughout the season," Lin said of this relationship with D'Antoni. "He came out and was there for the 'Linsanity' documentary premiere (at the TCL Chinese Theater in Hollywood) and he let me work out at the Lakers' facility when I was down there in L.A. this summer. So, I think we'll always have a special bond just because of everything that happened."
Lin said that D'Antoni's coaching style helped him grow.
"I think he lets guards play through their mistakes," Lin said. "I think he gives them a lot of freedom and creativity and I think he's really good at finding ways to get mismatches on the floor and he's really innovative when it comes to that type of stuff. So, he does a great job and he makes you feel like (you're important). He empowers you, basically."
Lin said that he even notices D'Antoni's coaching influence on the sets that Rockets coach
Kevin McHale
runs in Houston.
"I think in general the league has adopted a lot of what he started," Lin said. "Him and Golden State 'small ball' and stuff like that, you see lot of that just filtering into all different teams right now."
November, 17, 2013
11/17/13
4:34
PM ET
The Knicks
lost their fifth straight home game on Saturday night
.
So far,
Debbie Gibson has had a better performance
at Madison Square Garden than the home team. Let's sift through the mess and look at five things holding the Knicks back:
[+] Enlarge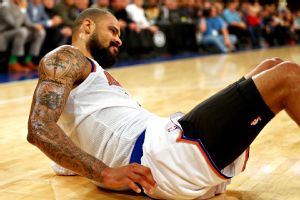 Elsa/Getty ImagesTyson Chandler's injury has devastated the Knicks defense.
No Tyson, no defense:
Mike Woodson says his team isn't being competitive or showing any effort on defense. He has to find a way to get his players to play defense because the Knicks can't rely on their offense or
Carmelo Anthony
to bail them out.
The Knicks miss
Tyson Chandler
badly. They could rely on him to be that last line of defense. He obviously can be a terrific shot blocker. But they miss him most on the boards. Now they rely on Melo to grab the rebounds (as if Melo didn't have enough on his plate). And they miss Chandler's hustle and energy. Woodson needs to find a way to motivate his defense, which is giving up an average of 104.5 points per game in the last seven games.
Woody's task:
Some fans are
chanting for Woody's job
. Look, it doesn't all fall on Woodson's shoulders since he does have a flawed roster that is thin and loaded with streaky scorers that do many of the same things while also having to survive without Chandler. But Woodson has to find a way to get his team better shots.
Too many times, the offense stalls and slows down as four players watch one guy jack up a quick or contested shot on one side of the court without a single pass. The ball needs to move more and Woodson has said as much. Part of that has to do with who he has on the floor. Woodson admits he's trying to find the right combination of who will play hard, defend and move the ball for him. Nine games into the season, he has not found that consistent lineup with several new faces, injuries and a suspension to deal with. Woodson says he likely will continue to
tinker with his lineup
until he finds the right combination. Playing
Pablo Prigioni
a bit more could help the ball movement.
Shooting blanks:
J.R. Smith
has more problems than just
what Brandon Jennings tweets
. His shot is just not falling right now. Smith shot 3-for-18 and scored just seven points in 36 minutes against the Hawks and then said, "
I was playing like s---.
"
He has no rhythm right now and the Knicks desperately need another scoring option to help Melo. Since his return from a five-game suspension, Smith is shooting a dismal 22.6 percent from the field and just 26.9 percent from behind the 3-point arc. In three starts, Smith is shooting 11-for-44 overall and 6-for-21 from 3-point range. Woodson could opt to bring Smith off the bench again and put Prigioni back in the starting lineup. But Woodson has been concerned with his team's slow starts. No matter, Smith has to get his shot going again.
Kenyon and Amar'e:
The Knicks are trying to preserve their veteran big men and have been playing
Kenyon Martin
and
Amar'e Stoudemire
on a minutes restriction. There just seems to be no comfort level at all when Stoudemire is in the game as he tries to do what he can in limited minutes. Things just seem disjointed when Amar'e is in the game and the Knicks can't afford to be patient right now. Martin has tried setting the tone with defense and hard fouls. So far he is averaging 12.1 minutes. Amar'e is averaging 10.5 minutes but just 3.2 points and 1.8 rebounds. Amar'e would like to
play more minutes
which might get him to feel more comfortable. Whatever the plan is right now with Stoudemire, it's not working.
Everybody needs Raymond:
Raymond Felton
has had some hamstring issues early this season and the Knicks need their point guard healthy and playing better. Felton is averaging 11.1 points and 5.2 assists in 35 minutes a game. But he's shooting just 37.6 percent from the field and only 20.6 percent from behind the 3-point line. Felton has to find a way to get the ball moving and the offense flowing better. Offensively, Felton's two best games have come in Knicks' wins. He scored 18 in a win over Milwaukee and 15 in a victory over Charlotte so they can use an aggressive but efficient Felton.
And the Knicks need better defensive play from Felton and their point guards. Atlanta's
Jeff Teague
and
Shelvin Mack
combined for 28 points and 13 assists on Saturday. Teague had 25 points and eight assists against the Knicks last Wednesday.
Jeremy Lin
had 21 points against the Knicks last Thursday.
How would you guys fix the Knicks issues so far? Let us know what you think below.
November, 15, 2013
11/15/13
2:21
AM ET
NEW YORK --
Jeremy Lin
didn't hear the cheers when his name was announced just before he entered the game at the 5:33 mark in the first quarter.
Lin also says he did not hear the smattering of boos whenever he was at the free throw line. He just tried to concentrate on the game, have fun and do what he keeps doing against the Knicks -- win. Lin improved to 3-0 against the Knicks since leaving New York as the Rockets left the Garden with a 109-106 victory.
[+] Enlarge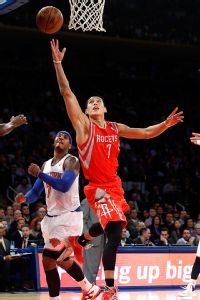 AP Photo/Frank Franklin IIJeremy Lin, who improved to 3-0 against the Knicks at the Garden, finished with 21 points.
It's safe to say that his second return to the Garden wasn't nearly as intense as the first time back last year.
"Yeah, it is a lot more mellow," Lin said.
Lin scored 21 points and added five rebounds and three assists in 30 minutes off the bench and had some flashes of Linsanity.
"I was just having fun out there," said Lin, who was surrounded by a throng of reporters after the game. "You know I miss playing at the Garden. It's great to come back here once a year and play. The fans are great. The atmosphere is incredible. It was just a lot of fun for everyone."
Well, not fun for the Knicks. Lin is averaging 18.6 points and five assists against his old team. There were still some Lin fans who came to the Garden to see the former Knick favorite. Lin, though, said he did not hear any of the cheers or boos he received throughout the night.
Lin's night began at the free-throw line. He went 6-for-6 from the line in the first quarter. He started heating up early in the fourth quarter when he made 4 of 6 shots and scored nine of his points. He drilled a 3-pointer and drove the lane for an uncontested dunk to put the Rockets up 83-75 with 10:04 left. He buried a 23-footer and had a fast break dunk with 7:21 left to keep the Knicks down six.
With the lead down to 102-100, Lin had an eight-foot shot rejected by
J.R. Smith
with 2:22 left. But the Rockets would survive and Lin left New York with another win.
Afterward, he shook hands with some of his old teammates.
"It was great to see Shump [
Iman Shumpert
] -- unfortunately Tyson [Chandler] is hurt -- Melo [
Carmelo Anthony
], STAT [
Amar'e Stoudemire
] and J.R., all of the guys I had some good memories with," Lin said. "It was definitely fun talking with them on the court."
"I was so focused on playing, I try to tune everything else out," he added of his reception from the Garden fans. "I don't try to listen to anything, hear anything, see anything. Try to play worry free. Try to be myself on the court. Not worry too much about anything. Any distractions. Really trying to play as hard as I can."
November, 14, 2013
11/14/13
11:16
PM ET
By
Ian Begley
| ESPNNewYork.com
NEW YORK -- Linsanity might be dead and gone, but
Jeremy Lin
still owns Madison Square Garden.
Lin and the
Houston Rockets
weathered a big game from
Carmelo Anthony
to walk off the floor with a win on Thursday. Lin is 2-0 at the Garden since he left the
Knicks
for Houston in the summer of 2012.

Oh, Melo:
Anthony did all he could to lift the Knicks (3-5) to a win. He finished with a season-high 45 points and 10 rebounds and hit what appeared to be a game-tying 3 with five seconds left. The shot was waived off because officials ruled that
James Harden
fouled Anthony on the floor. Anthony hit both free throws to bring the Knicks within one with five seconds to go. Harden knocked down two free throws on the other end and
J.R. Smith
missed a prayer from inside half court at the final buzzer.
Linsanity lives:
Lin certainly had several big moments in his second game at the Garden since leaving town for Houston.
The ex-Knick had nine fourth-quarter points, including a dunk off a fast break with 10 minutes to play that quieted the crowd and a deep jumper over Anthony's outstretched arm to put Houston up seven with about nine minutes to go.
Lin, coming off a 34-point, 12-assist performance in an overtime loss in Philadelphia on Wednesday, finished with 21 points, 5 rebounds and 3 assists.
Houston's Harden also crushed the Knicks. He finished with 36 points and nine rebounds. He had 16 points from the free throw line.
Bargnani better than Superman:
Raise your hand if you thought
Andrea Bargnani
would outplay
Dwight Howard
on Thursday? Didn't think so.
But that's how it played out for the Knicks. Bargnani had his best game at Madison Square Garden to date, finishing with 24 points on 9-for-12 shooting and and four rebounds. Bargnani stood toe-to-toe with Howard, blocking his shot twice in the second half. He and
Kenyon Martin
held Howard to just one shot attempt in the first half. Howard finished with seven points and 15 rebounds. But Howard came through for Houston late in the game, hitting both of his free throws after gathering an offense rebound to put the Rockets up five with 1:07 to play.
Where's Amar'e?:
It was easy to overlook, but
Amar'e Stoudemire
played just five minutes against Houston. He was scoreless, missing all three of his field goals. Mike Woodson turned to Martin in Stoudemire's place. The veteran power forward played 10 minutes, finishing with three rebounds.
What's next:
The Knicks will likely take the day off Friday to prepare for Saturday's game against the
Atlanta Hawks
.
You can follow Ian Begley on Twitter.
November, 14, 2013
11/14/13
2:45
PM ET
By
Ian Begley
| ESPNNewYork.com
Here are a few things to keep an eye on during Thursday's Knicks-Rockets game:
He's baaaack:
Jeremy Lin
will play his second game in Madison Square Garden since the Knicks decided to let him go to Houston in the summer of 2012.

Here's a quick refresher on Linsanity: After being cut twice and sent to the D-League, the Harvard grad came off the end of the Knicks' bench to average 18.2 points in 25 starts for New York in 2012.
He's had his struggles with the Rockets, but comes into Thursday's game red hot. Lin had 34 points and 12 assists in the Rockets' loss to the Sixers on Wednesday. In his past two games, Lin has scored 65 points on 20-for-36 shooting but has turned it over 13 times.
Will Harden play?
James Harden
will likely be a game-time decision due to a bruised foot. If he sits out, that would be a blessing for the Knicks. Harden had 61 points in two games against the Knicks last season. Houston won both games by a combined 41 points.
Inside job:
The Knicks fulfilled owner James Dolan's guarantee when they won in Atlanta on Wednesday night. The only thing guaranteed about Thursday's game is that the Knicks will have their hands full in the paint.
With
Dwight Howard
inside and penetration from Harden, the Rockets are scoring 49.1 points in the paint per game.
Paint defense has been an issue for the Knicks with
Tyson Chandler
out.
New York allowed 56 paint points to the Hawks on Wednesday. The Knicks gave up 44 points in the paint on Sunday in a 31-point loss to San Antonio.
You can follow Ian Begley on Twitter.
October, 7, 2013
10/07/13
2:46
PM ET
According to ESPN's NBA Rank,
Jeremy Lin
is a better point guard
than
Raymond Felton
.
NBA Rank, a ranking of all 500 NBA players compiled by a panel of 215 ESPN journalists, has Lin as the 108th best player in the NBA. Felton is ranked 110th.
Do you think that's accurate?
Lin averaged 13.4 points and 6.4 assists per game last year, while shooting 44 percent from the field. He averaged 2.9 turnovers per game.
Felton averaged 13.9 points per game and 5.5 assists last season, while shooting 42.7 percent from the field. He averaged 2.3 turnovers per night.
This ranking may rub some Knicks fans the wrong way, considering New York decided against matching the Rockets' 3-year, $25 million offer sheet in the 2012 offseason. Instead, they traded for Felton.
Worth noting: the Knicks won 54 games and advanced to the second-round of the playoffs. The Rockets were knocked out in the first round.
Other rankings of interest:
Amar'e Stoudemire
is ranked 125th, behind
Greivis Vasquez
and ahead of
Tobias Harris
.
J.R. Smith
is ranked 93rd, one behind J.J. Reddick and one ahead of
Ersan Ilyasova
. And
Iman Shumpert
is 119th, one ahead of Lou Williams and one behind
Michael Kidd-Gilchrist
.
Question:
Would you rank Lin ahead of Felton? Do you think the ranking for Stoudemire (125th) is accurate?
August, 22, 2013
8/22/13
12:23
PM ET
By
Ian Begley
| ESPNNewYork.com
Ex-Knicks point guard
Jeremy Lin
recently
talked openly about his struggles last season
with the Rockets.
At points, Lin said he felt "emptiness, confusion and misery" in his first season in Houston.
One NBA scout thinks there may be brighter days ahead for Lin.
The veteran scout thinks Lin, who signed a three-year, $25 million deal with the Rockets after a breakout 2011-12 with the Knicks, could thrive this season, thanks to the addition of
Dwight Howard
.
"He did have a ton of success when it was all pick-and-rolls and he seemed to be very effective [with the Knicks]," the scout said. "In that way, I think teaming up with Howard should be in his wheelhouse.
"I think they could develop chemistry right away."
Both Howard and Lin have a history of success in the pick-and-roll.

During his rise to prominence with the Knicks, Lin had great success when passing to the roll man in pick-and-rolls.
When going exclusively to the roll man, Lin ranked fifth in points per play out of the 35 point guards who ran the play at least 100 times in '11-12, according to ESPN Stats & Information.
In that same season, Howard was the best pick-and-roll finisher in the NBA. He averaged 1.38 points per play as the roll man on pick-and-rolls, best in the league among players with at least 35 plays.
Houston's offense will run mainly through
James Harden
and Howard. But as the scout notes, "If the shot clock is running down, you run a pick-and-roll with Lin and Howard, and it should be successful."
Lin struggled with the Rockets last season, averaging 13.4 points and 6.1 assists a game, and battled injuries that forced him to miss two games in Houston's playoff loss to the
Oklahoma City Thunder
.
But late in the season, Lin seemed to improve his chemistry with Harden.
"I wasn't a fan of Lin at all, but they started to get their groove. Jeremy started to figure out how to play with James a bit," the scout said. "I think they'll definitely be competitive in Houston. I'm not ready to crown them champs or even Western Conference champs, but it increases their chances."
QUESTION:
As a Knicks fan, would it bother you if Lin had success in Houston? Or do you not care at all?
You can follow Ian Begley on Twitter.
August, 9, 2013
8/09/13
2:23
PM ET
By Robert Silverman
ESPN.com
Archive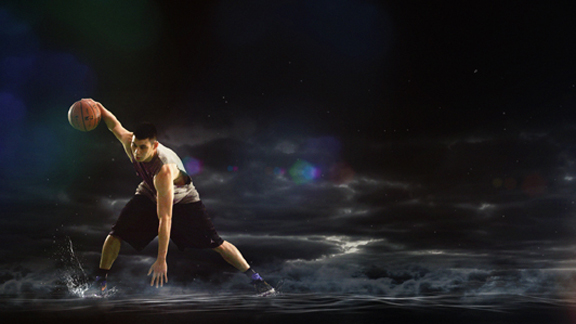 A scene from Linsanity, a Ketchup Entertainment ReleaseA new documentary, "Linsanity," takes a closer look at Jeremy Lin's remarkable rise to the NBA.
Linsanity. Do you still think about it? And if so, why? Is it a curiosity, an impish footnote in NBA history or a landmark event that we'll be telling our offspring about for years to come?
Filmmaker Evan Jackson Leong definitely belongs in the latter camp. His documentary "Linsanity" premiered at the 2013 Sundance Film Festival, opens in October in select cities and was screened this week in New York City. The Los Angeles Times wrote that it got a "rousing response, easily making it one of the most crowd-pleasing documentaries to play the festival this year."
Leong has been interviewing Lin going back to his days at Palo Alto High School, well before the world took notice. He also has collected a vast treasure trove of Lin family home movies and yet-unseen high school and college camcordered game tapes to fully flesh out Lin's improbable path to the NBA.
From the moment that a mop-haired, grade school Jeremy pounds out the same tune at a piano recital three years running, you're hooked. It's easy to forget, in the midst of the never-ending punning and the crass denigrations of Lin's Asian heritage, that he, personally, is such a captivating, charming person. So genuine and unassuming. It's clear that the last thing in the world he ever wanted was the trappings of fame, fortune and celebrity, and that if he had his druthers, he'd play without anyone watching, existing solely in a realm where perfecting his chosen craft counts for more than the result of his labors.
Once the film rolls clips from the Feb. 4, 2012 game versus the Nets, the incredible, boisterous, implausible energy that drove Linsanity comes barreling back full force. Even if you can recall each game during the wondrous 8-1 stretch, the instant those oft-replayed highlights begin to roll, you're right back in the thick of it, wholly swept up in the feverish giddiness of it all.
Look, there's the couch belonging to teammate Landry Fields that a semi-homeless Lin slept on during the beginning of his stint in New York! Ohmigosh, Lin was hours away from being released in favor of the immortal Mike James before his 25-point eruption against the then-New Jersey Nets staved off the executioner's blade. There's the blue waggling tongue after a trey, the buzzer-beater on Valentine's Day to topple the Raptors, Kobe's feigned lack of recognition, the whirling dervish spin move to flatfoot Derek Fisher during a 38-point outing in a victory over the Lakers, the comeback versus the defending champion Mavericks, and on and on. Pure, unadulterated bliss.
But if you're not a Knicks fan with a particularly nostalgic bent, the question remains: What is it that still resonates so deeply? Save for brief fits and spurts this past season, for all intents and purposes, Linsanity is a thing of the past. Why all the fuss over an average-to-middling point guard? Raymond Felton proved to be a capable replacement at a fraction of the cost. The Knicks had their best season since their dizzying run to the Finals in 1999. An objective assessment of the current state of Knick Knation would have to conclude that all worked out for the best.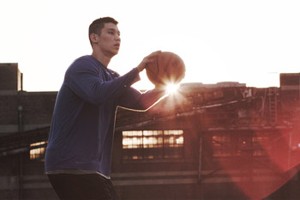 A scene from Linsanity/Ketchup Entertainment"Linsanity" opens in October in select cities.
Does it still matter?
Here's why I think it does: Beyond the improbable set of circumstances that surrounded Lin's rise to superstardom, the overriding theme that pervades the film is that Jeremy Lin's magical ride would not have occurred if not for his devout faith in God.
The documentary "Linsanity" is peppered with sequences that delve further into its subject matter's faith. During a sequence detailing his struggles during his junior year of high school, he described how the defining thing that allowed him to expand his game as a creator/distributor as opposed to a pure scorer was realizing that, "God gives and takes away. God took what I really cared about at that time, and showed me that I can't accomplish what I want to without him, that nothing in this world will happen not according to his plan."
While addressing a group of kids at his summer basketball camp after his first NBA season, Lin declares, "God loves me, and that he has the perfect plan for me. His plan will take me through a lots of ups and downs, but if I stay faithful to him that in the end he will work everything for my good. Now when I play basketball, I don't play for anyone else, I only play for God. That's the type of purpose that he gave me, and once he gave me that purpose, is when I found my peace, and once I got my peace, that's when I got my joy."
In the film's climactic voiceover, to slow-motion replays of Lin working like a fiend to develop his game, we hear Jeremy say, "God did something supernatural to me ... Learning to fight to constantly live and play for God. And when I do that, I'll walk on water."
The film's final credit line is, "And a very special thanks to God," and its wordmark includes a lowercase 't,' which looks remarkably like a crucifix.
There are people for whom phrases like these will ring absolutely true. There are others who won't have a clue what he's talking about.
In the name of full disclosure, I am definitely in the latter camp. I have nothing but respect for Lin's faith. In fact, I envy it. But there is one realm in which our respective spiritual worldviews cross paths.
The reaction that many people had to Lin's miraculous ascent was so intense, so filled with ecstatic joy, because fandom works in many ways similar to that of religious fealty. There is a set of traditions, values, heroes, villains and fables that are passed down by parent to child from generation to generation.
The war stories of terrible, gut-wrenching losses are told and retold with a measure of battle-scarred pride. We spend hours scouring articles, consuming unending streams of information, wagering of our emotional well-being on the outcome of a three-hour contest, and when faced with the horrifying fact that our team will fail (again), we do the same thing people have done since time immemorial: We pray, hoping beyond hope that our supplication might in some tiny way influence the actions on the court.
Lin was in a similar state of existential and spiritual despair. He knew he had the talent to succeed. He felt as if opportunities had been denied to him for reasons utterly beyond his control, but what kept him going even in his darkest moments ready to chuck the dreams he'd harbored since childhood into the bin, was an unquenchable belief that it was all part of a plan. God's plan.
Amazingly, said plan did reveal itself, and in a miraculous fashion. At the defining moment of his life he seized the day. His faith was not only rewarded, it was vindicated in spectacular, glorious fashion. And for Knicks fans, who were absolutely at their wits' end, after a decade marked by not only futility, but humiliation and mockery, ready to give up on yet another seemingly doomed squad, it's entirely logical to see Lin as a savior-like figure who descended from the heavens (or at least the rafters of MSG).
Within the context of a valley of futility so deep and wide, it's not surprising that Lin would inspire such a profound, overwhelmingly joyous reaction; that he could reaffirm the notion that there are such things as magic and beauty and maybe even the occasional otherworldly intervention in this world.
Of course, the film doesn't detail what transpired after Linsanity ended. The injuries that cut his season short are omitted entirely as is any unpacking of the circumstances regarding the contract he signed with Houston. It's understandable, from the filmmaker's perspective, partly because it takes a long time to complete and edit a feature and partly because it's a myth, of a sort. Ending the film with a more human, mundane coda is not how one recounts the heroic exploits of legends.
Maybe it's absolutely foolhardy to think of Lin -- or any player or team -- in such terms. Maybe that degree of fanaticism is just plain bad for the soul. As a Knicks fan, I was absolutely devastated when Lin left New York. But leaving the theater, I wasn't in the throes of some shirt-rending despair. I was smiling, laughing at myself at the folly of it all. You can love and experience loss and go back. There will be more stories, new loves, and new heroes. We'll forget and remember and forget all over again. Linsanity is meaningless and totally meaningful.
And that's OK.
Robert Silverman is a TrueHoop Network blogger and co-author of "We'll Always Have Linsanity."