November, 15, 2013
11/15/13
2:21
AM ET
NEW YORK --
Jeremy Lin
didn't hear the cheers when his name was announced just before he entered the game at the 5:33 mark in the first quarter.
Lin also says he did not hear the smattering of boos whenever he was at the free throw line. He just tried to concentrate on the game, have fun and do what he keeps doing against the Knicks -- win. Lin improved to 3-0 against the Knicks since leaving New York as the Rockets left the Garden with a 109-106 victory.
[+] Enlarge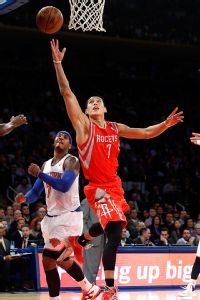 AP Photo/Frank Franklin IIJeremy Lin, who improved to 3-0 against the Knicks at the Garden, finished with 21 points.
It's safe to say that his second return to the Garden wasn't nearly as intense as the first time back last year.
"Yeah, it is a lot more mellow," Lin said.
Lin scored 21 points and added five rebounds and three assists in 30 minutes off the bench and had some flashes of Linsanity.
"I was just having fun out there," said Lin, who was surrounded by a throng of reporters after the game. "You know I miss playing at the Garden. It's great to come back here once a year and play. The fans are great. The atmosphere is incredible. It was just a lot of fun for everyone."
Well, not fun for the Knicks. Lin is averaging 18.6 points and five assists against his old team. There were still some Lin fans who came to the Garden to see the former Knick favorite. Lin, though, said he did not hear any of the cheers or boos he received throughout the night.
Lin's night began at the free-throw line. He went 6-for-6 from the line in the first quarter. He started heating up early in the fourth quarter when he made 4 of 6 shots and scored nine of his points. He drilled a 3-pointer and drove the lane for an uncontested dunk to put the Rockets up 83-75 with 10:04 left. He buried a 23-footer and had a fast break dunk with 7:21 left to keep the Knicks down six.
With the lead down to 102-100, Lin had an eight-foot shot rejected by
J.R. Smith
with 2:22 left. But the Rockets would survive and Lin left New York with another win.
Afterward, he shook hands with some of his old teammates.
"It was great to see Shump [
Iman Shumpert
] -- unfortunately Tyson [Chandler] is hurt -- Melo [
Carmelo Anthony
], STAT [
Amar'e Stoudemire
] and J.R., all of the guys I had some good memories with," Lin said. "It was definitely fun talking with them on the court."
"I was so focused on playing, I try to tune everything else out," he added of his reception from the Garden fans. "I don't try to listen to anything, hear anything, see anything. Try to play worry free. Try to be myself on the court. Not worry too much about anything. Any distractions. Really trying to play as hard as I can."
November, 14, 2013
11/14/13
11:16
PM ET
NEW YORK -- Linsanity might be dead and gone, but
Jeremy Lin
still owns Madison Square Garden.
Lin and the
Houston Rockets
weathered a big game from
Carmelo Anthony
to walk off the floor with a win on Thursday. Lin is 2-0 at the Garden since he left the
Knicks
for Houston in the summer of 2012.

Oh, Melo:
Anthony did all he could to lift the Knicks (3-5) to a win. He finished with a season-high 45 points and 10 rebounds and hit what appeared to be a game-tying 3 with five seconds left. The shot was waived off because officials ruled that
James Harden
fouled Anthony on the floor. Anthony hit both free throws to bring the Knicks within one with five seconds to go. Harden knocked down two free throws on the other end and
J.R. Smith
missed a prayer from inside half court at the final buzzer.
Linsanity lives:
Lin certainly had several big moments in his second game at the Garden since leaving town for Houston.
The ex-Knick had nine fourth-quarter points, including a dunk off a fast break with 10 minutes to play that quieted the crowd and a deep jumper over Anthony's outstretched arm to put Houston up seven with about nine minutes to go.
Lin, coming off a 34-point, 12-assist performance in an overtime loss in Philadelphia on Wednesday, finished with 21 points, 5 rebounds and 3 assists.
Houston's Harden also crushed the Knicks. He finished with 36 points and nine rebounds. He had 16 points from the free throw line.
Bargnani better than Superman:
Raise your hand if you thought
Andrea Bargnani
would outplay
Dwight Howard
on Thursday? Didn't think so.
But that's how it played out for the Knicks. Bargnani had his best game at Madison Square Garden to date, finishing with 24 points on 9-for-12 shooting and and four rebounds. Bargnani stood toe-to-toe with Howard, blocking his shot twice in the second half. He and
Kenyon Martin
held Howard to just one shot attempt in the first half. Howard finished with seven points and 15 rebounds. But Howard came through for Houston late in the game, hitting both of his free throws after gathering an offense rebound to put the Rockets up five with 1:07 to play.
Where's Amar'e?:
It was easy to overlook, but
Amar'e Stoudemire
played just five minutes against Houston. He was scoreless, missing all three of his field goals. Mike Woodson turned to Martin in Stoudemire's place. The veteran power forward played 10 minutes, finishing with three rebounds.
What's next:
The Knicks will likely take the day off Friday to prepare for Saturday's game against the
Atlanta Hawks
.
You can follow Ian Begley on Twitter.
November, 14, 2013
11/14/13
2:45
PM ET
Here are a few things to keep an eye on during Thursday's Knicks-Rockets game:
He's baaaack:
Jeremy Lin
will play his second game in Madison Square Garden since the Knicks decided to let him go to Houston in the summer of 2012.

Here's a quick refresher on Linsanity: After being cut twice and sent to the D-League, the Harvard grad came off the end of the Knicks' bench to average 18.2 points in 25 starts for New York in 2012.
He's had his struggles with the Rockets, but comes into Thursday's game red hot. Lin had 34 points and 12 assists in the Rockets' loss to the Sixers on Wednesday. In his past two games, Lin has scored 65 points on 20-for-36 shooting but has turned it over 13 times.
Will Harden play?
James Harden
will likely be a game-time decision due to a bruised foot. If he sits out, that would be a blessing for the Knicks. Harden had 61 points in two games against the Knicks last season. Houston won both games by a combined 41 points.
Inside job:
The Knicks fulfilled owner James Dolan's guarantee when they won in Atlanta on Wednesday night. The only thing guaranteed about Thursday's game is that the Knicks will have their hands full in the paint.
With
Dwight Howard
inside and penetration from Harden, the Rockets are scoring 49.1 points in the paint per game.
Paint defense has been an issue for the Knicks with
Tyson Chandler
out.
New York allowed 56 paint points to the Hawks on Wednesday. The Knicks gave up 44 points in the paint on Sunday in a 31-point loss to San Antonio.
You can follow Ian Begley on Twitter.
October, 7, 2013
10/07/13
2:46
PM ET
According to ESPN's NBA Rank,
Jeremy Lin
is a better point guard
than
Raymond Felton
.
NBA Rank, a ranking of all 500 NBA players compiled by a panel of 215 ESPN journalists, has Lin as the 108th best player in the NBA. Felton is ranked 110th.
Do you think that's accurate?
Lin averaged 13.4 points and 6.4 assists per game last year, while shooting 44 percent from the field. He averaged 2.9 turnovers per game.
Felton averaged 13.9 points per game and 5.5 assists last season, while shooting 42.7 percent from the field. He averaged 2.3 turnovers per night.
This ranking may rub some Knicks fans the wrong way, considering New York decided against matching the Rockets' 3-year, $25 million offer sheet in the 2012 offseason. Instead, they traded for Felton.
Worth noting: the Knicks won 54 games and advanced to the second-round of the playoffs. The Rockets were knocked out in the first round.
Other rankings of interest:
Amar'e Stoudemire
is ranked 125th, behind
Greivis Vasquez
and ahead of
Tobias Harris
.
J.R. Smith
is ranked 93rd, one behind J.J. Reddick and one ahead of
Ersan Ilyasova
. And
Iman Shumpert
is 119th, one ahead of Lou Williams and one behind
Michael Kidd-Gilchrist
.
Question:
Would you rank Lin ahead of Felton? Do you think the ranking for Stoudemire (125th) is accurate?
August, 22, 2013
8/22/13
12:23
PM ET
Ex-Knicks point guard
Jeremy Lin
recently
talked openly about his struggles last season
with the Rockets.
At points, Lin said he felt "emptiness, confusion and misery" in his first season in Houston.
One NBA scout thinks there may be brighter days ahead for Lin.
The veteran scout thinks Lin, who signed a three-year, $25 million deal with the Rockets after a breakout 2011-12 with the Knicks, could thrive this season, thanks to the addition of
Dwight Howard
.
"He did have a ton of success when it was all pick-and-rolls and he seemed to be very effective [with the Knicks]," the scout said. "In that way, I think teaming up with Howard should be in his wheelhouse.
"I think they could develop chemistry right away."
Both Howard and Lin have a history of success in the pick-and-roll.

During his rise to prominence with the Knicks, Lin had great success when passing to the roll man in pick-and-rolls.
When going exclusively to the roll man, Lin ranked fifth in points per play out of the 35 point guards who ran the play at least 100 times in '11-12, according to ESPN Stats & Information.
In that same season, Howard was the best pick-and-roll finisher in the NBA. He averaged 1.38 points per play as the roll man on pick-and-rolls, best in the league among players with at least 35 plays.
Houston's offense will run mainly through
James Harden
and Howard. But as the scout notes, "If the shot clock is running down, you run a pick-and-roll with Lin and Howard, and it should be successful."
Lin struggled with the Rockets last season, averaging 13.4 points and 6.1 assists a game, and battled injuries that forced him to miss two games in Houston's playoff loss to the
Oklahoma City Thunder
.
But late in the season, Lin seemed to improve his chemistry with Harden.
"I wasn't a fan of Lin at all, but they started to get their groove. Jeremy started to figure out how to play with James a bit," the scout said. "I think they'll definitely be competitive in Houston. I'm not ready to crown them champs or even Western Conference champs, but it increases their chances."
QUESTION:
As a Knicks fan, would it bother you if Lin had success in Houston? Or do you not care at all?
You can follow Ian Begley on Twitter.
August, 9, 2013
8/09/13
2:23
PM ET
By Robert Silverman
ESPN.com
Archive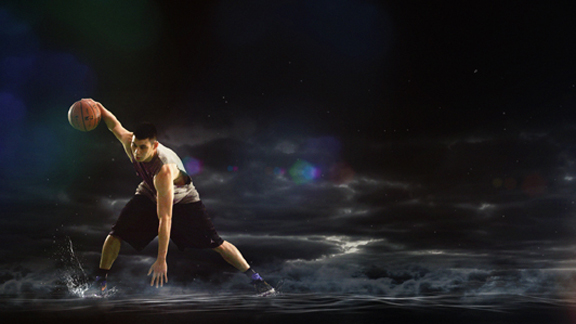 A scene from Linsanity, a Ketchup Entertainment ReleaseA new documentary, "Linsanity," takes a closer look at Jeremy Lin's remarkable rise to the NBA.
Linsanity. Do you still think about it? And if so, why? Is it a curiosity, an impish footnote in NBA history or a landmark event that we'll be telling our offspring about for years to come?
Filmmaker Evan Jackson Leong definitely belongs in the latter camp. His documentary "Linsanity" premiered at the 2013 Sundance Film Festival, opens in October in select cities and was screened this week in New York City. The Los Angeles Times wrote that it got a "rousing response, easily making it one of the most crowd-pleasing documentaries to play the festival this year."
Leong has been interviewing Lin going back to his days at Palo Alto High School, well before the world took notice. He also has collected a vast treasure trove of Lin family home movies and yet-unseen high school and college camcordered game tapes to fully flesh out Lin's improbable path to the NBA.
From the moment that a mop-haired, grade school Jeremy pounds out the same tune at a piano recital three years running, you're hooked. It's easy to forget, in the midst of the never-ending punning and the crass denigrations of Lin's Asian heritage, that he, personally, is such a captivating, charming person. So genuine and unassuming. It's clear that the last thing in the world he ever wanted was the trappings of fame, fortune and celebrity, and that if he had his druthers, he'd play without anyone watching, existing solely in a realm where perfecting his chosen craft counts for more than the result of his labors.
Once the film rolls clips from the Feb. 4, 2012 game versus the Nets, the incredible, boisterous, implausible energy that drove Linsanity comes barreling back full force. Even if you can recall each game during the wondrous 8-1 stretch, the instant those oft-replayed highlights begin to roll, you're right back in the thick of it, wholly swept up in the feverish giddiness of it all.
Look, there's the couch belonging to teammate Landry Fields that a semi-homeless Lin slept on during the beginning of his stint in New York! Ohmigosh, Lin was hours away from being released in favor of the immortal Mike James before his 25-point eruption against the then-New Jersey Nets staved off the executioner's blade. There's the blue waggling tongue after a trey, the buzzer-beater on Valentine's Day to topple the Raptors, Kobe's feigned lack of recognition, the whirling dervish spin move to flatfoot Derek Fisher during a 38-point outing in a victory over the Lakers, the comeback versus the defending champion Mavericks, and on and on. Pure, unadulterated bliss.
But if you're not a Knicks fan with a particularly nostalgic bent, the question remains: What is it that still resonates so deeply? Save for brief fits and spurts this past season, for all intents and purposes, Linsanity is a thing of the past. Why all the fuss over an average-to-middling point guard? Raymond Felton proved to be a capable replacement at a fraction of the cost. The Knicks had their best season since their dizzying run to the Finals in 1999. An objective assessment of the current state of Knick Knation would have to conclude that all worked out for the best.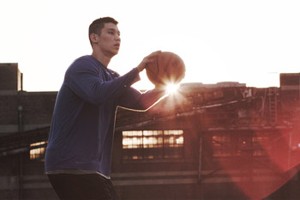 A scene from Linsanity/Ketchup Entertainment"Linsanity" opens in October in select cities.
Does it still matter?
Here's why I think it does: Beyond the improbable set of circumstances that surrounded Lin's rise to superstardom, the overriding theme that pervades the film is that Jeremy Lin's magical ride would not have occurred if not for his devout faith in God.
The documentary "Linsanity" is peppered with sequences that delve further into its subject matter's faith. During a sequence detailing his struggles during his junior year of high school, he described how the defining thing that allowed him to expand his game as a creator/distributor as opposed to a pure scorer was realizing that, "God gives and takes away. God took what I really cared about at that time, and showed me that I can't accomplish what I want to without him, that nothing in this world will happen not according to his plan."
While addressing a group of kids at his summer basketball camp after his first NBA season, Lin declares, "God loves me, and that he has the perfect plan for me. His plan will take me through a lots of ups and downs, but if I stay faithful to him that in the end he will work everything for my good. Now when I play basketball, I don't play for anyone else, I only play for God. That's the type of purpose that he gave me, and once he gave me that purpose, is when I found my peace, and once I got my peace, that's when I got my joy."
In the film's climactic voiceover, to slow-motion replays of Lin working like a fiend to develop his game, we hear Jeremy say, "God did something supernatural to me ... Learning to fight to constantly live and play for God. And when I do that, I'll walk on water."
The film's final credit line is, "And a very special thanks to God," and its wordmark includes a lowercase 't,' which looks remarkably like a crucifix.
There are people for whom phrases like these will ring absolutely true. There are others who won't have a clue what he's talking about.
In the name of full disclosure, I am definitely in the latter camp. I have nothing but respect for Lin's faith. In fact, I envy it. But there is one realm in which our respective spiritual worldviews cross paths.
The reaction that many people had to Lin's miraculous ascent was so intense, so filled with ecstatic joy, because fandom works in many ways similar to that of religious fealty. There is a set of traditions, values, heroes, villains and fables that are passed down by parent to child from generation to generation.
The war stories of terrible, gut-wrenching losses are told and retold with a measure of battle-scarred pride. We spend hours scouring articles, consuming unending streams of information, wagering of our emotional well-being on the outcome of a three-hour contest, and when faced with the horrifying fact that our team will fail (again), we do the same thing people have done since time immemorial: We pray, hoping beyond hope that our supplication might in some tiny way influence the actions on the court.
Lin was in a similar state of existential and spiritual despair. He knew he had the talent to succeed. He felt as if opportunities had been denied to him for reasons utterly beyond his control, but what kept him going even in his darkest moments ready to chuck the dreams he'd harbored since childhood into the bin, was an unquenchable belief that it was all part of a plan. God's plan.
Amazingly, said plan did reveal itself, and in a miraculous fashion. At the defining moment of his life he seized the day. His faith was not only rewarded, it was vindicated in spectacular, glorious fashion. And for Knicks fans, who were absolutely at their wits' end, after a decade marked by not only futility, but humiliation and mockery, ready to give up on yet another seemingly doomed squad, it's entirely logical to see Lin as a savior-like figure who descended from the heavens (or at least the rafters of MSG).
Within the context of a valley of futility so deep and wide, it's not surprising that Lin would inspire such a profound, overwhelmingly joyous reaction; that he could reaffirm the notion that there are such things as magic and beauty and maybe even the occasional otherworldly intervention in this world.
Of course, the film doesn't detail what transpired after Linsanity ended. The injuries that cut his season short are omitted entirely as is any unpacking of the circumstances regarding the contract he signed with Houston. It's understandable, from the filmmaker's perspective, partly because it takes a long time to complete and edit a feature and partly because it's a myth, of a sort. Ending the film with a more human, mundane coda is not how one recounts the heroic exploits of legends.
Maybe it's absolutely foolhardy to think of Lin -- or any player or team -- in such terms. Maybe that degree of fanaticism is just plain bad for the soul. As a Knicks fan, I was absolutely devastated when Lin left New York. But leaving the theater, I wasn't in the throes of some shirt-rending despair. I was smiling, laughing at myself at the folly of it all. You can love and experience loss and go back. There will be more stories, new loves, and new heroes. We'll forget and remember and forget all over again. Linsanity is meaningless and totally meaningful.
And that's OK.
Robert Silverman is a TrueHoop Network blogger and co-author of "We'll Always Have Linsanity."

July, 11, 2013
7/11/13
10:43
PM ET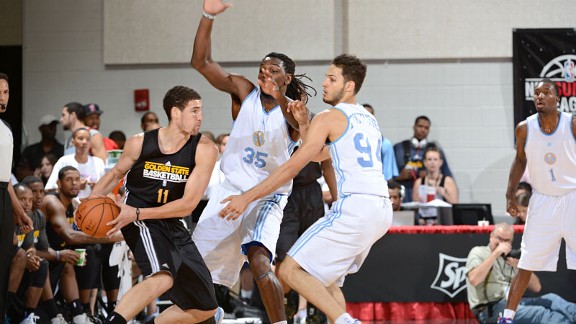 Garrett W. Ellwood/NBAE/Getty ImagesLas Vegas Summer League: The world's first glimpse at future stars in their NBA uniforms.
It seems impossible that we need more basketball.
The NBA Finals ended less than a month ago, and for the past several years it has become common among smart observers to debate whether the NBA is already playing too long a season. For players, coaches and executives -- and for many fans -- 82 games followed by a two-month postseason is already a grind. And yet, just three weeks after the lights go down each season, the basketball world congregates in Las Vegas to endure 120-degree heat and nine-hour days of games between young and little-known players who have no demonstrable bearing on the NBA power structure.
This is the Las Vegas Summer League, and it has somehow become one of the most important weeks on the basketball calendar.
Often, even the most die-hard fans have only a perfunctory awareness of what goes on in Vegas. Lottery picks' point totals are bandied about among the faithful as reasons for concern or celebration. Occasionally, a previously unheralded player grabs headlines with an explosive performance.
But the true function of the Summer League goes much deeper than the highlights. In a way that no other event can match, Las Vegas Summer League is a conclave for the luminaries of the NBA world; scouts, executives, players and power brokers all find their way to the desert in July. Why this is so, and how it came to be, is something of an untold story.
Albert Hall, officially, is the vice president of business operations at VSL Properties, the venture that started and owns the Las Vegas Summer League. Along with NBA agent Warren LeGarie, Hall is one of a handful of people who might be referred to as The Man at summer league. Las Vegas Summer League was hatched in 2004; today, if something needs doing in Vegas, Hall is likely to be doing it.
Before Vegas, summer league had existed in several forms. There were leagues at Long Beach State and Loyola Marymount, two colleges in Los Angeles. But attendance was always shifting, and the leagues hadn't managed to evolve into the fixture Vegas has become. LeGarie and Hall saw an opportunity: the allure of Las Vegas, a stable opportunity for teams to scout and develop players, and a summer event to help the NBA rival what Hall refers to as the NFL's "365 media presence." And so, in 2004, LeGarie and Hall launched Las Vegas Summer League. It was an instant success.
"After the first game, we probably had 98 emails," Hall said. Fans were complaining they weren't keeping box scores. League officials took notice. Six teams participated in the 2004 league. Fifteen came in 2005. And by 2008, LVSL had a solid NBA majority with 22 teams.
The built-in advantages of Las Vegas didn't hurt, Hall said. But Vegas became the summer destination of choice for the league with a little luck. He cites a few instances in which the branding power of LVSL was put on full display, chief among them the Portland Trail Blazers' 2006 team. Having drafted Brandon Roy and LaMarcus Aldridge, Portland was showing off a roster that would help them turn the corner from the "Jail Blazers" era.
"That was a turning point," Hall said. "It became a way for teams to reinvent themselves a little bit."
The potent draw of Vegas was now interwoven with a built-in offseason branding opportunity for teams, and that combination turned summer league into a nexus of league business.
Vegas became the basketball analog to baseball's hot stove league, the offseason crucible of deal-making that shapes the coming season. In fact, Hall courted the comparison as NBA execs as high up as David Stern came to use the analogy.
"We love that," Hall said. "It's where deals are done."
In LVSL's early days, Hall said, free agents could be seen talking to GMs right in the stands. But in a very real sense, Vegas has something that baseball's offseason can't match: the players driving the interest are on the court in front of scouts and executives every day. There's no winter baseball, but summer basketball turns a hot stove into a feeding frenzy for scouts, coaches and peripheral NBA talent. It's this unique mixture that has led ESPN's Kevin Arnovitz to refer to Vegas as the "
Sundance Film Festival of the NBA
." Hall prefers to call it the league's "American Idol," and said his partner LeGarie embraces the benign anarchy to call Vegas the NBA's Burning Man.
In that frenzy, most agree, are a few tiers of players: There are recently drafted picks -- newly minted first and second-rounders -- who are guaranteed a long leash and a green light for the league. There are young veterans who have carved out an NBA niche but may not have one for very long. And at the fringes, there are unsigned, unheralded players who are, as Hall terms it, "playing for food" when they take the court. This is the class of players looking to snare a contract playing in Europe, the D-League or wherever else might bring a steady check.
[+] Enlarge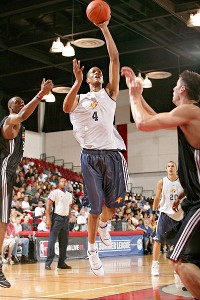 Garrett W. Ellwood/Getty ImagesAnthony Randolph is a Vegas Summer League legend.
In some sense, the disparate talent levels and differing objectives among the players on the court serve to foster a chaotic environment. Athletes are a touch less explosive than in the NBA, and defenders accustomed to college zone defenses are often a step slower. Thus Vegas action is ripe for the occasional
Anthony Randolph explosion
-- instances when players who may not be real NBA starters seem to overwhelm their surroundings with their talent. For this reason, it has become common for some NBA wonks to dismiss summer league as somewhat worthless, more a self-contained oddity than a genuinely useful organizational tool.
ESPN's David Thorpe vehemently disagrees with that idea: "When you say, 'I dismiss the whole brand of summer league,' you're saying 'I don't understand NBA basketball.'" For Thorpe, the summer league offers developmental opportunities that neither smart players nor smart teams can afford to turn down.
For players, summer league represents the perfect compromise between their competitive instincts and lowered stakes that allow them to experiment. The games are games, after all, but their improvisational nature allows players to develop weaknesses and play in ways they might not during the season. A common example is LeBron James playing point guard for most of his first two summer leagues.
Players in Vegas have an opportunity to assess their shortcomings outside the pressure cooker of the regular season. Wing players who can't shoot have the opportunity to hoist with their revamped motion. Post players known for clumsy feet may get to unveil a newly crafted up-and-under move.
What's more, said Thorpe, "The games can be a big reference point for what a player needs to work on the rest of the summer." Rookies, unsigned free agents and other young players who've had to carve out a spot on an NBA bench rarely get full-speed repetitions to gauge the state of their games. What the summer league provides is an opportunity to expand their horizons and see what areas they need to shore up. For Thorpe, "knowledge gained from the failure" of summer league experimentation is of immeasurable value for players who aren't guaranteed starring roles.
On the team side of things, Vegas represents an opportunity to bring players into an organizational culture, to reduce what Thorpe calls their "idle time." Players new to the league or floating between contracts benefit enormously from time spent playing within a team's system, interacting with coaches and scouts and simply staying in mental basketball shape. So valuable is this time to teams and so beneficial for the developmental feedback players receive, Thorpe said, that "the only thing that really doesn't matter about summer league is the score."
At the end of the day, what is perhaps most beguiling for fans is summer league's capacity for happy chaos. With so many unformed and unknown talents, summer league is the perfect petri dish for rare strains of basketball beauty. Summer league performance can be a footnote on an otherwise pedestrian career -- see Jerryd Bayless capturing the 2008 Vegas MVP -- or it can build a career. In Hall's mind, the legend of Jeremy Lin actually began at summer league, when Lin keyed in for a
matchup with John Wall
and "fed him his lunch." "It was like, 'Wow -- this guy can play.'"
Lin's parable isn't the only one that validates Vegas as a proving ground for talent. Players such as Gary Neal, Brian Roberts, Danny Green, Shannon Brown and J.J. Barea all gained some legitimacy as NBA prospects at summer league. Thorpe agrees with Hall that summer league performances, no matter how unrepresentative or forgettable fans may see them as, can often keep players employed even when their chips are down. Those Vegas successes, he said, linger in the minds of front office execs years later. The assistant GMs and assistant coaches in Vegas become full-fledged GMs and coaches, and may return to the players who made the most of their time. "You're always auditioning for 30 teams," Thorpe said.
Summer league, then, is an utter rarity in the basketball world: An environment in which stakes are modest enough that players can stretch their games, but high enough to inspire players seeking a basketball livelihood to play their hardest. It is a time when league executives and power brokers, unencumbered by scheduling quirks or the demands of the season, can gather to fill a few rooms with insider smoke. A festival, a feeding frenzy, whatever. As Hall puts it: "If you're in the basketball business, you need to be at the summer league."
May, 24, 2013
5/24/13
4:34
PM CT
It's been widely reported that the
Houston Rockets
are a team that intrigues
Dwight Howard
. The Rockets might even rank ahead of the Bird-rights-owning
Los Angeles Lakers
as the Mavericks' primary competitors for the perennial All-Star big man.
PODCAST
Rick Carlisle joins Fitzsimmons & Durrett to discuss the latest Mavericks news, Dirk Nowitzki and much more.

Listen

Here's one problem for Houston: The Rockets would have to do some significant payroll slashing to be positioned to offer Howard a max contract.
Howard's max salary next season would be $20,513,178. The salary cap is expected to be set between $58.5 million and $60 million. The Rockets have $48,571,158 worth of contracts on the books, assuming they decline Francisco Garcia's $6.4 million team option.
It doesn't take an MBA from MIT -- which Rockets general manager Daryl Morey happens to have -- to figure out that the math doesn't add up for Houston and Howard.
Morey made sure the Rockets had some built-in wiggle room with seven nonguaranteed deals on the roster, although that list includes six-figure bargains
Chandler Parsons
,
Patrick Beverley
and
Greg Smith
that are inexpensive, integral parts of James Harden's supporting cast. Houston might have to sacrifice one of their major additions from last summer to make room for Howard.
That could mean trading point guard
Jeremy Lin
or center
Omer Asik
to a team with cap space for no immediate return. That is a nice way to say dumping an $8,374,646 million salary, the amount both Lin and Asik are due in the second season of their identical three-year, $25.12 million contracts.
Such a salary dump would put the Rockets close to being able to afford Howard, but they'd still have some work to do.
They could waive sixth man
Carlos Delfino
($3 million) and/or reserve point guard
Aaron Brooks
($2.5 million), both of whom have June 30 deadlines before their salaries become guaranteed, meaning a decision would have to be made before the Rockets are allowed to meet with Howard. The nonguaranteed salaries of young projects Tim Ohlbrecht ($788,872) and
James Anderson
($916,099) could also create the necessary space depending on where the cap falls, although the Rockets would pick up a cap hold of $490,180 in the process if they cut both because their roster would dip under 12 players. A salary-dump deal that would send 2012 No. 5 overall pick
Thomas Robinson
($3.53 million) to his third team is another alternative.
A much less attractive option than finding an under-the-cap trade partner to take on the contract of Lin or Asik: Waiving one of them and using the stretch provision.
In that case, the Rockets would still have to pay the $16.75 million remaining on the contract, but they would be allowed to spread the cap hit over five years (twice the length remaining on the contract plus one year). So Houston would create a little more than $5 million in cap space with such a move – and then have to get rid of nonguaranteed salary and/or make salary-dump deals to ship off young talent (Robinson,
Terrence Jones
,
Donatas Motiejunas
).
The
Mavs would also have to do some maneuvering
to give Howard a max contract, but not nearly as much as the Rockets.
The Rockets can free up enough money for Howard, but it would require slicing into the supporting cast of a playoff team -- and perhaps paying a $16.75 million tax in addition to his max deal.
March, 6, 2013
3/06/13
10:52
AM CT
DALLAS – The last time the Mavericks endured a losing season, there was a lot of legitimate, tangible reason for hope.
PODCAST
ESPN.com senior NBA writer Marc Stein joins Fitzsimmons and Durrett to talk about the Mavericks and what it might take to fix their problems.

Listen

Michael Finley
was an established, young franchise cornerstone.
Steve Nash
turned a corner in his career midway through that season, when he was 25 years old. And a 21-year-old finesse 7-footer named
Dirk Nowitzki
had begun blossoming into a star.
Those 1999-2000 Mavs finished the season with a 31-19 run, setting the foundation for the franchise's dozen-year playoff run that will almost certainly end in six weeks.
Let's be optimistic and assume these Mavs, who are seven games under .500 with a little more than a quarter of the season remaining, manage to end this frustrating season strong. Is there anything that can happen down the stretch that could benefit the Mavs in the future, much like their last losing season?
[+] Enlarge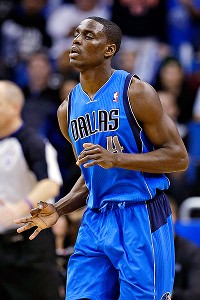 AP Photo/John RaouxDarren Collison has continually ceded crunch-time minutes and doesn't really seem like a long-term fit with the Mavs.
"That's tough to see," Nowitzki said. "Obviously, we've got nine guys or whatever we've got on one-year deals, so the team might be completely different next year. We didn't have that scenario (13) years ago. We obviously knew that Steve and Mike and myself were going to be the core for a lot of years, so we had that going for us, which this year is not the case."
And that might be the most frustrating part of this miserable season. The Mavs aren't experiencing growing pains that could pay off next season. They're just passing time.
There was a ton of talk about potentially developing the backcourt of the future this season with 25-year-old rentals
Darren Collison
and
O.J. Mayo
. Mark Cuban and Rick Carlisle continue to dangle that carrot, but it's extremely hard to envision that being a reality.
If the Mavs see Collison as their point guard of the future, why did he lose his starting job to a point guard they recruited out of his rocking chair earlier this season? And, after
Derek Fisher
's departure, why does Collison keep losing crunch-time minutes to a different graybeard point guard that was called up from the D-League?
The Mavs and Collison just don't seem to be a long-term fit. As far as Mayo goes, that probably depends on the market this summer for the Mavs' leading scorer whose decision-making and defense have repeatedly drawn Carlisle's wrath.
The rest of the Mavs' one-year men are a collection of complementary players, not building blocks, at this point of their careers. They're essentially financial placeholders, and the vast majority (if not all) of them will be on another team's payroll next season.
Any hope for a major Mavs rebound would arrive this summer, not be foreshadowed in the final 23 games.
"We went for a big fish last summer," Nowitzki said. "We didn't get him, so we decided to go that route with a lot of one-year deals, so the situation could be completely different next year. We're going to make this push for the playoffs and see what happens this summer."
The Mavs' foe for this home-and-home series also looks forward to seeing what happens this summer. However, the
Houston Rockets
are somewhat reminiscent of the '99-00 Mavs, albeit with a better record and a good shot at making the playoffs.
The Rockets have managed to put together a tremendous young nucleus while almost totally turning over their roster since last season.
Chandler Parsons
, the second-year second-round pick who scorched the Mavs for 32 points in Sunday's rout, is the only player remaining from Houston's roster last season.
Houston GM Daryl Morey has done a masterful job collecting assets, cashing in many of them to acquire a bona fide, 23-year-old superstar (
James Harden
) and surrounding him with a strong young supporting cast (center
Omer Asik
, 26; point guard
Jeremy Lin
, 24; small forward Parsons, 24; power forwards
Donatas Motiejunas
, 22; power forward
Thomas Robinson
, 21, combo guard
Patrick Beverley
, 24). And the Rockets have the cap space to recruit a co-star this summer.
The Rockets are several steps into their rebuilding plan.
The Mavs' rebuilding plan begins again this summer.
March, 5, 2013
3/05/13
3:27
PM CT
DALLAS – For better or worse, the Mavericks get a rematch with the
Houston Rockets
.
OK, it can't get much worse than Sunday's defensive debacle, when the Rockets torched the Mavs for 44 points in the third quarter en route to a 136-103 blowout.
PODCAST
ESPN.com senior NBA writer Marc Stein joins Fitzsimmons and Durrett to talk about the Mavericks and what it might take to fix their problems.

Listen

"It was like Meadowlark Lemon was out there throwing behind-the-back passes and the music was playing," coach Rick Carlisle said, referring to the famous former Harlem Globetrotter. "That's how it looked. We got to do better than that."
The Mavs are actually excited about the scheduling quirk of having a home-and-home series with the Rockets, who will be American Airlines Center visitors Wednesday night. It's an opportunity for Dallas to at least partially restore its defensive dignity.
The Mavs were embarrassed by their sloppy, uninspired, pathetic performance Sunday night, as they should be. For the last two days, they have had to live with the shame of allowing 57.5 percent shooting from the floor, 41.2 percent 3-point shooting and 40 free throw attempts.
"I don't think you wash the taste out of your mouth from a loss like that," said
Elton Brand
, who strangely didn't play a second during that miserable third quarter. "You let it linger and use that as kind of motivation."
What went wrong for the Dallas defense in Houston? In a word, everything.
More specifically, the Mavs failed miserably to keep
Jeremy Lin
(21 points, nine assists in 25 minutes) and
James Harden
(21 points, seven assists in 30 minutes) out of the paint and
Chandler Parsons
(32 points, 12-13 FG) from getting a lot of great 3-point looks and easy dunks and layups.
"It's an individual challenge,"
Shawn Marion
said. "I think some people are able to do it more than others, of course, but at the same time, you still have to take the challenge of just doing it. …
"It ain't hard if you're putting the effort out there. When you put the effort out there, good things happen for you. You've got to go out there and compete. We didn't and it showed."
Dirk Nowitzki
thinks the Mavs' season-long defensive woes, which hit a low Sunday, are a little more complicated.
"We're missing coverages," Nowitzki said. "Sometimes it takes us too long to think ahead and get in our coverages and call out our coverages. We have to protect the paint better. We haven't really done a great job all season. Usually when our man-to-man was struggling, we could always rely on our zone, but that isn't even good this year. We've got to make our man-to-man work and call out the coverages early and execute the coverages."
Generally speaking, the Mavs must improve every facet of their defensive game to avoid looking like the Washington Generals again.