LIVE ON ESPNNEWYORK.COM
Robin Lundberg
4:00 AM-6:00 AM


Coming Up

6:00 AM

Mike & Mike

10:00 AM

Waddle and Silvy
DON LA GRECA NEWS
98.7FM has reached a three-year extension with Don La Greca as co-host of The Michael Kay Show. Story »
98.7 OUT AND ABOUT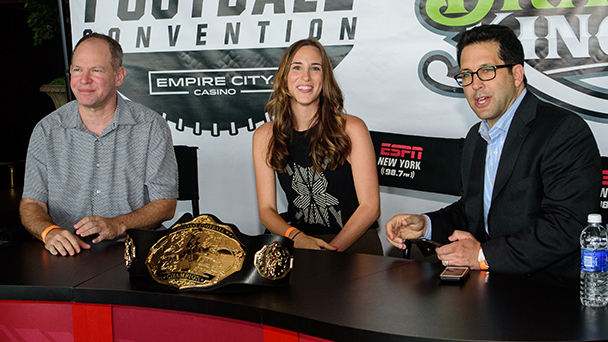 The Inaugural ESPN New York 98.7FM Fantasy Football Convention featured Matthew Berry, Stephania Bell, Adam Schefter and Anita Marks. Guests from all over the area listened and called in to 98.7 FM to win tickets to the event.
On Facebook

WEEKENDS ON DEMAND
New York Sports and Beyond
Featured this week: "The Anatomy of Competition in Sports"; NYRR Celebrates History & Community at Harlem Week 2015; Heather "The Heat" Hardy's story of survival and drive.
Robin Lundberg
The Jets and Giants both need to step up tonight. Which team do you root for more: real team or fantasy team?
CONTESTS
Listen to win VIP access to the 98.7FM Beach Bash hosted by Hahn & Humpty LIVE at Martell's Tiki Bar in Point Pleasant Beach, N.J.
MUST LISTEN
Listen to our weekly convos with Rex Ryan, our weekly player spotlights and postgame highlights and interviews.
Andrew Gundling and JJ Devaney cover the week's soccer news from the international leagues, World Cup and MLS.
Find out how you can partner with ESPN New York 98.7 FM and ESPNNewYork.com.