Marathon Cancelled
ESPN Radio reacts to Mayor Bloomberg's decision to cancel Sunday's New York City Marathon. Jonathan Coachman and Mike Salk

Jeremy Schaap

Stephen A. Smith

Antonio Pierce

Spencer Platt/Getty Images
LIVE ON ESPNNEWYORK.COM
First and Last with Lundberg, Golic Jr.
4:00 AM-6:00 AM

98.7 OUT AND ABOUT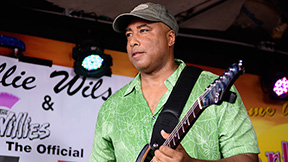 On July 1, 2016, we invaded Martell's Tiki Bar for seven hours of insanity and sports broadcasting (same thing?). Hahn & Humpty and the Michael Kay Show were LIVE. Willie Colon cohosted H&H and Bernie Williams joined Willie Wilson and the 98.7 FM All-Star Band. On Facebook

Find out how you can partner with 98.7 ESPN and ESPNNewYork.com.



YOUR NEXT FAVORITE PODCAST!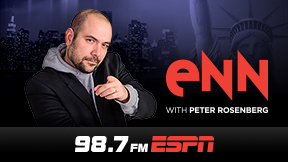 No topic is out of bounds or off limits as Peter Rosenberg seizes the airwaves from "The Michael Kay Show" to present the "Evening Nightly News." Peter seeks out stories you'll find funny, troubling or simply "repug." It's sort of like SportsCenter -- if SportsCenter lost its mind. Find it on iTunes, the ESPN app or right here.