Great Expectations?
Osi Umenyiora talks about his future with the Giants and the matchup in Super Bowl XLVII. Umenyiora

Webb

McElroy

Dilfer

Reilly

Theismann

Super Week » The Herd »
Dustin Stricker/ESPN Radio
LIVE ON ESPNNEWYORK.COM


CONTESTS
Enter for your chance to Travel with the Home Team. Presented by Amtrak
Find out how you can partner with 98.7 ESPN and ESPNNewYork.com.



KICK OFF SUMMER RIGHT!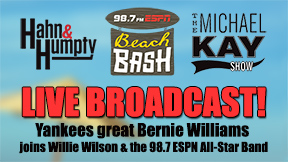 July 1 Join Hahn & Humpty AND The Michael Kay Show at Martell's Tiki Bar in Point Pleasant Beach for the annual 98.7 Beach Bash! Info »
NEW PODCAST!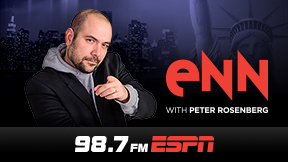 No topic is out of bounds or off limits as Peter Rosenberg seizes the airwaves from "The Michael Kay Show" to present the "Evening Nightly News." Peter seeks out stories you'll find funny, troubling or simply "repug." It's sort of like SportsCenter -- if SportsCenter lost its mind. Find it on iTunes, the ESPN app or right here.