• 97.9 ESPN Tallahassee's Jeff Cameron covers Jameis Winston's latest off-the-field incident and Florida State fans' support of Winston. Cameron

• Bengals DT Devon Still talks about how he has handled his daughter's battle with cancer while playing football. Plus, Saints coach Sean Payton discusses his donation of 100 Still jerseys.
• The guys cover the number of playoff games Golic appeared in during his NFL career.
• Stink weighs in on NFL players' responsibilities to hold each other accountable for their actions and reflects on the great men who have been involved with the league.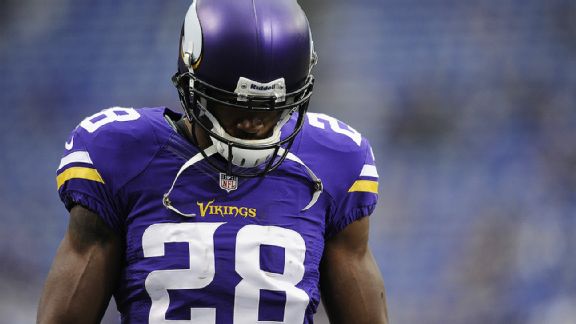 Hannah Foslien/Getty ImagesAdam Schefter tells the guys about Adrian Peterson's placement on the NFL's exempt list and more.
• ESPN NFL Insider Adam Schefter talks about the Vikings' decision to place Adrian Peterson's on the league's exempt list. Schefter

• MNF's Jon Gruden weighs in on the Adrian Peterson situation, the Eagles' ability to wear down opponents and the upcoming matchup between the Bears and the Jets. Gruden

• Billionaire Donald Trump covers the latest off-the-field issues in the NFL, how sponsors will determine the future of the league and his previous interest in buying the Bills. Trump

• The guys react to Adrian Peterson's placement on the NFL's exempt list and the Vikings' handling of the situation. Listen

• ESPN MLB Insider Jayson Stark poses his latest trivia question and talks about the Beltway teams' clinching of their division titles. Stark

• ESPN CFB analyst Kirk Herbstreit previews this weekend games, including Auburn-Kansas State, Florida-Alabama and Clemson-Florida State. Herbstreit

• The guys react to the Vikings' statement addressing Adrian Peterson's placement on the NFL's exempt list.
• Greeny and Golic share their thoughts on the Panthers' reaction to Minnesota's decision to place Peterson on the exempt list.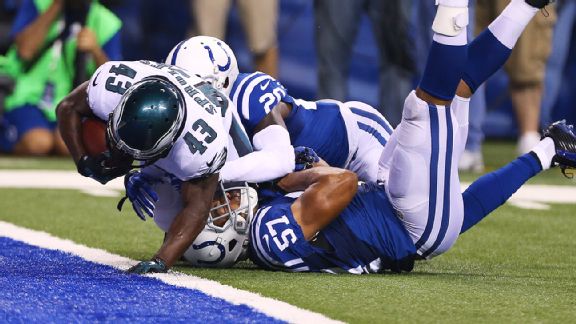 Brian Spurlock/USA TODAY SportsBrian Dawkins tells the guys about the Eagles' MNF win, the NFL's off-the-field issues and much more.
• ESPN NFL analyst Brian Dawkins breaks down the Eagles' comeback win over the Colts and the off-the-field issues in the NFL. Dawkins

• His & Hers' Jemele Hill weighs in on the latest developments in the Adrian Peterson case and the continued bad publicity the NFL faces. Hill

• NFLPA president Eric Winston discusses the organization's handling of the off-the-field issues in the league and the new drug policy. Winston

• Former Dolphins offensive line coach Jim Turner shares his side of the story of the Jonathan Martin-Richie Incognito situation, which opposes the Wells report. Turner