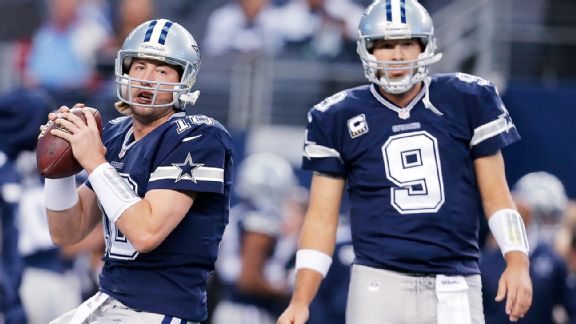 AP Photo/Brandon WadeRon Jaworski tells Adnan and Trevor about Eagles-Cowboys, Kyle Orton's experience and much more.
• ESPN NFL analyst Ron Jaworski discusses Eagles-Cowboys, Kyle Orton's experience, Aaron Rodgers' skill level, what makes Peyton Manning unique and more. Jaworski

• ESPN NFL analyst Jeff Saturday weighs in on his expectations for Aaron Rodgers' return, the mindset of the Packers' offensive linemen in light of Rodgers' injury, the impact of Von Miller's absence on the Broncos and more. Saturday

• ESPN NFL analyst Ray Lewis talks about the race for the AFC's sixth seed, Colin Kaepernick's abilities, the biggest issues with the Cowboys' defense, whether the Bears can handle Aaron Rodgers and more. Lewis

• ESPNDallas.com's Jean-Jacques Taylor offers his insight on Tony Romo's status, Jason Garrett's future with the Cowboys, how much blame falls on Monte Kiffin for Dallas' defensive struggles and more. Taylor

LIVE ON ESPNNEWYORK.COM
Robin Lundberg
4:00 AM-6:00 AM


NCAA TOURNAMENT BET PAYOFFS
Mike Greenberg completes the latest installment of the guys' bracket wager payoff. Photos


Watch: Greeny Milks a Cow


Watch: Greeny Gets Waxed


Watch: Greeny Competitively Eats


Watch: Greeny Sings Vanilla Ice

JAYSON STARK'S MLB TRIVIA
Former Twins skipper Ron Gardenhire managed 2,107 games without winning a World Series. Only two active managers have managed more than 1,800 games without capturing an MLB championship. Who are they? Listen

THE HIGHLIGHTS
Herm Edwards, NFL
ESPN NFL analyst Herm Edwards offers his insight on concerns for the Seahawks, the state of the Steelers and the outlooks for the Ravens and the Bears.
George Brett, MLB
Baseball Hall of Famer George Brett weighs in on the Royals' return to the World Series, players' mindset heading into the Fall Classic and Kansas City's bullpen.
Steve Smith, Ravens
Ravens WR Steve Smith comments on his departure to Baltimore, transitioning to a new system, coverage he has faced on the field and preparing for the Bengals.
Kevin Hart, NBA
Comedian Kevin Hart talks about his stage names, his top five athletes in his phone contact list and whether the Cavaliers will win the NBA championship this season.
Mike Ditka, NFL
ESPN NFL analyst Mike Ditka talks about Peyton Manning's record-breaking performance, the Bears' struggling defense and the Browns' disappointing loss.
Danny Kanell, CFB
ESPN CFB analyst Danny Kanell discusses the plays in the Notre Dame-Florida State matchup, shares his thoughts on the game and much more.
Andy Reid, Chiefs
Chiefs coach Andy Reid comments on his team's win over the Chargers, Cairo Santos' game-winning field goal, Kansas City's development and Peyton Manning's career.
Zack Martin, Cowboys
Cowboys OG Zack Martin dishes on his team's offensive line, his transition to the NFL, facing J.J. Watt, beating the Seahawks in Seattle and Dallas' use of DeMarco Murray.