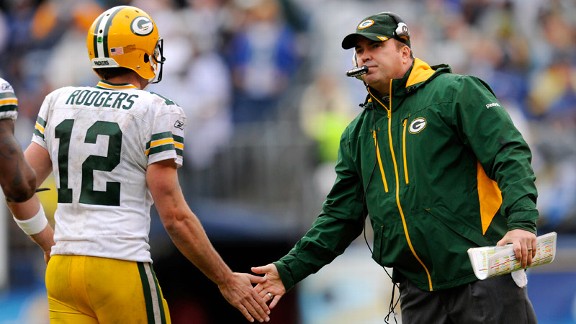 Matt A. Brown/Icon SMIMike McCarthy tells the guys about Aaron Rodgers, Clay Matthews and the state of the Packers.
• Packers coach Mike McCarthy weighs in on Green Bay's 6-3 start, the improvement of his team's defense, Aaron Rodgers, Clay Matthews' health and more. McCarthy

• Michigan State coach Tom Izzo talks about preparing to play Connecticut at Ramstein Air Base in Germany, his expectations for the Big Ten and the Spartans' upcoming season.
Izzo

• ESPN NFL Insider Chris Mortensen covers Jerry Jones' performance as the owner and GM of the Cowboys, Chuck Pagano and more. Mortensen

• Super Bowl XXXV champion Brian Billick discusses Tom Coughlin's comments about the Giants' defense, the struggles of Michael Vick and the Eagles, the Bears' defense and more. Billick

• U.S. Coast Guard rear admiral Sandra Stosz tells Greeny and Golic what life is like at the United States Coast Guard Academy. Stosz

• Greeny and Golic react to Tom Coughlin's comments about how the middle of the Giants' defense played against the Steelers. Listen

• Greeny and Golic give their takes on the difficult decision that Charles Tillman could have to make on Sunday. Plus, Tillman responds to the show via Twitter. Listen

• Greeny and Golic answer questions from the United States Coast Guard Academy in "Chatter." Listen

THE HIGHLIGHTS
John Keim, NFL
ESPN Redskins reporter John Keim shares his thoughts on the benching of Robert Griffin III, whether Mike Shanahan will lose his job due to the decision, the motives behind starting Kirk Cousins and more.
Roy Halladay, MLB
Former MLB pitcher Roy Halladay reflects on his career and talks about his decision to retire, the changes in the MLB throughout his time in the league and more.
Jimbo Fisher, Florida State
Florida State coach Jimbo Fisher comments on Jameis Winston's candidacy for the Heisman Trophy, his relationship with Winston, the nature of the BCS standings and more.
Tony La Russa, MLB
Three-time World Series champion Tony La Russa talks about being elected to the Baseball Hall of Fame and more. Plus, 1997 World Series champion Jim Leyland congratulates La Russa.
Cris Carter, NFL
ESPN NFL analyst Cris Carter covers the impact of Rob Gronkowski's injury, the Bears' win over the Cowboys, Alshon Jeffery's development, Chicago's QB situation and more.
John Clayton, NFL
ESPN NFL Insider John Clayton discusses the Bears' QBs, the state of the Cowboys' defense, Mike Shanahan's future with the Redskins, coaches that could be on the hot seat, illegal hits and more.
Gus Malzahn, Auburn
Auburn coach Gus Malzahn dishes on the success of his team's running game against Missouri, what contributed to the Tigers' turnaround, Nick Marshall's performance this season and more.
Mike Ditka, NFL
ESPN NFL analyst Mike Ditka reflects on his football career and discusses the impact of Rob Gronkowski's injury on the Patriots, Peyton Manning's performance against the Titans, the Saints' offense and more.