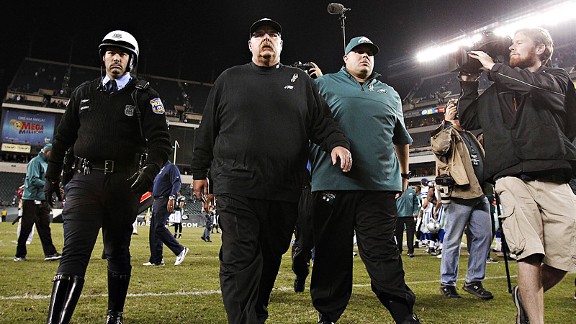 Icon SMIThe guys comment on the Eagles' loss to the Panthers, what comes next for Philadelphia and more.
• 2012 NL Cy Young Award winner R.A. Dickey dishes on his contract status, whether he expects to remain with the Mets, David Wright and more. Dickey

• ESPN NFL analyst Cris Carter covers Panthers-Eagles, Andy Reid, Michael Vick, Ndamukong Suh, Jim Harbaugh's handling of the 49ers' QBs, A.J. Green, Jamaal Charles and more. Carter

• ESPN NFL analyst Eric Mangini talks about the Jets' recent struggles, Jim Harbaugh, the 49ers' QBs, Ndamukong Suh's style of play and more. Mangini

• ESPN NFL Insider John Clayton comments on the QB situations in San Francisco and Arizona, the league's decision not to suspend Ndamukong Suh and more. Clayton

• Former NFL QB Drew Bledsoe discusses the 49ers' QBs, what it was like losing his job to Tom Brady after suffering an injury and more. Bledsoe

• Greeny and Golic share their thoughts on the Panthers' win over the Eagles, the futures of Andy Reid and Michael Vick and more. Listen

• Greeny and Golic react to the report that Jamaal Charles asked Peyton Manning for an autograph following Broncos-Chiefs. Plus, ESPN's Buster Olney weighs in. Listen

• Golic is going to Miami. Joaquin's Stash »
BEST OF MIKE & MIKE PODCAST
JAYSON STARK'S MLB TRIVIA
Albert Pujols has now achieved 500 home runs and 100 steals. Who are the other two active players with 400 homers and 100 steals? Listen

FRANK CALIENDO
Our favorite moments with Frank Caliendo:
-Watch: 'A Visit from St. Nicholas'


-Watch: William Shatner


-Listen: #GolicButtPhoto voicemails


-Watch: Donald Trump


-Listen: Trick-or-Treat


-Watch: Stephen A. Smith


-Watch: Mel Kiper Jr.


-Watch: Charles Barkley


-Watch: Allen Iverson's rant


-Watch: Remembering Robin Williams


-Watch: LeBron James' letter

THE HIGHLIGHTS
Chael Sonnen, ESPN MMA Analyst
ESPN MMA analyst Chael Sonnen offers his takes on Ronda Rousey's knockout victory in UFC 190 which he felt didn't live up to the hype. He shares that there just aren't enough quality fighters out there to challenge Rousey.
Herm Edwards, ESPN NFL Analyst
ESPN NFL analyst Herm Edwards shares his thoughts on the Bills' suspension of assistant coach Aaron Kromer. Plus, why he believes that coaches shouldn't have to wait for the NFL to punish players and more.
Antonio Pierce, ESPN NFL Analyst
ESPN NFL analyst Antonio Pierce weighs in on distractions in NFL training camps including camp fights, how to handle teammates that can't stay out of trouble and more.
Louis Riddick, ESPN NFL Front Office Insider
ESPN NFL front office Insider Louis Riddick discusses Brandon Boykin's comments that Chip Kelly has a problem relating to his players. Plus, he weighs in on how Sam Bradford will utilize the Eagles' offensive weapons.
Rich Cimini, ESPN NFL Nation Jets Reporter
ESPN NFL Nation Jets reporter Rich Cimini covers the latest in the NFL's response as well as the Jets' response to Sheldon Richardson's arrest. Plus, the health of Muhammad Wilkerson and Devin Smith.
Buster Olney, ESPN MLB Insider
ESPN MLB Insider Buster Olney weighs in on the Blue Jays' acquisition of David Price. Plus, why the Dodgers are in a unique position to make moves due to their financial situation.
George Atallah, NFLPA Assistant Executive
NFLPA assistant director of external affairs George Atallah reacts to Robert Kraft's comments towards the NFL in yesterday's press conference. Plus, what arguments the NFLPA intends to make on behalf of Tom Brady and why the appeal now is strictly about the process.
DeMarco Murray, Eagles RB
Eagles running back DeMarco Murray discusses the difficulty of his contract dispute with the Cowboys which led to his signing with Philadelphia. Plus, how he fits into Chip Kelly's offense and how it differs from previous systems he has been a part of.
OFF-MIKES EPISODES
View episodes of ESPN.com's first Emmy winner, "Off-Mikes," a series based on the interactions of Greeny and Golic on "Mike & Mike."
-"Snook, Line and Sinker"


-"Wee-Wee Mon Sewer"


-"Raging Bull-Oney"


-"Bend It Like Golic"


-"The Wettest Yard"


-"Pomp You Up"


-"Throw Momma from the Chair"


-"Air Force Ton"


-"Night of the Living Chippers"

BEST OF MIKE & MIKE ON ESPN RADIO: SHOW IN REVIEW NOVEMBER 27