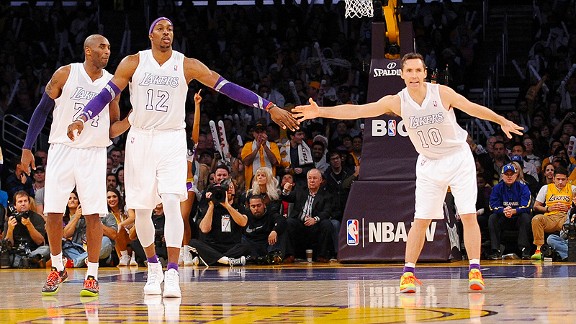 Noah Graham/NBAE/Getty ImagesJeff Van Gundy tells Mike Hill and Robert Smith about Steve Nash, the Clippers' hot start and more.
• ESPN NBA analyst Jeff Van Gundy weighs in on the impact of Steve Nash's return to the Lakers, Kobe Bryant, where the Clippers rank in the West and more. Van Gundy

• ESPN NBA analyst Antonio Davis dishes on how Steve Nash's presence changes the Lakers, the Clippers' potential, his expectations for the Knicks, LeBron James and more. Davis

• ESPN NFL Insider Adam Schefter shares his thoughts on Cowboys-Redskins, the futures of Tony Romo, Michael Vick, Chip Kelly and Bruce Arians and more. Schefter

• ESPN NFL Insider John Clayton covers Michael Vick, coaches on the hot seat, Cowboys-Redskins, Tony Romo, the injuries to DeMarcus Ware and Mario Manningham and more. Clayton

• ESPN NFL analyst Damien Woody discusses Cowboys-Redskins, Tony Romo, Robert Griffin III, the team to beat in the AFC, Peyton Manning, Adrian Peterson, Tim Tebow and more. Woody

LIVE ON ESPNNEWYORK.COM


NCAA TOURNAMENT BET PAYOFFS
Mike Greenberg completes the latest installment of the guys' bracket wager payoff. Photos


Watch: Greeny Milks a Cow


Watch: Greeny Gets Waxed


Watch: Greeny Competitively Eats


Watch: Greeny Sings Vanilla Ice

WERNER LADDERS BRACKET CHALLENGE
THE HIGHLIGHTS
Rick Carlisle, Mavericks
Mavericks coach Rick Carlisle comments on his team's approach to the Grizzlies, preparing to face the Spurs, Dirk Nowitzki's impact on Dallas and the power forward position and more.
Tom Thibodeau, Bulls
Bulls coach Tom Thibodeau dishes on moving forward from adversity this season, Joakim Noah's influence on Chicago, the upcoming matchup against the Wizards, John Wall's development and more.
On Chris Johnson, 4/17
Mike Greenberg and Mike Golic share their thoughts on the Jets' signing of Chris Johnson and the devaluation of the RB position.
Bruce Bowen, NBA
ESPN NBA analyst Bruce Bowen discusses whether the Pacers can win the NBA title, the root of Indiana's struggles, the Nets' potential, the Bulls' success, LeBron James' future and more.
Tony La Russa, MLB
Baseball Hall of Famer Tony La Russa comments on the use of MLB replay, issues with replay so far, the strike zone, the number of African-American MLB players and more.
Jordan Spieth, Golf
Jordan Spieth dishes on finishing second at the Masters, the pressure he felt over the weekend, his errant tee shot at the par- 3 12th hole Sunday, his takeaways from the tournament and more.
Andy North, Golf
ESPN golf analyst Andy North weighs in on Bubba Watson's Masters Tournament win, Jordan Spieth's performance at the tournament, Phil Mickelson's struggles and more.
Tim Legler, NBA
ESPN NBA analyst Tim Legler covers Dwyane Wade's injury, the Spurs' dominance, which team in the Western Conference matches up best with San Antonio and more.
BEST OF MIKE & MIKE ON ESPN RADIO: SHOW IN REVIEW DECEMBER 26