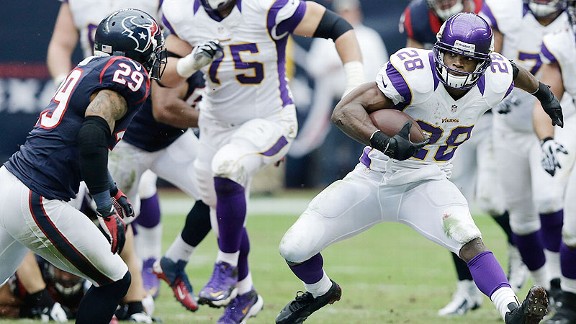 Scott Halleran/Getty ImagesToby Gerhart tells Mike Hill and Mark Schlereth about Adrian Peterson's remarkable season and more.
• Vikings RB Toby Gerhart talks about Adrian Peterson's pursuit of the single-season rushing record, Minnesota's push for a postseason spot, Leslie Frazier and more. Gerhart

• Northern Illinois coach Rod Carey comments on the criticism of the bid that the Huskies received to the Orange Bowl, preparing for Florida State, Jordan Lynch and more. Carey

• ESPN NFL Insider Chris Mortensen shares his thoughts on Richard Sherman's status, Tim Tebow's future, Adrian Peterson, Peyton Manning, Cowboys-Redskins and more. Mortensen

• ESPN NFL analyst Eric Mangini dishes on Cowboys-Redskins, whether the Broncos are the team to beat in the AFC, his expectations for the Falcons and more. Mangini

• Super Bowl XXXV champion Brian Billick covers the Giants' struggles, Michael Vick, the top teams in the AFC, Peyton Manning, Adrian Peterson, the Redskins' offense and more. Billick

• Basketball Hall of Famer Charles Barkley weighs in on the state of the Lakers, whether the Knicks can be legitimate contenders, the Jets' usage of Tim Tebow and more. Barkley

LIVE ON ESPNNEWYORK.COM
ESPN New York NOW with Ryan Ruocco
1:00 PM-3:00 PM


NCAA TOURNAMENT BET PAYOFFS
Mike Greenberg completes the latest installment of the guys' bracket wager payoff. Photos


Watch: Greeny Milks a Cow


Watch: Greeny Gets Waxed


Watch: Greeny Competitively Eats


Watch: Greeny Sings Vanilla Ice

JAYSON STARK'S MLB TRIVIA
This season, Clayton Kershaw has struck out more than 200 hitters for the fifth time in his career. Only two other active pitchers have achieved at least five seasons with 200 strikeouts. Who are these players? Listen

THE HIGHLIGHTS
Al Michaels, NFL
NBC's Al Michaels gives his take on the state of the NFL in the wake of the league's recent off-the-field incidents.
Jeff Cameron, CFB
97.9 ESPN Tallahassee's Jeff Cameron weighs in on Jameis Winston's latest off-the-field incident and Florida State fans' support of Winston.
Devon Still, Bengals
Bengals DT Devon Still comments on dealing with his daughter's battle with cancer while playing football. Plus, Saints coach Sean Payton discusses donating 100 Still jerseys.
Herm Edwards, NFL
ESPN NFL analyst Herm Edwards discusses Jonathan Dwyer's arrest and previews the upcoming weekend's games.
Brian Woods, NFL
FXFL commissioner Brian Woods discusses the new minor league football league he formed and how it will help the NFL grow.
Adam Schefter, NFL
ESPN NFL Insider Adam Schefter talks about the Vikings' decision to place Adrian Peterson's on the league's exempt list.
Donald Trump, Billionaire
Billionaire Donald Trump covers the latest off-the-field issues in the NFL, how sponsors will determine the future of the league and his previous interest in buying the Bills.
Kirk Herbstreit, CFB
ESPN CFB analyst Kirk Herbstreit previews this weekend games, including Auburn-Kansas State, Florida-Alabama and Clemson-Florida State.
BEST OF MIKE & MIKE ON ESPN RADIO: SHOW IN REVIEW DECEMBER 27