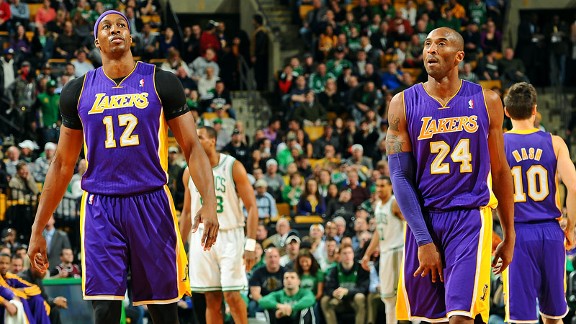 Brian Babineau/NBAE/Getty ImagesDave McMenamin tells the guys about Kobe Bryant, Dwight Howard, the state of the Lakers and more.
• Syracuse coach Jim Boeheim comments on parity in college basketball, the Orange's 19-3 start, his time in the Big East and more. Boeheim

• Kansas coach Bill Self talks about the Jayhawks' loss to TCU, the landscape of college basketball, getting ready for the NCAA tournament and more. Self

• Louisville coach Rick Pitino shares his thoughts on the state of college basketball, what coaching against his son was like, the demise of the Big East and more. Pitino

• NBC Sports' Bob Costas covers the future of the NFL, Alex Rodriguez, Ryan Braun, the role of performance-enhancing drugs in sports and more. Costas

• ESPN Los Angeles' Dave McMenamin dishes on the relationship between Kobe Bryant and Dwight Howard, Mike D'Antoni's future with the Lakers and more. McMenamin

• Greeny hears why the way that Jay Cutler proposed to Kristin Cavallari gets Golic off of the hook. Listen

LIVE ON ESPNNEWYORK.COM
Lupica
1:00 PM-3:00 PM


BEST OF MIKE & MIKE PODCAST
JAYSON STARK'S MLB TRIVIA
Since joining the Tigers in 2008, Miguel Cabrera has produced an MLB-leading six 30 home run seasons. Which two other active players have achieved five 30 home run seasons? Listen

FRANK CALIENDO
Our favorite moments with Frank Caliendo:
-Watch: 'A Visit from St. Nicholas'


-Watch: William Shatner


-Listen: #GolicButtPhoto voicemails


-Watch: Donald Trump


-Listen: Trick-or-Treat


-Watch: Stephen A. Smith


-Watch: Mel Kiper Jr.


-Watch: Charles Barkley


-Watch: Allen Iverson's rant


-Watch: Remembering Robin Williams


-Watch: LeBron James' letter

THE HIGHLIGHTS
Jeff Cameron, CFB
Jeff Cameron of 97.9 ESPN Tallahassee covers the dismissal of Florida State QB De'Andre Johnson, how the Tallahassee community is reacting to yet another incident involving a player from the football team.
Bob Ley, Soccer
ESPN's Bob Ley talks about how the United States' victory in the Women's World Cup will affect the popularity of soccer and reflects on his work for Outside the Lines on the program's 25th anniversary.
Chris Broussard, NBA
ESPN NBA Insider Chris Broussard discusses David West's decision to sign with the Spurs, San Antonio's offseason moves, Anderson Varejao's future and the perception of Phil Jackson around the league.
Jayson Stark, MLB
ESPN MLB Insider Jayson Stark weighs in on changes he would make to the All-Star Game, Alex Rodriguez's absence from the AL All-Star roster and the selections of Jhonny Peralta and Nelson Cruz.
Jason Sobel, Golf
ESPN senior golf writer Jason Sobel shares his thoughts on the potential impact of Rory McIlroy's ankle injury, including whether McIlroy will be able to defend his titles in the major championships later this year.
Stephania Bell, Golf
ESPN injury analyst Stephania Bell discusses Rory McIlroy's ankle injury, sharing its severity, whether McIlroy will be able to play through it and when he could return.
P.J. Carlesimo, NBA
ESPN NBA analyst P.J. Carlesimo covers LaMarcus Aldridge's decision to sign with the Spurs, the state of San Antonio, DeAndre Jordan's departure from the Clippers and the Mavericks' outlook.
Julie Foudy, Soccer
ESPN soccer analyst Julie Foudy talks about the United States' strong start in its victory over Japan in the Women's World Cup final and Carli Lloyd's performance.
OFF-MIKES EPISODES
View episodes of ESPN.com's first Emmy winner, "Off-Mikes," a series based on the interactions of Greeny and Golic on "Mike & Mike."
-"Snook, Line and Sinker"


-"Wee-Wee Mon Sewer"


-"Raging Bull-Oney"


-"Bend It Like Golic"


-"The Wettest Yard"


-"Pomp You Up"


-"Throw Momma from the Chair"


-"Air Force Ton"


-"Night of the Living Chippers"

BEST OF MIKE & MIKE ON ESPN RADIO: SHOW IN REVIEW FEBRUARY 8