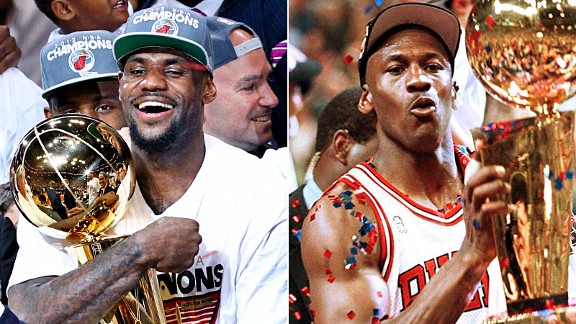 US Presswire, Getty ImagesThe guys give their takes on LeBron James' efficiency, Michael Jordan's legacy and much more.
• NBC Sports' Bob Costas comments on the legacies of LeBron James and Michael Jordan, player safety in the NFL, the future of football and more. Costas

• ESPN Radio's Ryen Russillo weighs in on how LeBron James compares to Michael Jordan, preparing to take part in the NBA All-Star Celebrity Game and more. Russillo

• ESPN NBA analyst Jalen Rose dishes on the differences between LeBron James, Kobe Bryant and Michael Jordan, Bryant's demeanor, the evolution of James' game and more. Rose

• ESPN NBA analyst Tim Legler talks about LeBron James' improvement, guarding Michael Jordan, whether anyone can challenge the Heat in the East and more. Legler

• Greeny and Golic share their thoughts on LeBron James' standing among the NBA's all-time greats. How does James stack up against Michael Jordan and Kobe Bryant?
Listen

LIVE ON ESPNNEWYORK.COM
Robin Lundberg
4:00 AM-6:00 AM


BEST OF MIKE & MIKE PODCAST
JAYSON STARK'S MLB TRIVIA
Besides Felix Hernandez, four active pitchers have finished in the top two in Cy Young Award voting more than once. Who are they? Listen

FRANK CALIENDO
Our favorite moments with Frank Caliendo:
-Watch: 'A Visit from St. Nicholas'


-Watch: William Shatner


-Listen: #GolicButtPhoto voicemails


-Watch: Donald Trump


-Listen: Trick-or-Treat


-Watch: Stephen A. Smith


-Watch: Mel Kiper Jr.


-Watch: Charles Barkley


-Watch: Allen Iverson's rant


-Watch: Remembering Robin Williams


-Watch: LeBron James' letter

THE HIGHLIGHTS
Sal Paolantonio, NFL
ESPN NFL reporter Sal Paolantonio covers the NFLPA rookie premiere, the upcoming appeal of Tom Brady and why the NFLPA did not seek to limit commissioner Roger Goodell's power in the last collective bargaining agreement.
P.J. Carlesimo, NBA
ESPN NBA analyst P.J. Carlesimo discusses the NBA coaching carousel and how difficult it is to make the jump as a coach from college to the NBA. Plus, he shares his thoughts on who the key players in the NBA Finals will be.
Doc Rivers, Clippers
Clippers coach Doc Rivers shares what it was like to coach his son Austin Rivers, how L.A. will progress from its finish in the NBA playoffs, Chris Paul's legacy and the Finals.
Barry Melrose, NHL
ESPN NHL analyst Barry Melrose shares his takes on Game 7s in both the Western Conference and Eastern Conference finals, including how important a hot goaltender is and why players don't think having home ice matters.
Stephen A. Smith, NBA
Stephen A. Smith of First Take comments on the Bulls' firing of Tom Thibodeau and who they should be targeting instead of Fred Hoiberg. Plus, why accusations aimed at Chip Kelly by LeSean McCoy have merit despite numbers.
Bruce Bowen, NBA
ESPN NBA analyst Bruce Bowen weighs in on LeBron James' psyche going into the Finals and why James could overthink the opportunity. Plus, Bowen shares his thoughts on the physical play of Matthew Dellavedova and pregame speeches.
Ian Darke, Soccer
Ian Darke of ESPN FC shares the aftermath of the indictment of FIFA members, including if president Sepp Blatter will survive the controversy, the possibility of world soccer federations deciding to pull away from FIFA and more.
Marc Stein, NBA
ESPN NBA Insider Marc Stein covers the potentially imminent departure of coach Tom Thibodeau from the Bulls, who Chicago may be targeting for the job and who the Pelicans are considering for their vacancy.
OFF-MIKES EPISODES
View episodes of ESPN.com's first Emmy winner, "Off-Mikes," a series based on the interactions of Greeny and Golic on "Mike & Mike."
-"Snook, Line and Sinker"


-"Wee-Wee Mon Sewer"


-"Raging Bull-Oney"


-"Bend It Like Golic"


-"The Wettest Yard"


-"Pomp You Up"


-"Throw Momma from the Chair"


-"Air Force Ton"


-"Night of the Living Chippers"

BEST OF MIKE & MIKE ON ESPN RADIO: SHOW IN REVIEW FEBRUARY 13