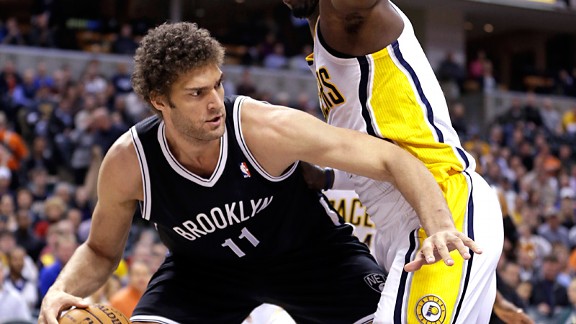 AP Photo/Michael ConroyBrook Lopez tells the guys about the Nets' success under P.J. Carlesimo, trade rumors and more.
• Nets C Brook Lopez dishes on what games against the Knicks are like, P.J. Carlesimo's impact, his expectations for the second half of Brooklyn's season and more. Lopez

• ESPN CBB Insider Andy Katz responds to Jim Boeheim's criticism. Katz

• ESPN NFL analyst Herm Edwards weighs in on the possibility of the Eagles trading Nick Foles, Kevin Youkilis' comments about his fond feelings for the Red Sox and more.
Edwards

• ESPN Radio's Mark Schlereth shares his thoughts on Kevin Youkilis' remarks regarding his fond feelings for the Red Sox and more. Schlereth

• TNT's Kenny Smith talks about LeBron James' record-setting efficiency, whether anyone can challenge the Heat in the East, the Clippers' chances in the West and more. Smith

• Former Alabama coach Bill Curry comments on whether Jadeveon Clowney should sit out until he is eligible to enter the NFL draft, the future of football and more. Curry

LIVE ON ESPNNEWYORK.COM


NCAA TOURNAMENT BET PAYOFFS
Mike Greenberg completes the latest installment of the guys' bracket wager payoff. Photos


Watch: Greeny Milks a Cow


Watch: Greeny Gets Waxed


Watch: Greeny Competitively Eats


Watch: Greeny Sings Vanilla Ice

JAYSON STARK'S MLB TRIVIA
Former Twins skipper Ron Gardenhire managed 2,107 games without winning a World Series. Only two active managers have managed more than 1,800 games without capturing an MLB championship. Who are they? Listen

THE HIGHLIGHTS
Zack Martin, Cowboys
Cowboys OG Zack Martin dishes on his team's offensive line, his transition to the NFL, facing J.J. Watt, beating the Seahawks in Seattle and Dallas' use of DeMarco Murray.
Jimbo Fisher, Florida State
Florida State coach Jimbo Fisher comments on whether Jameis Winston will start against Notre Dame, the investigation of Winston autographs and preparing to face the Fighting Irish.
Brian Kelly, Notre Dame
Notre Dame coach Brian Kelly talks about his school's investigation into academic fraud on the team, Everett Golson's development and preparing to face Florida State.
On Giants' NLCS win, 10/17
Mike Greenberg and Mike Golic react to the Giants' elimination of the Cardinals in Game 5 of the NLCS and Travis Ishikawa's game-ending home run.
Brian Billick, NFL
Super Bowl XXXV champion Brian Billick talks about Jameis Winston's character, whether the Cowboys are running DeMarco Murray into the ground and more.
Kirk Herbstreit, CFB
College GameDay's Kirk Herbstreit offers his insight on Notre Dame-Florida State, the Seminoles' handling of Jameis Winston and the investigation of Winston autographs.
Michael Rapaport, NBA
Director Michael Rapaport discusses the state of the Knicks, New York's hiring of Phil Jackson, Jackson's implementation of mindfulness training and LeBron James' return to the Cavaliers.
On Royals' ALCS sweep, 10/16
Mike Greenberg and Mike Golic share their thoughts on the Royals' elimination of the Orioles in Game 4 of the ALCS, Kansas City's bullpen and Game 5 of the NLCS.
BEST OF MIKE & MIKE ON ESPN RADIO: SHOW IN REVIEW FEBRUARY 15