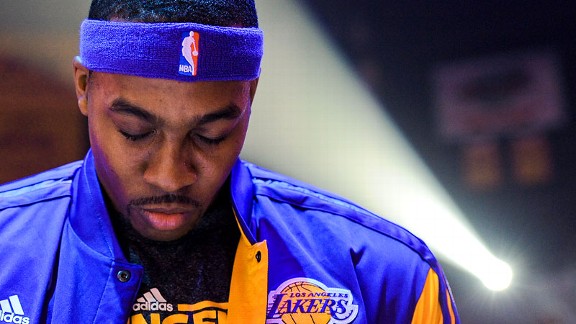 Andrew D. Bernstein/Getty ImagesStephen A. Smith tells the guys about Dwight Howard, Kobe Bryant, the state of the Lakers and more.
• Indiana coach Tom Crean comments on the Hoosiers' win over Michigan State, his relationship with Tom Izzo, Victor Oladipo, Super Bowl XLVII and more. Crean

• ESPN's Mike Tirico dishes on Indiana's win over Michigan State, whether the Lakers should trade Dwight Howard, his expectations for Tiger Woods in 2013 and more. Tirico

• ESPN New York 98.7 FM's Stephen A. Smith weighs in on the possibility of the Lakers trading Dwight Howard, Jim Buss, Howard's desire to wind up with the Nets and more. Smith

• ESPN NBA analyst Tim Legler discusses the state of the Lakers, the relationship between Kobe Bryant and Dwight Howard, the health of Derrick Rose and Andrew Bynum and more. Legler

• ESPN NBA analyst Tom Penn talks about the financial implications of Dwight Howard's future with the Lakers and more. Penn

• ESPN NFL Insider Adam Schefter shares his thoughts on whether the Jets will trade Darrelle Revis, a potential return by Tony Gonzalez and more. Schefter

NCAA TOURNAMENT BET PAYOFFS
Mike Greenberg completes the latest installment of the guys' bracket wager payoff. Photos


Watch: Greeny Milks a Cow


Watch: Greeny Gets Waxed


Watch: Greeny Competitively Eats


Watch: Greeny Sings Vanilla Ice

JAYSON STARK'S MLB TRIVIA
Todd Helton played all of his major league seasons with the Rockies. Three active players have remained with the same team for at least 12 seasons. Who are these individuals? Listen

THE HIGHLIGHTS
Herm Edwards, NFL
ESPN NFL analyst Herm Edwards talks about how Robert Griffin III needs to take ownership for his actions.
Gerald McCoy, Buccaneers
Buccaneers DT Gerald McCoy talks about his new coach Lovie Smith and how Smith compares to Greg Schiano.
Tom Jackson, NFL
ESPN NFL analyst Tom Jackson weighs in on the Broncos' toughness and why Johnny Manziel will start soon for the Browns.
Ryan Howard, Phillies
Phillies 1B Ryan Howard talks about the pace of play in baseball and inner city youth involvement in the sport.
Matt Cassel, Vikings
Vikings QB Matt Cassel talks about playing with Adrian Peterson and how many games Minnesota will win.
Jim Kelly, NFL
Pro Football Hall of Famer Jim Kelly talks about his battle with cancer and Andre Reed's HOF induction.
Urban Meyer, Ohio State
Ohio State coach Urban Meyer talks about losing QB Braxton Miller to injury.
Mary Kay Cabot, NFL
The Plain Dealer's Mary Kay Cabot discusses the Browns' decision to name Brian Hoyer their starting QB.
BEST OF MIKE & MIKE ON ESPN RADIO: SHOW IN REVIEW FEBRUARY 20