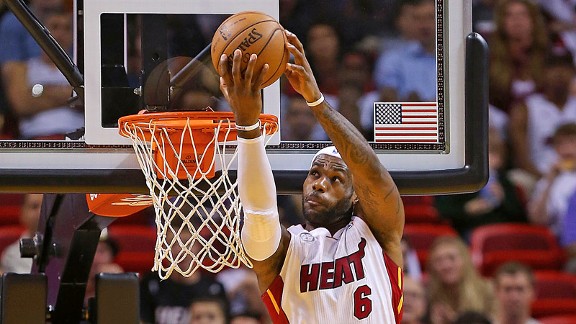 Mike Ehrmann/Getty ImagesTim Legler tells the guys about LeBron James, Warriors-Pacers, Andrew Bynum and much more.
• ESPN NBA analyst Tim Legler talks about whether anyone can beat the Heat in the playoffs, the incident between the Warriors and the Pacers, Andrew Bynum and more. Legler

• ESPN NFL Insider Adam Schefter shares his thoughts on the reaction to Tom Brady's contract extension, the futures of Darrelle Revis, Alex Smith and Nick Foles and more. Schefter

• ESPN NFL analyst Herm Edwards weighs in on Darrelle Revis's value, Tom Brady's contract extension, Manti Te'o's performance at the scouting combine and more. Edwards

• Seven-time NBA All-Star Alonzo Mourning comments on the state of the Heat, LeBron James' dominance, Dwight Howard, free-throw shooting, the demise of the Big East and more. Mourning

LIVE ON ESPNNEWYORK.COM


MIKE & MIKE AT NBA ALL-STAR WEEKEND
MIKES AND ME
Now you can be pictured with Mike & Mike! Print this image, pose with the Mikes and tweet your photo to @MikeAndMike using the hashtag #MikesAndMe for a chance to be featured here and on the show. Watch

THE HIGHLIGHTS
Gregg Marshall, Wichita State
Wichita State coach Gregg Marshall dishes on the meaning of "playing angry," whether his players play with a chip on their shoulders, challenges of coaching an undefeated team and more.
Adam Schefter, NFL
ESPN NFL Insider Adam Schefter weighs in on whether the Buccaneers will release Darrelle Revis, the Saints' handling of Darren Sproles, the Texans' chances for Josh McCown and more.
Justin Verlander, Tigers
Tigers P Justin Verlander dishes on differences between Jim Leyland and Brad Ausmus, daring Torii Hunter to kiss an alligator, recovering from core-muscle surgery and more.
Warren Buffett, CBB
Billionaire Warren Buffett comments on his career path, the right temperament for success, the Billion Dollar Bracket Challenge, whether Ndamukong Suh is misunderstood and more.
Herm Edwards, NFL
ESPN NFL analyst Herm Edwards discusses Darrelle Revis' future, the value of cover corners, where Michael Vick and Josh McCown could land, Darren Sproles' abilities and more.
Avery Johnson, NBA
ESPN NBA analyst Avery Johnson discusses Joakim Noah's value, Blake Griffin's development, the 76ers' decision to tank, Phil Jackson's potential role with the Knicks and more.
Jim Delany, Big Ten
Big Ten commissioner Jim Delany comments on concerns with conference realignment, Northwestern student-athletes' attempt to unionize, the one-and-done rule and more.
On Phil Jackson, 3/10
Mike Greenberg and Mark Schlereth share their thoughts on the reports that Phil Jackson could take a front-office job with the Knicks, Jackson's competitiveness and more.
Espngreeny Mike Greenberg
I like the Decker signing. Didn't break the bank. Still need another WR. But it's a fine place to start. #Jets
about 2 hours ago

Espngreeny Mike Greenberg
Herman likes #Bucs to win NFC South next year. If #Panthers don't get Cam some receivers, I think I agree.
about 2 hours ago

espngolic Mike Golic
"@Albino0110Mike: @espngolic how you feel about DWare going to broncos?"They know Peyton has a couple yrs left, so they are going to buy big
about 2 hours ago

espngolic Mike Golic
"@Bada_Bingham: @espngolic @4Arnold4 No pancakes...right?"haha.... Nope, gave them up for lent
about 2 hours ago

espngolic Mike Golic
"@4Arnold4: @espngolic I see you in the airport." Yes, I am here, just had a wonderful breakfast
about 2 hours ago

MikeAndMike Mike & Mike
Send us your questions for N.L. MVP @TheCUTCH22 at 8:15 ET and we'll ask him on the air! #AskAPirate
about 3 hours ago

MikeAndMike Mike & Mike
The only thing worse for @Espngreeny than Darrelle Revis going to the #Patriots would be _____. CALL US! The M&M Chatter Line: 740-535-6453
about 3 hours ago

espngolic Mike Golic
"@Rodshopp: @MikeAndMike The show is so much better without @espngolic ...sorry to say show is gonna get real bad for you Monday then.
about 3 hours ago

Espngreeny Mike Greenberg
As of right now, #Broncos remain team to beat in AFC. If #Patriots get Sproles, it goes the other way.
about 3 hours ago

MikeAndMike Mike & Mike
Fill In The Blank: The only thing worse for @Espngreeny than Darrelle Revis going to the #Patriots would be _____
about 3 hours ago

Espngreeny Mike Greenberg
The #Patriots signed the most valuable defensive player in the NFL. No point in pretending otherwise. #Revis
about 3 hours ago

espngolic Mike Golic
"@NDmom: @EricRingel @MGolicJR57 @SydGolic everybody's wins when wearing robes." Has the house gone mad, I just left
about 8 hours ago

espngolic Mike Golic
"@Keith41378: @espngolic how are you not sleeping yet?" Still in AZ.... I'm off until Monday, Greeny should have recovered by then
about 13 hours ago

espngolic Mike Golic
"@ChargingOX: @espngolic is greenie on the ledge after the breaking news that #Revis signed with the #Patriots ?"rough show tomorrow
about 13 hours ago

MikeAndMike Mike & Mike
The shoe drops! RT @SportsCenter: CB Darrelle Revis and the Patriots have reached agreement on a 1 year, $12 mill deal (via @AdamSchefter)
about 13 hours ago

MikeAndMike Mike & Mike
RT @Espngreeny: Now, please...RT "@StacyGSG: I've been asked to remove this photo from the wall. #Revis #Jets #Pats http://t.co/7HcZiJIT…
about 13 hours ago

Espngreeny Mike Greenberg
Now, please...RT "@StacyGSG: I've been asked to remove this photo from the wall. #Revis #Jets #Pats http://t.co/7HcZiJIT6w"
about 13 hours ago

Espngreeny Mike Greenberg
I've had better days.
about 13 hours ago

Espngreeny Mike Greenberg
Oh no. RT "@AdamSchefter: Darrelle Revis and the New England Patriots have reached agreement on a 1-year, $12 million deal."
about 13 hours ago

MikeAndMike Mike & Mike
"@kickball365: @MikeAndMike Amazing kickball triple play http://t.co/FCmxN8ho5K"gotta love kickball
about 14 hours ago
BEST OF MIKE & MIKE ON ESPN RADIO: SHOW IN REVIEW FEBRUARY 27