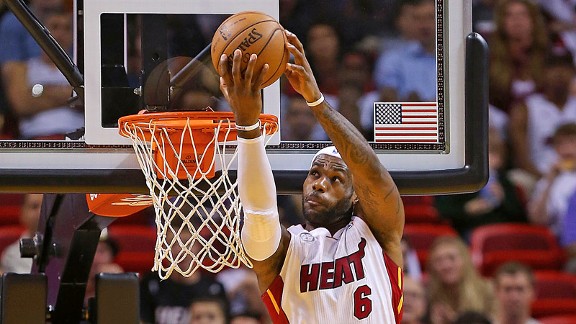 Mike Ehrmann/Getty ImagesTim Legler tells the guys about LeBron James, Warriors-Pacers, Andrew Bynum and much more.
• ESPN NBA analyst Tim Legler talks about whether anyone can beat the Heat in the playoffs, the incident between the Warriors and the Pacers, Andrew Bynum and more. Legler

• ESPN NFL Insider Adam Schefter shares his thoughts on the reaction to Tom Brady's contract extension, the futures of Darrelle Revis, Alex Smith and Nick Foles and more. Schefter

• ESPN NFL analyst Herm Edwards weighs in on Darrelle Revis's value, Tom Brady's contract extension, Manti Te'o's performance at the scouting combine and more. Edwards

• Seven-time NBA All-Star Alonzo Mourning comments on the state of the Heat, LeBron James' dominance, Dwight Howard, free-throw shooting, the demise of the Big East and more. Mourning

THE HIGHLIGHTS
Mike Ditka, NFL
ESPN NFL analyst Mike Ditka reflects on his football career and discusses the impact of Rob Gronkowski's injury on the Patriots, Peyton Manning's performance against the Titans, the Saints' offense and more.
Gus Malzahn, Auburn
Auburn coach Gus Malzahn dishes on the success of his team's running game against Missouri, what contributed to the Tigers' turnaround, Nick Marshall's performance this season and more.
Ron Jaworski, NFL
ESPN NFL analyst Ron Jaworski discusses how Rob Gronkowski's injury could affect the Patriots' playoff success, the Eagles' offense, Peyton Manning's throwing style and more.
Gary Player, Golf
Golf legend Gary Player reacts to Nelson Mandela's death and talks about meeting Mandela, Mandela's compassion and humility, the value the former South African president placed on sports and more.
Tim Jansen: 12/6
Tim Jansen, Jameis Winston's attorney, reacts to the decision not to pursue charges against Winston for sexual assault. Jansen also explains why he isn't expecting a civil lawsuit.
Lester Munson: 12/6
ESPN legal analyst Lester Munson comments on the decision not to charge Jameis Winston after a sexual assault investigation, whether a civil lawsuit will be filed and more.
Brian Billick, NFL
Super Bowl XXXV champion Brian Billick dishes on the Seahawks' weaknesses, the state of the NFC North, Aaron Rodgers' status, Jay Cutler's value and more.
Gary Pinkel, Missouri
Missouri coach Gary Pinkel comments on his future, what about Auburn poses the biggest challenge for his team, the atmosphere in Columbia leading up to the weekend's matchup, transitioning to the SEC and more.