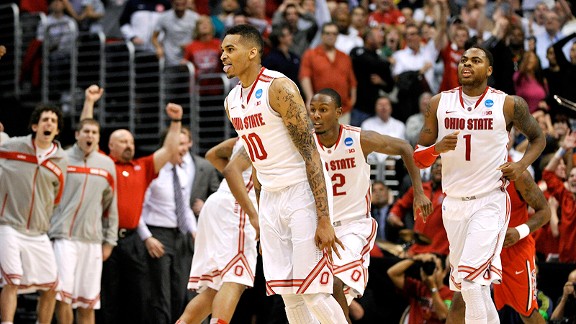 Robert Hanashiro/USA TODAY SportsJay Bilas tells the guys about Arizona-Ohio State, Syracuse-Indiana, Marquette-Miami and more.
• Syracuse coach Jim Boeheim comments on the Orange's win over Indiana in the Sweet 16 of the NCAA tournament, preparing to face Marquette in the Elite Eight and more. Boeheim

• Marquette coach Buzz Williams dishes on the Golden Eagles' win over Miami, getting ready for a matchup with Syracuse in the Elite Eight of the NCAA tournament and more. Williams

• ESPN CBB analyst Bruce Pearl covers Syracuse-Indiana, Marquette-Miami, Arizona-Ohio State, Michigan State-Duke, Michigan-Kansas, Florida Gulf Coast-Florida and more. Pearl

• ESPN's Sage Steele discusses Indiana's loss to Syracuse in the Sweet 16 of the NCAA tournament, the Hoosiers' season and more. Steele

• Greeny, Golic and Bilas share their thoughts on the Sweet 16 of the NCAA tournament, including Syracuse-Indiana, Marquette-Miami, Arizona-Ohio State and more. Listen

BEST OF MIKE & MIKE PODCAST
JAYSON STARK'S MLB TRIVIA
Albert Pujols has now achieved 500 home runs and 100 steals. Who are the other two active players with 400 homers and 100 steals? Listen

FRANK CALIENDO
Our favorite moments with Frank Caliendo:
-Watch: 'A Visit from St. Nicholas'


-Watch: William Shatner


-Listen: #GolicButtPhoto voicemails


-Watch: Donald Trump


-Listen: Trick-or-Treat


-Watch: Stephen A. Smith


-Watch: Mel Kiper Jr.


-Watch: Charles Barkley


-Watch: Allen Iverson's rant


-Watch: Remembering Robin Williams


-Watch: LeBron James' letter

THE HIGHLIGHTS
Ryan Smith, NFL
ABC News' Ryan Smith covers the denial of Tom Brady's appeal by Roger Goodell on behalf of the NFL and shares why at this point it is in the best interest of Brady's reputation to proceed with a lawsuit against the league even if he is guilty.
Sal Paolantonio, NFL
ESPN NFL reporter Sal Paolantonio discusses the Patriots' reaction to the league's denial of Tom Brady's appeal and the significance of the destruction of Brady's cell phone.
Bill Polian, NFL
ESPN NFL analyst Bill Polian offers his insights on Tom Brady's response to his upheld suspension, Bill Belichick's approach to the season and Roger Goodell's power.
Dan Graziano, NFL
ESPN Giants reporter Dan Graziano shares his lack of optimism that a settlement can be reached between Tom Brady and the NFL regarding the appeal of Brady's four-game suspension. Plus, Graziano covers why New York has yet to examine Jason Pierre-Paul.
Jayson Stark, MLB
ESPN MLB Insider Jayson Stark shares his thoughts on the Blue Jays' acquisition of Troy Tulowitzki, including why more should come from Toronto. Plus, Stark covers why David Price will not be traded and why the Phillies still have yet to find an offer for Cole Hamels that they like.
Jimbo Fisher, Florida State
Florida State coach Jimbo Fisher comments on the QB competition for the Seminoles, overcoming the loss of Jameis Winston, the addition of Everett Golson, the maturity of young players and the perils of social media.
Buster Olney, MLB
ESPN MLB Insider Buster Olney covers the latest on the trade deadline, including the Royals' acquisition of Johnny Cueto, the status of David Price and the most likely destination for Cole Hamels.
Doug Glanville, MLB
ESPN MLB analyst Doug Glanville believes that the Dodgers should do everything they can to land Cole Hamels even if it means trading a top prospect. Plus, Glanville weighs in on Alex Rodriguez's candidacy for MLB Comeback Player of the Year.
OFF-MIKES EPISODES
View episodes of ESPN.com's first Emmy winner, "Off-Mikes," a series based on the interactions of Greeny and Golic on "Mike & Mike."
-"Snook, Line and Sinker"


-"Wee-Wee Mon Sewer"


-"Raging Bull-Oney"


-"Bend It Like Golic"


-"The Wettest Yard"


-"Pomp You Up"


-"Throw Momma from the Chair"


-"Air Force Ton"


-"Night of the Living Chippers"

BEST OF MIKE & MIKE ON ESPN RADIO: SUPER SWEET 16 MARCH 29