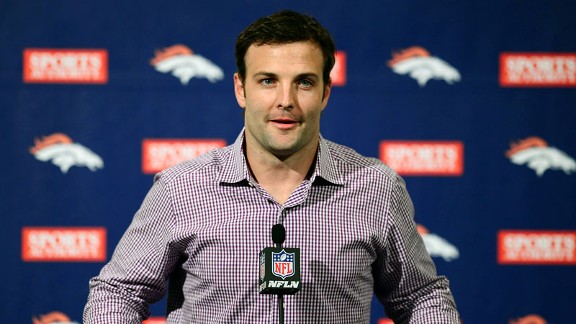 Ron Chenoy/USA TODAY SportsWes Welker tells the guys about signing with the Broncos, Peyton Manning, Tom Brady and more.
• Broncos WR Wes Welker weighs in on his decision to join Denver, the recent conversations that he has had with Peyton Manning and Tom Brady and more. Welker

• The NFL Network's Mike Mayock shares his thoughts on Nolan Nawrocki's criticism of Geno Smith, the QB class for the draft and more. Mayock

THE HIGHLIGHTS
Brian Billick, NFL
Super Bowl XXXV champion Brian Billick dishes on the Seahawks' weaknesses, the state of the NFC North, Aaron Rodgers' status, Jay Cutler's value and more.
Gary Pinkel, Missouri
Missouri coach Gary Pinkel comments on his future, what about Auburn poses the biggest challenge for his team, the atmosphere in Columbia leading up to the weekend's matchup, transitioning to the SEC and more.
Tom Osborne, CFB
College Football Hall of Famer Tom Osborne discusses the ending to Alabama-Auburn, Michigan State's defense, the case for a one-loss team playing in the national championship and more.
Herm Edwards, NFL
ESPN NFL analyst Herm Edwards weighs in on how to beat the Seahawks, Bill Belichick's comments about replay, the playoff picture, Mike Tomlin's apology and more.
Mike Slive, CFB
SEC commissioner Mike Slive comments on why the winner of his conference deserves to play in the national championship more than Ohio State, the value of a loss, the competitiveness of his teams and more.
Charles Barkley, CFB
Basketball Hall of Famer Charles Barkley comments on Auburn's last-second win over Alabama, the BCS standings, the Nets' disappointing start, Paul George's style of play and more.
Rob Gronkowski, Patriots
Patriots TE Rob Gronkowski weighs in on the state of New England's offense, Antonio Smith's controversial comments, illegal hits, his health and more.
Cris Carter, NFL
ESPN NFL analyst Cris Carter covers Saints-Seahawks, Russell Wilson's style of play, USC's decision to hire Steve Sarkisian, the BCS standings and more.