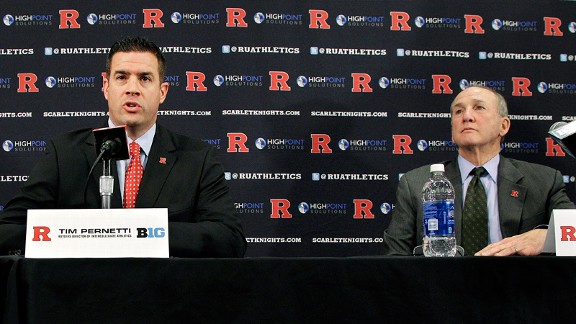 AP Photo/Mel EvansThe guys give their takes on the ouster of Rutgers athletic director Tim Pernetti and much more.
• Northwestern coach Chris Collins discusses the gruesome injury that Kevin Ware suffered against Duke, his expectations for the Wildcats and more. Collins

• ESPN CBB analyst Digger Phelps dishes on Rutgers' dismissal of Mike Rice, Rice's future, Syracuse-Michigan, the Orange's zone defense, Wichita State-Louisville and more. Phelps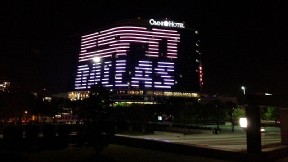 Kelly Carey/ESPN RadioSpecial thanks to Dallas for hosting Mike & Mike.
• ESPN CBB analyst Jalen Rose weighs in on the 20th anniversary of the NCAA title game between Michigan and North Carolina, the matchups in the Final Four and more. Rose

• ESPN CBB analyst Bruce Pearl comments on Ed Rush's resignation as the Pac-12's coordinator of officiating, Rutgers' firing of Mike Rice, the Final Four and more. Pearl

• Greeny and Golic react to Brett McMurphy's report that Tim Pernetti is out as Rutgers' athletic director following the firing of Mike Rice. Listen

LIVE ON ESPNNEWYORK.COM
SportsCenter AllNight
12:00 AM-6:00 AM


SUPER WEEK
MIKE & MIKE'S 15TH ANNIVERSARY
The show is celebrating its 15th anniversary this year. You're invited to join the festivities. More »
TABASCO® BOLD MOMENT OF THE WEEKEND
Mike & Mike select the TABASCO® Bold Moment of the Weekend. Plus, some TABASCO® inspired recipes for the NFL playoffs. More »
#GOLICBUTTPHOTO SHIRT
Muze Clothing has created a shirt featuring the infamous #GolicButtPhoto. All proceeds benefit the South Bend Center for the Homeless. More »
FRANK CALIENDO
Our favorite moments with Frank Caliendo:
-Watch: 'A Visit from St. Nicholas'


-Watch: William Shatner


-Listen: #GolicButtPhoto voicemails


-Watch: Donald Trump


-Listen: Trick-or-Treat


-Watch: Stephen A. Smith


-Watch: Mel Kiper Jr.


-Watch: Charles Barkley


-Watch: Allen Iverson's rant


-Watch: Remembering Robin Williams


-Watch: LeBron James' letter

THE HIGHLIGHTS
J.J. Watt, Texans
Texans DE J.J. Watt dishes on his MVP candidacy, his areas for improvement, Jadeveon Clowney's potential, Houston's future at QB, the Patriots' offense and defending Marshawn Lynch.
Joe Buck, NFL
FOX Sports' Joe Buck covers his broadcasting experiences, addressing Deflategate during the Super Bowl XLIX broadcast, potential MLB rule changes and Seattle's improvement.
Merril Hoge, NFL
ESPN NFL analyst Merril Hoge gives his takes on the adaptability of the Patriots' offense and how New England should approach defending Marshawn Lynch.
Justin Tuck, Raiders
Raiders DE Justin Tuck talks about his leadership, Marshawn Lynch's relationship with the media, how the Patriots should attack the Seahawks and Tom Brady's play-making abilities.
Herm Edwards, NFL
ESPN NFL analyst Herm Edwards covers how he would coach Marshawn Lynch, the impending birth of Richard Sherman's son, Sherman's health and defending Rob Gronkowski.
Arian Foster, Texans
Texans RB Arian Foster weighs in on which team will win the Super Bowl, LeGarrette Blount's running style, the Seahawks' defense and the requirement that players must speak with the media.
Charles Woodson, Raiders
Raiders S Charles Woodson offers his insights on Marshawn Lynch's reluctance to speak with the media, the Seahawks' defense and whether Tom Brady is the best QB of all time.
Jon Gruden, NFL
Monday Night Football's Jon Gruden discusses Super Bowl media day, the Seahawks' defense, the Patriots' approach to Seattle's offense and Russell Wilson's ability to improvise.
BEST OF MIKE & MIKE ON ESPN RADIO: FANTASTIC FOUR? APRIL 5