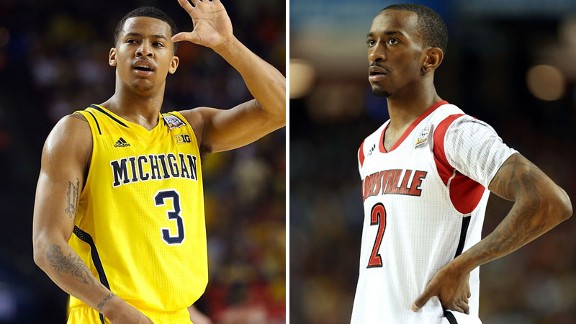 Getty ImagesJalen Rose tells the guys about Michigan-Louisville, whether the Fab Five will be in Atlanta and more.
• ESPN CBB analyst Jalen Rose dishes on Michigan-Louisville, whether there will be a Fab Five reunion at the NCAA title game, Mitch McGary, the Knicks' winning streak and more. Rose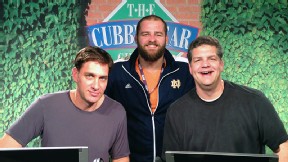 ESPN RadioMike Golic Jr. visited the guys in Chicago.
• ESPN CBB analyst Jay Bilas covers the state of college basketball, potential rule changes, his expectations for the NCAA title game between Michigan and Louisville and more. Bilas

• ESPN CBB analyst Bruce Pearl discusses the rule changes that could be made after this season, the key matchups between Michigan and Louisville in the NCAA title game and more. Pearl

-The crowd in Chicago does the "Harlem Shake" during a break. Watch

LIVE ON ESPNNEWYORK.COM


Coming Up

7:00 PM

Dave Rothenberg

8:00 PM

ESPNews,Yankees vs. Astros on 98.7 FM
BEST OF MIKE & MIKE PODCAST
LOCKS
ELIMINATOR CHALLENGE
See how Greeny, Golic and the Mike & Mike staff are faring in the show's Eliminator Challenge group for the NFL season. Eliminator Challenge »
JAYSON STARK'S MLB TRIVIA
If Jake Arrieta fails to win the NL Cy Young Award, he has the consolation that three active pitchers with at least 21 victories in a season didn't receive the Cy Young during that same season. Who are these individuals? Listen

FRANK CALIENDO
Our favorite moments with Frank Caliendo:
-Watch: 'A Visit from St. Nicholas'


-Watch: William Shatner


-Listen: #GolicButtPhoto voicemails


-Watch: Donald Trump


-Listen: Trick-or-Treat


-Watch: Stephen A. Smith


-Watch: Mel Kiper Jr.


-Watch: Charles Barkley


-Watch: Allen Iverson's rant


-Watch: Remembering Robin Williams


-Watch: LeBron James' letter

THE HIGHLIGHTS
Dan Le Batard, NFL
ESPN's Dan Le Batard shares his thoughts on the firing of Joe Philbin from the Dolphins, how Miami can overcome the toxicity of its locker-room culture and why we're seeing a decline in Ryan Tannehill.
Buster Olney, MLB
ESPN MLB Insider Buster Olney comments on CC Sabathia's voluntary entrance to rehab for alcohol abuse, the Yankees' wild-card matchup with the Astros and who should win the NL Cy Young.
Jeff Daniels, NFL
Actor Jeff Daniels shares the woes of being a Detroit sports fan, his experiences in filming the most recent Steve Jobs biopic and who he's most enjoyed working with in his career in Hollywood.
Tom Waddle, NFL
ESPN 1000 in Chicago's Tom Waddle comments on Matt Forte's future with the Bears, DeMarco Murray's fit with the Eagles, the demise of the Dolphins and the quick turnaround for the Falcons.
Louis Riddick, NFL
ESPN NFL Insider Louis Riddick declares that Ryan Mathews is better than DeMarco Murray, that the Falcons are the blueprint for team building and that the Dolphins' defense is easy for any QB to read.
Danny Kanell, CFB
ESPN Radio's Danny Kanell discusses why Ohio State should stay No. 1 after several close calls, why Urban Meyer needs to switch to J.T. Barrett, why Mark Richt should keep his job and why Texas fans need to tread lightly.
Joey Galloway, ESPN CFB Analyst
ESPN CFB analyst Joey Galloway comments on the NFL's rules for early entrance from college to the draft, Georgia's psyche going into their matchup with Alabama and who will come out on top between Notre Dame and Clemson.
Ron Jaworksi, ESPN NFL Analyst
ESPN NFL analyst Ron Jaworski dishes on anonymous comments from Browns players regarding Johnny Manziel's playing time, the Raiders' future with David Carr at QB, Julio Jones' performance this season and more.
OFF-MIKES EPISODES
View episodes of ESPN.com's first Emmy winner, "Off-Mikes," a series based on the interactions of Greeny and Golic on "Mike & Mike."
-"Snook, Line and Sinker"


-"Wee-Wee Mon Sewer"


-"Raging Bull-Oney"


-"Bend It Like Golic"


-"The Wettest Yard"


-"Pomp You Up"


-"Throw Momma from the Chair"


-"Air Force Ton"


-"Night of the Living Chippers"

BEST OF MIKE & MIKE ON ESPN RADIO: LAST DANCE APRIL 8