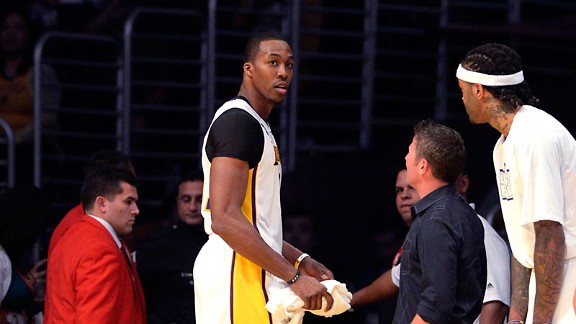 Richard Mackson/USA TODAY SportsThe guys discuss the Lakers' disappointing season, Dwight Howard's future in Los Angeles and more.
• ESPN New York 98.7 FM's Stephen A. Smith dishes on what comes next for Dwight Howard and the Lakers, J.R. Smith's suspension, the Jets' addition of Geno Smith and more. Smith

• Greeny and Golic share their thoughts on the Spurs' elimination of the Lakers, Dwight Howard's ejection, Howard's future in Los Angeles and more. Listen

BEST OF MIKE & MIKE PODCAST
JAYSON STARK'S MLB TRIVIA
Adrian Beltre is one of three active players with at least 300 home runs and four Gold Gloves. Who are the other two individuals? Listen

FRANK CALIENDO
Our favorite moments with Frank Caliendo:
-Watch: 'A Visit from St. Nicholas'


-Watch: William Shatner


-Listen: #GolicButtPhoto voicemails


-Watch: Donald Trump


-Listen: Trick-or-Treat


-Watch: Stephen A. Smith


-Watch: Mel Kiper Jr.


-Watch: Charles Barkley


-Watch: Allen Iverson's rant


-Watch: Remembering Robin Williams


-Watch: LeBron James' letter

THE HIGHLIGHTS
Ric Bucher, Bleacher Report
Ric Bucher of Bleacher Report discusses the legitimacy of Al Horford's ejection, how despite his decline in efficiency LeBron is playing better than ever and why the Warriors are a class above everyone else this year.
Mark Brunell, ESPN NFL Analyst
ESPN NFL analyst Mark Brunell weighs in on preferential treatment for certain players and game situations in the NFL based on importance and historical significance. Plus, he discusses the latest from Deflategate.
Avery Johnson, Alabama HC/Former ESPN NBA Analyst
Alabama head coach and former ESPN NBA analyst Avery Johnson weighs in on Cavs-Hawks Game 3 including Al Horford's ejection, LeBron's performance and the rash of injuries to hit title contenders.
Stephen A. Smith, NBA
First Take's Stephen A. Smith talks about the Rockets' chances to come back against the Warriors, DeMarre Carroll's importance and fan sentiment if Cleveland fails to win the title.
Brad Stevens, Celtics
Celtics coach Brad Stevens dishes on the use of analytics in the NBA, the best strategy for defending the Warriors, teams' approach to the draft and Stephen Curry's 3-point shooting abilities.
Frank Caliendo, Comedian
Comedian Frank Caliendo shares his thoughts on appearing on the "Late Show with David Letterman" and how Letterman influenced the entertainment industry.
Adam Schefter, NFL
ESPN NFL Insider Adam Schefter covers Robert Kraft's decision not to appeal Deflategate sanctions on behalf of the Patriots, the future of Tom Brady's appeal as well as the potential of the NFL in L.A. in 2016.
Jim and Erin Kelly, NFL
Pro Football Hall of Famer Jim Kelly and Kelly's daughter, Erin Kelly, dish on the process of writing Erin's new book "Kelly Tough," the book's message and how cancer changed Jim's priorities.
OFF-MIKES EPISODES
View episodes of ESPN.com's first Emmy winner, "Off-Mikes," a series based on the interactions of Greeny and Golic on "Mike & Mike."
-"Snook, Line and Sinker"


-"Wee-Wee Mon Sewer"


-"Raging Bull-Oney"


-"Bend It Like Golic"


-"The Wettest Yard"


-"Pomp You Up"


-"Throw Momma from the Chair"


-"Air Force Ton"


-"Night of the Living Chippers"

BEST OF MIKE & MIKE ON ESPN RADIO: HOLLYWOOD DIVORCE?