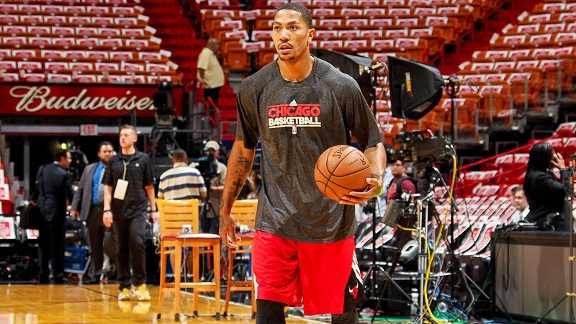 Issac Baldizon/NBAE/Getty ImagesThe guys cover Derrick Rose, Heat-Bulls, Spurs-Warriors, Knicks-Pacers, Thunder-Grizzlies and more.
• Basketball Hall of Famer Patrick Ewing dishes on Pacers-Knicks, LeBron James' dominance, Dwight Howard's future, why he hasn't become a head coach in the NBA and more. Ewing

• Basketball Hall of Famer David Robinson discusses the lack of traditional centers in the NBA, Warriors-Spurs, Gregg Popovich, Tim Duncan and more. Robinson

• ESPN Radio's Colin Cowherd comments on Bulls-Heat, Derrick Rose's status, the fan who made an obscene gesture at Joakim Noah, the blown call in Athletics-Indians and more. Cowherd

• Greeny and Golic look ahead to every Game 3 in the conference semifinals of the NBA playoffs. Will Derrick Rose return to the Bulls' lineup in Chicago? Listen

NCAA TOURNAMENT BET PAYOFFS
Mike Greenberg completes the latest installment of the guys' bracket wager payoff. Photos


Watch: Greeny Milks a Cow


Watch: Greeny Gets Waxed


Watch: Greeny Competitively Eats


Watch: Greeny Sings Vanilla Ice

JAYSON STARK'S MLB TRIVIA
Todd Helton played all of his major league seasons with the Rockies. Three active players have remained with the same team for at least 12 seasons. Who are these individuals? Listen

THE HIGHLIGHTS
Ryan Howard, Phillies
Phillies 1B Ryan Howard talks about the pace of play in baseball and inner city youth involvement in the sport.
Matt Cassel, Vikings
Vikings QB Matt Cassel talks about playing with Adrian Peterson and how many games Minnesota will win.
Jim Kelly, NFL
Pro Football Hall of Famer Jim Kelly talks about his battle with cancer and Andre Reed's HOF induction.
Urban Meyer, Ohio State
Ohio State coach Urban Meyer talks about losing QB Braxton Miller to injury.
Mary Kay Cabot, NFL
The Plain Dealer's Mary Kay Cabot discusses the Browns' decision to name Brian Hoyer their starting QB.
Doc Rivers, Clippers
Clippers coach Doc Rivers talks about his team's new owner and whether he ever considered leaving the squad.
Ryan Clark, Redskins
Redskins S Ryan Clark talks about Johnny Manziel's performance against Washington and Manziel's gesture during the game.
Jayson Stark, MLB
ESPN MLB Insider Jayson Stark quizzes Mike Greenberg and Mike Golic with a trivia question and covers Josh Hamilton's removal from the Angels' lineup against the Rangers.
BEST OF MIKE & MIKE ON ESPN RADIO: THE RETURN?