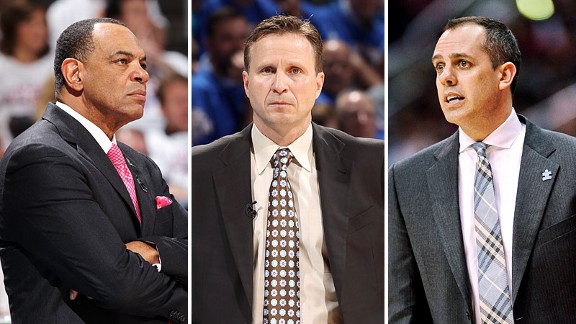 Getty ImagesThe Grizzlies' Lionel Hollins, the Thunder's Scott Brooks and the Pacers' Frank Vogel joined the guys.
• Thunder coach Scott Brooks talks about dealing with Marc Gasol and Zach Randolph, what Kevin Durant is like, the impact of Russell Westbrook's injury, James Harden and more. Brooks

• Grizzlies coach Lionel Hollins weighs in on Memphis' style of play, Marc Gasol, Zach Randolph, Mike Conley, his contract status, Dr. Jack Ramsay and more. Hollins

• Pacers coach Frank Vogel shares his thoughts on Indiana's matchup with the Knicks, the potential return of Amar'e Stoudemire, the perception of his team and more. Vogel

MIKE & MIKE AT NBA ALL-STAR WEEKEND
MIKES AND ME
Now you can be pictured with Mike & Mike! Print this image, pose with the Mikes and tweet your photo to @MikeAndMike using the hashtag #MikesAndMe for a chance to be featured here and on the show. Watch

THE HIGHLIGHTS
Lovie Smith, Buccaneers
Buccaneers coach Lovie Smith comments on signing Josh McCown, assessing Darrelle Revis' health, building Tampa Bay's defense, Mike Glennon's future and more.
Andrew McCutchen, Pirates
Pirates OF Andrew McCutchen dishes on his hair, Ken Griffey Jr.'s praise of him, the vibe at spring training, Clint Hurdle's impact on Pittsburgh, takeaways from last season and more.
Donnie Walsh, Pacers
Pacers consultant Donnie Walsh comments on the Pacers' skid, expectations for Andrew Bynum, the Nets' resurgence, whether James Dolan would give Phil Jackson autonomy and more.
Gregg Marshall, Wichita State
Wichita State coach Gregg Marshall dishes on the meaning of "playing angry," whether his players play with a chip on their shoulders, challenges of coaching an undefeated team and more.
Adam Schefter, NFL
ESPN NFL Insider Adam Schefter weighs in on whether the Buccaneers will release Darrelle Revis, the Saints' handling of Darren Sproles, the Texans' chances for Josh McCown and more.
Justin Verlander, Tigers
Tigers P Justin Verlander dishes on differences between Jim Leyland and Brad Ausmus, daring Torii Hunter to kiss an alligator, recovering from core-muscle surgery and more.
Warren Buffett, CBB
Billionaire Warren Buffett comments on his career path, the right temperament for success, the Billion Dollar Bracket Challenge, whether Ndamukong Suh is misunderstood and more.
Herm Edwards, NFL
ESPN NFL analyst Herm Edwards discusses Darrelle Revis' future, the value of cover corners, where Michael Vick and Josh McCown could land, Darren Sproles' abilities and more.
MikeAndMike Mike & Mike
Time to enter the #5thHour w/ @5hourenergy. Do you agree with @kobebryant calling out Jim and @JeanieBuss?
about 10 hours ago

espngolic Mike Golic
"@NDmom: This wasn't Hank but I love this guys spunk!! https://t.co/65VRw9kAsV"that is great
about 12 hours ago

Espngreeny Mike Greenberg
I like the Decker signing. Didn't break the bank. Still need another WR. But it's a fine place to start. #Jets
about 20 hours ago

Espngreeny Mike Greenberg
Herman likes #Bucs to win NFC South next year. If #Panthers don't get Cam some receivers, I think I agree.
about 21 hours ago

espngolic Mike Golic
"@Albino0110Mike: @espngolic how you feel about DWare going to broncos?"They know Peyton has a couple yrs left, so they are going to buy big
about 21 hours ago

espngolic Mike Golic
"@Bada_Bingham: @espngolic @4Arnold4 No pancakes...right?"haha.... Nope, gave them up for lent
about 21 hours ago

espngolic Mike Golic
"@4Arnold4: @espngolic I see you in the airport." Yes, I am here, just had a wonderful breakfast
about 21 hours ago

MikeAndMike Mike & Mike
Send us your questions for N.L. MVP @TheCUTCH22 at 8:15 ET and we'll ask him on the air! #AskAPirate
about 21 hours ago

MikeAndMike Mike & Mike
The only thing worse for @Espngreeny than Darrelle Revis going to the #Patriots would be _____. CALL US! The M&M Chatter Line: 740-535-6453
about 22 hours ago

espngolic Mike Golic
"@Rodshopp: @MikeAndMike The show is so much better without @espngolic ...sorry to say show is gonna get real bad for you Monday then.
about 22 hours ago

Espngreeny Mike Greenberg
As of right now, #Broncos remain team to beat in AFC. If #Patriots get Sproles, it goes the other way.
about 22 hours ago

MikeAndMike Mike & Mike
Fill In The Blank: The only thing worse for @Espngreeny than Darrelle Revis going to the #Patriots would be _____
about 22 hours ago

Espngreeny Mike Greenberg
The #Patriots signed the most valuable defensive player in the NFL. No point in pretending otherwise. #Revis
about 22 hours ago

espngolic Mike Golic
"@NDmom: @EricRingel @MGolicJR57 @SydGolic everybody's wins when wearing robes." Has the house gone mad, I just left
1 day ago

espngolic Mike Golic
"@Keith41378: @espngolic how are you not sleeping yet?" Still in AZ.... I'm off until Monday, Greeny should have recovered by then
1 day ago

espngolic Mike Golic
"@ChargingOX: @espngolic is greenie on the ledge after the breaking news that #Revis signed with the #Patriots ?"rough show tomorrow
1 day ago

MikeAndMike Mike & Mike
The shoe drops! RT @SportsCenter: CB Darrelle Revis and the Patriots have reached agreement on a 1 year, $12 mill deal (via @AdamSchefter)
1 day ago

MikeAndMike Mike & Mike
RT @Espngreeny: Now, please...RT "@StacyGSG: I've been asked to remove this photo from the wall. #Revis #Jets #Pats http://t.co/7HcZiJIT…
1 day ago

Espngreeny Mike Greenberg
Now, please...RT "@StacyGSG: I've been asked to remove this photo from the wall. #Revis #Jets #Pats http://t.co/7HcZiJIT6w"
1 day ago

Espngreeny Mike Greenberg
I've had better days.
1 day ago
BEST OF MIKE & MIKE ON ESPN RADIO: ELITE EIGHT