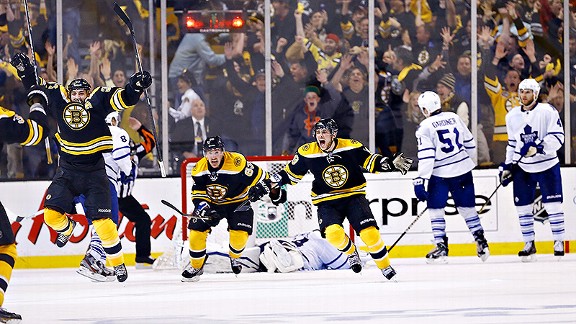 Jared Wickerham/Getty ImagesThe guys give their takes on the Bruins' rally from a three-goal deficit in the third period and more.
• Greeny and Golic cover the Bruins' unprecedented comeback against the Maple Leafs, the Rangers' win over the Capitals, Alex Ovechkin's comments about the officiating and more. Listen

• ESPN NFL analyst Herm Edwards explains why Dick Vermeil didn't see his game-winning TD in the "miracle at the Meadowlands" and more. Edwards

LIVE ON ESPNNEWYORK.COM


NCAA TOURNAMENT BET PAYOFFS
Mike Greenberg completes the latest installment of the guys' bracket wager payoff. Photos


Watch: Greeny Milks a Cow


Watch: Greeny Gets Waxed


Watch: Greeny Competitively Eats


Watch: Greeny Sings Vanilla Ice

JAYSON STARK'S MLB TRIVIA
Todd Helton played all of his major league seasons with the Rockies. Three active players have remained with the same team for at least 12 seasons. Who are these individuals? Listen

THE HIGHLIGHTS
Ryan Clark, Redskins
Redskins S Ryan Clark talks about Johnny Manziel's performance against Washington and Manziel's gesture during the game.
Jayson Stark, MLB
ESPN MLB Insider Jayson Stark quizzes Mike Greenberg and Mike Golic with a trivia question and covers Josh Hamilton's removal from the Angels' lineup against the Rangers.
Mike Krzyzewski, Duke
Duke coach Mike Krzyzewski marvels over Anthony Davis and comments on academic fraud.
Jack Swarbrick, Notre Dame
Notre Dame AD Jack Swarbrick talks about the allegations of academic fraud involving his school's football team.
Mo'ne Davis, Little League
Pennsylvania pitcher Mo'ne Davis talks about playing in the Little League World Series and whether boys give her a hard time on the field.
Cris Collinsworth, NFL
NBC Sports' Cris Collinsworth talks about the significance of the NFL preseason and Johnny Manziel's abilities.
Tim Kurkjian, MLB
ESPN MLB Insider Tim Kurkjian covers Rob Manfred's election as the league's next commissioner, baseball's popularity among young fans and expectations for Manfred in his new role.
Danny Kanell, CFB
ESPN CFB analyst Danny Kanell discusses teams that are trending upward, the state of Florida State, the top candidates for the Heisman Trophy and the College Football Playoff.
BEST OF MIKE & MIKE ON ESPN RADIO: BELIEVE IN BOSTON