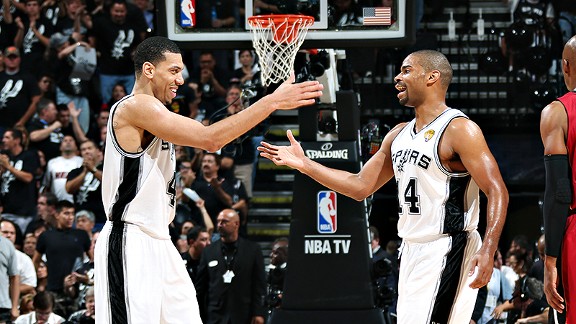 Nathaniel S. Butler/NBAE/Getty ImagesGreeny, Golic and Doug Collins break down the amazing performance by the Spurs in their Game 3 win.
• Greeny, Golic and Doug Collins chat about San Antonio's incredible performance against the Heat in Game 3, the Spurs' record-breaking performance from 3-point range and the struggles of the Heat's stars. Listen

• ESPN NBA analyst Tim Legler weighs in on the Spurs' rout of the Heat, the contributions of San Antonio's role players, the confidence the Spurs will game from Game 3 and how the Heat will respond. Legler

• Basketball Hall of Famer David Robinson talks about the boost the Spurs got from their bench, Gregg Popovich's coaching style, the importance of Tim Duncan, LeBron James' struggles in Game 3 and more. Robinson

• NBA on ESPN Radio analyst Hubie Brown dishes on the Spurs' defensive approach against LeBron James, what the Heat have to do to adjust in Game 4 and says Miami's starters aren't carrying enough of the load thus far in the series. Brown

• Former NBA player Grant Hill discusses the pressure that comes with being the best player of your team, the mindset LeBron James needs to have in the Finals, his decision to retire after this season, his lasting legacy and more. Hill

LIVE ON ESPNNEWYORK.COM
Robin Lundberg
4:00 AM-6:00 AM


Coming Up

6:00 AM

Mike & Mike

10:00 AM

Waddle and Silvy

12:00 PM

Dave Rothenberg
BEST OF MIKE & MIKE PODCAST
espngolic Mike Golic
Thanks Drew, sorry I missed you, will try and get you on the show soon https://t.co/2iPAoFcIyt
about 8 hours ago

espngolic Mike Golic
I'm all for that, HUGE fan of your show https://t.co/Aad5jcx6B8
about 11 hours ago

MikeAndMike Mike & Mike
. @MrDrewScott Only if we can make #PropertyBrothersAndMikeAndMike! http://t.co/2vjuhTnWTE
about 11 hours ago

MikeAndMike Mike & Mike
Today, Greeny & Golic WENT OFF on Virginia Tech fining players & who should hold the power in the NFL. LISTEN: http://t.co/ZjxkHOLtsR
about 12 hours ago

Espngreeny Mike Greenberg
They aren't being paid, Price. If they were it would be an entirely different discussion. https://t.co/bgMvtANPew
about 17 hours ago

Espngreeny Mike Greenberg
The #Mets were the lowest scoring team in MLB before the trade deadline. They are the highest scoring team since.
about 17 hours ago

Espngreeny Mike Greenberg
This idea of taking money from college football players as a motivational tool is positively disgraceful.
about 18 hours ago

Espngreeny Mike Greenberg
If I'm a fan of the New York #Giants, I want Odell Beckham to say less.
about 18 hours ago

Espngreeny Mike Greenberg
One of my favorite things about this guy (Manfred, not Golic) is his open mindedness. He... http://t.co/dzXc37pIfe http://t.co/GAXC8IUDqE
about 18 hours ago

Espngreeny Mike Greenberg
It's a mistake for anyone to have the amount of discretionary power Roger Goodell has. Doesn't serve anyone's best interest. Especially his.
about 18 hours ago

MikeAndMike Mike & Mike
Hey @espngreeny, what are your thoughts on Virginia Tech fining football players for disciplinary issues? https://t.co/ydnDX1IcLv
about 21 hours ago

MikeAndMike Mike & Mike
Greeny really knows how to give a compliment. https://t.co/ZOUuuwXS3h
about 22 hours ago

Espngreeny Mike Greenberg
Golic said it today: There will be more attention paid to other moves. But the #Broncos signing Evan Mathis is the most important.
1 day ago

Espngreeny Mike Greenberg
Jordan Spieth is worried about fans in Jersey because he's a #Cowboys fan. Someone needs to show him this. http://t.co/isWGU5zjJc
1 day ago

Espngreeny Mike Greenberg
What the Chicago Cubs have done is in part a credit to Theo Epstein and his staff. But just as much, it's a... http://t.co/mAydX5IEjc
1 day ago

Espngreeny Mike Greenberg
If the season ended today, Terry Collins would win NL manager of year. And probably be the right choice. #Mets
1 day ago

Espngreeny Mike Greenberg
I think AJ Hinch wins the AL manager of the year no matter what happens from here. #Astros
1 day ago

Espngreeny Mike Greenberg
#NationalDogDay https://t.co/gXVs8wFiYI
1 day ago

NDmom christine golic
Hey it's #NationalDogDay http://t.co/n77SY9vcFF
1 day ago

MikeAndMike Mike & Mike
"Ezekiel Elliott of Ohio State will win the Heisman Trophy this year." - @KirkHerbstreit of @CollegeGameDay http://t.co/QE8SwNxrq5
1 day ago
JAYSON STARK'S MLB TRIVIA
David Wright is one of four active players who have spent the last 12 seasons with the same team. Who are the other three? Listen

FRANK CALIENDO
Our favorite moments with Frank Caliendo:
-Watch: 'A Visit from St. Nicholas'


-Watch: William Shatner


-Listen: #GolicButtPhoto voicemails


-Watch: Donald Trump


-Listen: Trick-or-Treat


-Watch: Stephen A. Smith


-Watch: Mel Kiper Jr.


-Watch: Charles Barkley


-Watch: Allen Iverson's rant


-Watch: Remembering Robin Williams


-Watch: LeBron James' letter

THE HIGHLIGHTS
Rich Cohen, MLB
Rich Cohen of Sports Illustrated takes a look inside the Cubs' push to break the curse and win their first World Series since 1908. He feels that this new generation of players has changed the mentality of Chicago fans.
Ben Roethlisberger, Steelers
Steelers QB Ben Roethlisberger dishes on his relationship with Todd Haley, Maurkice Pouncey's injury, the signing of Michael Vick, adjusting to new rules in preseason and the athleticism of Antonio Brown.
Sean Payton, Saints
Saints coach Sean Payton comments on motivating his team following Hurricane Katrina, New Orleans' journey to a Super Bowl and how the squad has affected the community since the storm.
Jeremy Fowler, NFL
ESPN Steelers reporter Jeremy Fowler shares his thoughts on Pittsburgh's signing of Michael Vick as a backup to Ben Roethlisberger and the health of Maurkice Pouncey.
Rece Davis & Kirk Herbstreit, CFB
Rece Davis and Kirk Herbstreit of College GameDay weigh in on Ohio State's fight with complacency, USC's chances to win the Pac-12 and who is best positioned for the Heisman Trophy.
Marcellus Wiley, CFB
ESPN LA 710's Marcellus Wiley gives his takes on Steve Sarkisian's behavior at the Salute to Troy event, the reaction to the incident and Sarkisian's reputation.
Wright Thompson, NFL
ESPN.com senior writer Wright Thompson offers his thoughts on New Orleans' recovery 10 years after Hurricane Katrina and shares the importance of the Saints as a mainstay in the community.
Tim Hasselbeck, NFL
ESPN NFL analyst Tim Hasselbeck offers his insights on the development of Jameis Winston and Marcus Mariota, watching QBs in the preseason and protecting QBs.
OFF-MIKES EPISODES
View episodes of ESPN.com's first Emmy winner, "Off-Mikes," a series based on the interactions of Greeny and Golic on "Mike & Mike."
-"Snook, Line and Sinker"


-"Wee-Wee Mon Sewer"


-"Raging Bull-Oney"


-"Bend It Like Golic"


-"The Wettest Yard"


-"Pomp You Up"


-"Throw Momma from the Chair"


-"Air Force Ton"


-"Night of the Living Chippers"

BEST OF MIKE & MIKE ON ESPN RADIO: BOUNCING BACK