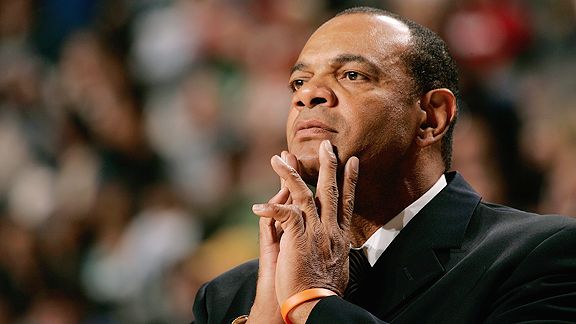 Glenn James/NBAE/Getty ImagesLionel Hollins talks about parting ways with the Grizzlies and gives his take on the NBA Finals.
• Former Grizzlies coach Lionel Hollins talks about parting ways with Memphis and where he might end up coaching next season. Hollins also gives his take on the NBA Finals and Jason Kidd being hired by the Nets. Listen

• Miami Herald Columnist Greg Cote talks about the Heat's preparations for Game 4, says Miami still has plenty of confidence going into the game and discusses what the team needs to do offensively to make the Big 3 more effective. Listen

BEST OF MIKE & MIKE PODCAST
JAYSON STARK'S MLB TRIVIA
Giancarlo Stanton's 125 home runs since the 2012 season are only the fourth most in MLB. Which three players have hit more? Listen

FRANK CALIENDO
Our favorite moments with Frank Caliendo:
-Watch: 'A Visit from St. Nicholas'


-Watch: William Shatner


-Listen: #GolicButtPhoto voicemails


-Watch: Donald Trump


-Listen: Trick-or-Treat


-Watch: Stephen A. Smith


-Watch: Mel Kiper Jr.


-Watch: Charles Barkley


-Watch: Allen Iverson's rant


-Watch: Remembering Robin Williams


-Watch: LeBron James' letter

THE HIGHLIGHTS
Tom Penn, NBA
ESPN NBA analyst Tom Penn covers teams' approaches to the start of free agency, Anthony Davis' contract extension, how the Pelicans should build around Davis and Dwyane Wade's value.
Carli Lloyd, United States
United States M Carli Lloyd dishes on converting a second-half penalty kick in her team's win over Germany in the Women's World Cup, Celia Sasic's missed penalty kick and the upcoming final.
Jayson Stark, MLB
ESPN MLB Insider Jayson Stark gives his takes on Jerry Dipoto's future, the state of the Phillies, whether Ryne Sandberg will manage again and changes to the Home Run Derby format.
Luke Ridnour, Raptors
Raptors G Luke Ridnour comments on being traded four times in less than a week, whether he could retire before next season, the best part about playing in the NBA and how the game has evolved.
Lester Munson, Golf
ESPN legal analyst Lester Munson covers Phil Mickelson's ties to an illegal gambling operation, whether Mickelson will face legal consequences and how the PGA Tour will respond.
Jon Weiner, NBA
ESPN Radio's Jon "Stugotz" Weiner offers his insights on Dwyane Wade's value to the Heat, Miami's potential next season and the team's interest in Kevin Durant.
Julie Foudy, Soccer
ESPN soccer analyst Julie Foudy weighs in on the United States' performance in the Women's World Cup, the team's offensive struggles and the squad's matchup against Germany.
Adam Caplan, NFL
ESPN NFL Insider Adam Caplan discusses Russell Wilson's contract situation, WRs who want new deals, Sam Bradford's future and the timeline for decisions in the appeals of Tom Brady and Greg Hardy.
OFF-MIKES EPISODES
View episodes of ESPN.com's first Emmy winner, "Off-Mikes," a series based on the interactions of Greeny and Golic on "Mike & Mike."
-"Snook, Line and Sinker"


-"Wee-Wee Mon Sewer"


-"Raging Bull-Oney"


-"Bend It Like Golic"


-"The Wettest Yard"


-"Pomp You Up"


-"Throw Momma from the Chair"


-"Air Force Ton"


-"Night of the Living Chippers"

BEST OF MIKE & MIKE ON ESPN RADIO: ON THE HARDWOOD