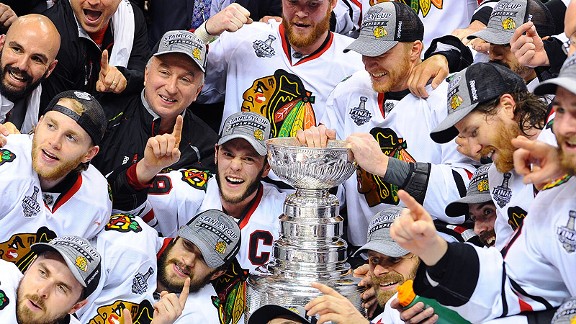 Brian Babineau/NHLI/Getty ImagesThe guys give their takes on the Blackhawks' win over the Bruins in Game 6 of the Stanley Cup finals.
• The Boston Globe's Bob Ryan shares his thoughts on the elimination of the Bruins, LeBron James' dominance, Doc Rivers' departure from the Celtics and more. Ryan

• Greeny and Golic cover the Blackhawks' win over the Bruins to claim the Stanley Cup, the goals that Chicago scored 17 seconds apart in the third period and more. Listen

LIVE ON ESPNNEWYORK.COM


NCAA TOURNAMENT BET PAYOFFS
Mike Greenberg completes the latest installment of the guys' bracket wager payoff. Photos


Watch: Greeny Milks a Cow


Watch: Greeny Gets Waxed


Watch: Greeny Competitively Eats


Watch: Greeny Sings Vanilla Ice

JAYSON STARK'S MLB TRIVIA
Jon Lester has won at least 15 wins five times since 2008. Only three other active pitchers have achieved at least four 15-win seasons since that year. Who are these individuals? Listen

THE HIGHLIGHTS
Jerome Bettis, NFL
ESPN NFL analyst Jerome Bettis covers the state of the NFC North, Emmanuel Sanders' remarks about Ben Roethlisberger, the Steelers' outlook and the Ray Rice situation.
Tim Kurkjian, MLB
ESPN MLB Insider Tim Kurkjian weighs in on the best team in the National League, the futures of David Price and Matt Kemp and the Yankees' trade deadline action.
Pat Fitzgerald, Northwestern
Northwestern coach Pat Fitzgerald dishes on his team's performance last season, how the unionization situation affected the Wildcats and changes he would make to college athletics.
Urban Meyer, Ohio State
Ohio State coach Urban Meyer comments on what he would change about college athletics, Braxton Miller's health, the College Football Playoff and replacing Carlos Hyde.
Gordon Edes, MLB
ESPN Boston's Gordon Edes tells Jorge Sedano and Herm Edwards about Jon Lester's trade status.
Tom Waddle, NFL
ESPN 1000 in Chicago's Tom Waddle delves into the Bears' training camp with Jorge Sedano and Herm Edwards.
Sal Paolantonio, NFL
ESPN NFL reporter Sal Paolantonio discusses the reaction to Ray Rice's suspension in Baltimore.
Jayson Stark, MLB
ESPN MLB Insider Jayson Stark joins Mike Greenberg and Mike Golic to ask his baseball trivia question and gives his take on Jon Lester's trade possibilities.
BEST OF MIKE & MIKE ON ESPN RADIO: THE BIG CHILL