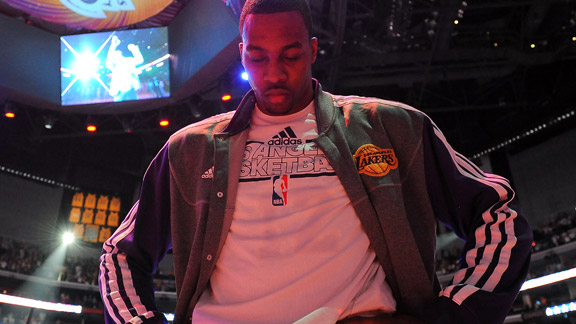 Andrew D. Bernstein/NBAE/Getty ImagesIsrael Gutierrez tells Mark Schlereth and Ryan Ruocco about Dwight Howard's future and much more.
• ESPN.com's Israel Gutierrez dishes on Dwight Howard's free agency, the Warriors' pursuit of Howard, whether the Lakers would consider a sign-and-trade deal and more. Gutierrez

ESPN Radio's Colin Cowherd gives his take on what comes next for Dwight Howard and more. Cowherd


BEST OF MIKE & MIKE PODCAST
LOCKS
ELIMINATOR CHALLENGE
See how Greeny, Golic and the Mike & Mike staff are faring in the show's Eliminator Challenge group for the NFL season. Eliminator Challenge »
JAYSON STARK'S MLB TRIVIA
If Jake Arrieta fails to win the NL Cy Young Award, he has the consolation that three active pitchers with at least 21 victories in a season didn't receive the Cy Young during that same season. Who are these individuals? Listen

FRANK CALIENDO
Our favorite moments with Frank Caliendo:
-Watch: 'A Visit from St. Nicholas'


-Watch: William Shatner


-Listen: #GolicButtPhoto voicemails


-Watch: Donald Trump


-Listen: Trick-or-Treat


-Watch: Stephen A. Smith


-Watch: Mel Kiper Jr.


-Watch: Charles Barkley


-Watch: Allen Iverson's rant


-Watch: Remembering Robin Williams


-Watch: LeBron James' letter

THE HIGHLIGHTS
Joey Galloway, ESPN CFB Analyst
ESPN CFB analyst Joey Galloway comments on the NFL's rules for early entrance from college to the draft, Georgia's psyche going into their matchup with Alabama and who will come out on top between Notre Dame and Clemson.
Ron Jaworksi, ESPN NFL Analyst
ESPN NFL analyst Ron Jaworski dishes on anonymous comments from Browns players regarding Johnny Manziel's playing time, the Raiders' future with David Carr at QB, Julio Jones' performance this season and more.
Brian Billick, NFL
Super Bowl XXXV champion Brian Billick comments on Michael Vick's ability to have success in Ben Roethlisberger's absence, Colin Kaepernick's struggles, the progress of the Raiders and if we will begin to see more of an influence of CFB in the NFL.
Dabo Swinney, Clemson
Clemson coach Dabo Swinney discusses the possibility of inclement weather for the Tigers' showdown with Notre Dame, the Fighting Irish's football independence, dealing with heightened expectations this season and more.
Jayson Stark, MLB
ESPN MLB Insider Jayson Stark dishes on the merits of NL Cy Young candidates, the Mets' postseason rotation, the fairness of the current wild-card system and the Blue Jays' chances to win the World Series.
Mark Richt, Georgia
Georgia coach Mark Richt discusses the Bulldogs' matchup with Alabama this weekend, including the play of Greyson Lambert and the team's offensive reliance on Nick Chubb.
Rex Ryan, Bills
Bills coach Rex Ryan comments on what he learned from coaching the Jets, the play of Tyrod Taylor, defending Odell Beckham Jr. and the strength of Buffalo's defense.
Trent Dilfer, NFL
ESPN NFL analyst Trent Dilfer talks about the keys for Michael Vick to be effective for the Steelers, Colin Kaepernick's future and what the Browns should do with Johnny Manziel.
OFF-MIKES EPISODES
View episodes of ESPN.com's first Emmy winner, "Off-Mikes," a series based on the interactions of Greeny and Golic on "Mike & Mike."
-"Snook, Line and Sinker"


-"Wee-Wee Mon Sewer"


-"Raging Bull-Oney"


-"Bend It Like Golic"


-"The Wettest Yard"


-"Pomp You Up"


-"Throw Momma from the Chair"


-"Air Force Ton"


-"Night of the Living Chippers"

BEST OF MIKE & MIKE ON ESPN RADIO: THE DECISION?